Columbus Day's Monday Morning Wakeup
Good morning, friends, and to those of you who work in the federal government or the banking industry, happy Columbus Day. Today, we celebrate the anniversary of Christopher Columbus' landing in the New World on October 12, 1492. If you're not up on your elementary school history, Columbus actually landed in the Bahamas and never set foot on the mainland of North America. You would think after discovering paradise, he'd look a little happier in that portrait. Here's a fun fact: according to Time Magazine, only 14% of businesses across America are closed on Columbus Day, compared to more than a third for Martin Luther King Jr. Day and President's Day or 22% for Veterans Day. After the crap show that was last night's debate, couldn't all of the employers in the US have agreed to give everyone today off to recover? My goodness. No days off at the KSR compound, so let's go over the agenda.
UK's open practice on ESPNU was a success
The @KentuckyMBB televised practice just ended and it's almost time to practice in front of #BBN at #BBM16 pic.twitter.com/bctDGLWzPy

– KYwildcatsTV (@KYwildcatsTV) October 10, 2016
If you missed it last night, for the third year in a row, ESPN aired a two-hour infomercial for Kentucky basketball. Drew has a full recap of it below, but here's my take: there's a lot to like about this team. Yes, it is early, and forming judgments about a team after only four practices is about as ridiculous as Kentucky having a practice televised on ESPNU, but here's what I saw:
Isaiah Briscoe didn't stop talking the whole time, which is exactly what you want from a leader. Not only that, his jump shot looked much better and he hit 12-13 three pointers during one drill. The one knock on Briscoe's game was his shooting, so it looks like he's taking the feedback from the NBA seriously.
De'Aaron Fox, Malik Monk, and Bam Adebayo appear to be living up to the hype so far. Each showed flashes of greatness, and that's only after four practices.
Malik Monk also must have had his ears pierced recently because they were taped up
Brad Calipari was ballin'
Isaac Humphries' right knee still looks a little tender (Seth Greenberg told KSR he suffered a minor injury last week)
When Bam Adebayo asked Calipari if the team could go shake the scouts' hands, the BBN swooned:
They get it. pic.twitter.com/GidfWQn1Rl

– Drew Franklin (@DrewFranklinKSR) October 10, 2016
Okay, I love them.
Calipari says the "real practice" is today
The national spotlight may have been on Kentucky last night, but according to Calipari, today is when the real practice takes place. Cal said the team will practice for two and a half hours in front of the scouts in what he says will be a true test of their stamina. "The real stuff is tomorrow," Cal said. "We're going to go two and a half hours tomorrow, 95% of these guys [scouts] will stay, and then they'll see, okay, how do they compete, what's their will to win? What do they want to see when they're a little tired?" At the end of the practice, Calipari gathered his team and told them to get something to eat and rest because what they're going through is a "bear." After watching that debate, he may as well have been addressing the American people about this election.
Tyler Ulis was watching
https://twitter.com/tulis3/status/785273725964787713 Odds he was calling out plays from his couch?
So was Karl Towns
https://www.instagram.com/p/BLXHYp3AJKi/ If you miss Karl back, you can see him in action Saturday night at the Timberwolves/Heat game at the Yum! Center. Or maybe at Rupp Arena the night before...
ICYMI, the new scoreboard at Rupp Arena was unveiled
[caption id="" align="alignnone" width="2048"]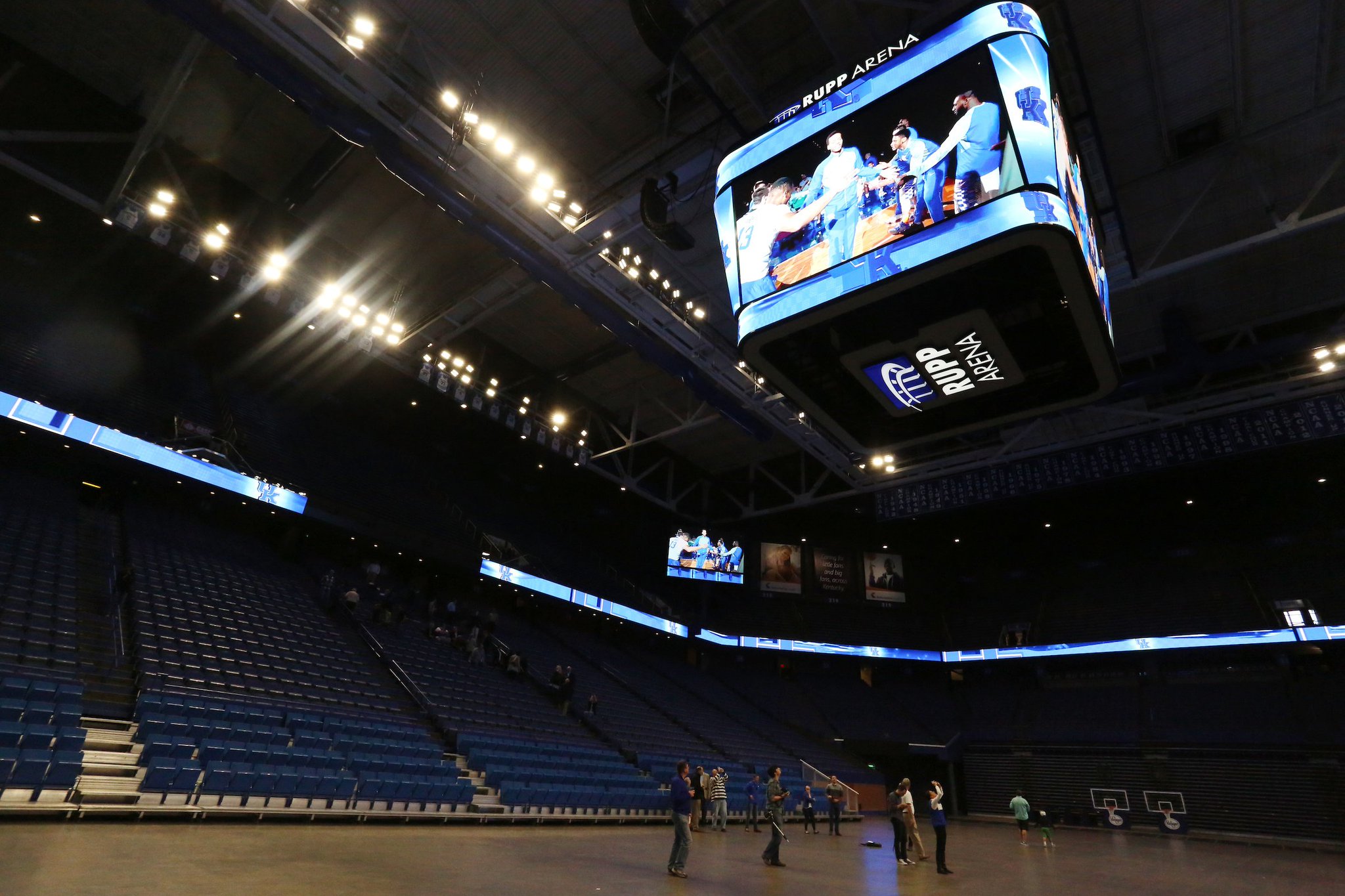 @CoachCalDotCom
[/caption] And it's beautiful. I can't wait to see all the changes in Rupp this weekend.
It's a bye week
So no Stoops press conference today. Stoops will hold his weekly call-in show tonight if you need a fix. Even though it's a bye week and Big Blue Madness is Friday, we'll still be talking football this week, or at the very least, Freddie will.
We can all agree that Kenneth Bone was the real winner last night, right?
If you turned off the debate early in disgust, you may have missed the star of the night: Kenneth Bone. The mild-mannered, sweater-wearing Bone charmed the nation with his question about energy, which led to about a million Bone, Thugs-N-Harmony jokes on Twitter. His legend grew when he was spotted talking to Bill Clinton and taking pictures of the scene with his disposable camera after it was over: https://vine.co/v/5g3rI1E7FVt Can you imagine Bone's face when he checked his phone later that night? He's an internet superstar.
Radio in an hour
It's Columbus Day, but the KSR radio show rolls on. That being said, you know Shannon the Dude's getting a comp day for this.