Confidence Consumes the Cats at Kentucky Football Media Day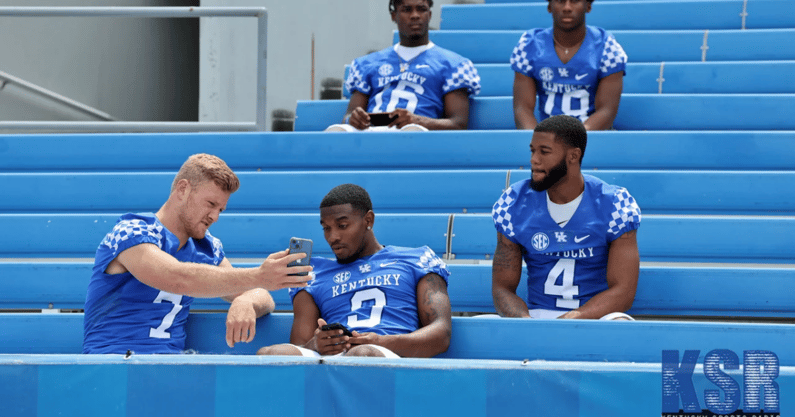 Kentucky Sports Radio had all hands on deck for the 2022 edition of Kentucky football media day. This post was intended to hit all of the high points from the event. Before I get to a few, one word sticks out above the rest: confidence. Mark Stoops likes his team. The players know what they have and are excited to hit the field. I'll try my best to describe it after sharing a few other thoughts.
Tight End Talk
"Are the tight ends going to be used more this year?" is a question asked every year since Jacob Tamme caught 56 passes in 2007. Those cries grew louder when CJ Conrad was suiting up for the Wildcats. Even though Vince Marrow's unit caught about 50 total passes in 2021, the BBN wants to see more. Under Rich Scangarello, that should not be a problem.
"We have a very deep tight end room," said Kentucky's offensive coordinator. "I really believe that there are three or four or five in that room that are going to play on Sundays."
Will Levis said they don't have a starter. Any of the top four or five guys can plug into any spot and play. If you watched the 49ers play football last year, it's safe to assume Coach Rich is going to get these guys plenty of touches.
Bigger, Faster, Stronger
The Look Test is not quantifiable, however, these guys pass it. Our first chance to size up many of the players since spring practice, Kentucky has plenty of dudes that look good walking off the bus.
There's plenty of monsters in the trenches, like Kiyaunta Goodwin and Tashawn Manning. That's a given. What really jumped out was in the secondary. Keidron Smith is a tall and long athlete that resembles a basketball player; he should start at cornerback after transferring from Ole Miss. He'll most likely receive rest from a true freshman, Alex Afari. Of all the blue chips prospects signed in the 2022 recruiting class, he's one we have not talked about enough. Built like a linebacker, once he learns the offense he will be a force at the nickel and cornerback positions.
As far as the "faster" category, there's no denying this team has upgraded speed, especially at wide receiver. The talk of UK football media day, Barion Brown and Jordan Anthony provide plenty of it. They aren't the only ones either. Just ask Tayvion Robinson or Dekel Crowdus.
One more player: Dee Beckwith, holy crap. That guy is a man's man. I don't know exactly where he fits in right away, but the Tennessee transfer is a certified DUDE.
So Much Confidence
The confidence this Kentucky football team possesses is layered. From a big picture standpoint, Mark Stoops has an extra pep in his step. It might not always come across in his words, it's how he delivers those words. Never one to be too boastful, he knows this team is built different.
Kentucky's newcomers also have a little extra something. You can tell they were highly recruited prospects who have been dominant ever since they first stepped on a playing field. They might not outwardly say it. Their confidence comes from the looks they give when you bring up an accolade. Barion Brown already flashed in his first day of practice, but downplayed the significance of his first practice. The new guys can't toot their horn too loud, but they're good and they know it.
Lastly, there's an aura around Will Levis. He's still one of "the guys," but the degree of respect is out of this world. Will Levis is their Tom Brady. He is the best of the best and you can't tell them otherwise. They will go where ever he takes them. Kentucky has a star at quarterback who has 110% support from everyone in the program. All of this confidence inside the Joe Craft Football Training Facility is creating a recipe for something special this fall in Lexington.