Cotton Nash's Tuesday News and Views
Good evening/morning, friends, and welcome to this week's Tuesday News and Views, brought to you by the birth of Cotton Nash. The former Kentucky basketball great
turns 70 years young on Tuesday
and it just wouldn't be right if we ignored his big day. We can all agree that a simple "Happy Birthday" is the least we can do for the two-sport star who scored 1,770 points -- good enough for ninth all-time -- for Kentucky basketball while hitting .297 for Kentucky baseball his senior year. The Jersey City native is still one of the most beloved Wildcats to wear the blue, even today, some 50+ years after his time in Lexington. In those three years as a Wildcat, Nash was a three-time All-American selection, three-time All-SEC selection, and he made the NCAA All-Region team in his freshman season. Nash would go on to play for the Los Angeles Lakers and the San Francisco Warriors in the NBA, and then the ABA's Kentucky Colonels, where he averaged 8.5 points, 4.9 rebounds per game, and 1.2 assists per game. He also played 13 games over three MLB seasons with the Chicago White Sox and Minnesota Twins. Today, his basketball jersey hangs from the rafters in Rupp Arena. So, 70th Happy Birthday to you, Charles Francis "Cotton" Nash.  
Joker Phillips will have a series of interviews during the
ESPN "Car Wash" of SEC head football coaches Tuesday
at the ESPN campus in Bristol. Phillips, along with Nick Saban, John L. Smith, Will Muschamp, Mark Richt, Hugh Freeze and Steve Spurrier, will rotate among numerous interview opportunities among various ESPN platforms. Phillips' schedule (all times Eastern) includes: 11:10 a.m. SEC Storied 11:45 a.m. @ESPNCFB Questions 12:15 p.m. ESPNU 1:00 p.m. SportsCenter (tape) 1:15 p.m. Twitter Chat 1:30 p.m. ESPN.com Chat 2:05 p.m. College Football Live 2:30 p.m. Playbook 3:15 p.m. Recruiting Nation Fans are invited to participate in the Twitter chat (1:15 p.m.) and the ESPN.com chat (1:30 p.m.). All questions on Twitter should be sent to @ESPNCFB and use the hashtag #ESPNPhillips.
Billy Donovan's wife had a cake made
to celebrate her husband landing two top 10 recruits. Erin Calipari thinks that is funny.
"Didnt realize we were supposed to celebrate top 10 recruits with cakes. I guess I'm about 50 cakes behind. Know a good baker?"
Burn.
 We shared an e-mail with you Monday morning that was sent out to workers at the University of Louisville's new student recreational center, complaining about the support of other college sports teams at the site. You should know that
Abel Construction
, the company doing the project, is also working on UK's new track and is the proud owner of the truck you see in this photo from the construction of Louisville's indoor football practice facility:
40 days until football season...
 Microsoft is opening a new store in the Washington D.C. area and the company is bringing in the brightest stars for the grand opening next month. Weezer is scheduled to play at the Pentagon City mall the morning of the opening, followed by an XBox Kinect demonstration by John Wall. It's the first time
Weezer and John Wall
will share a stage, but it's hopefully not the last. If the event goes as plans, it could encourage similar appearances in other cities, like Matchbox 20 and Doron Lamb at the Milwaukee opening or The Smashing Pumpkins and Jamaal Magloire in Toronto.
 For the record, Penn State's vacated
1999 Outback Bowl
win doesn't mean Kentucky gets the trophy. It's fun to joke about being 1999 Outback Bowl Champs but it doesn't work that way. Most of you knew that already, although some actually believe UK gets credit for win. Not the case.
 Grantland.com investigated
The Anthony Davis Problem
, which the writer defined as wearing athletic clothes to non-athletic functions, as seen in this photo uploaded by Deron Williams.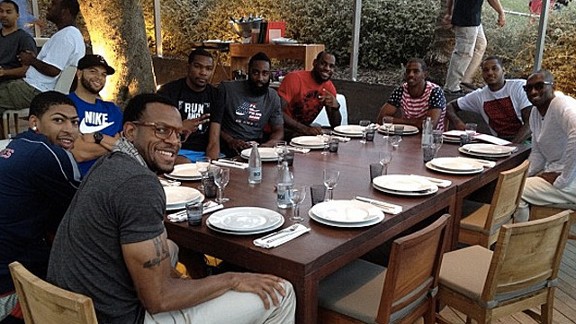 The article calls Davis a "teenage dresser" and says Davis looks like he's at a father-son outing with Andre Igoudala. I don't get it. Over half the guys at the table are wearing t-shirts.
 That'll do it for now. Tune in to Kentucky Sports Radio radio at 10:00 to start your day off right.