Could Duke Lose Their 2010 Title?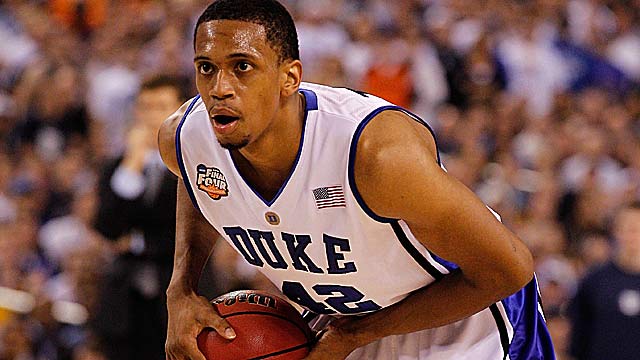 Let's recap the story that Pete Thamel has yet to "investigate:"
Lance Thomas was a senior in 2010 and a starter on Duke's national championship-winning basketball team. In December of that season, he bought nearly $100,000 worth of custom jewelry from a New York store and put $30,000 down as a first payment. The store is now suing Thomas for failing to pay the remaining $67,800 balance.   I don't know about you guys, but $30,000 to spend on jewelry is not in my rather tight student budget. Hell, most days I have to convince myself that it's worth it to buy the brand-name Oreos instead of the generic (it is so worth it, for the record). True, I didn't go to Duke, and I don't have a fancy name like Lance, but still, it's hard to imagine that Lance Thomas had that kind of cash lying around and accessible for a down payment on custom jewelry as a senior in college.
And that's what the NCAA should want to know as well- how did Thomas put down almost $70,000 in credit without receiving some sort of improper benefits? 
  If it's determined that Thomas received improper benefits, so would begin the chain reaction. Thomas
should
be deemed retroactively ineligible. The NCAA
should
rule that Duke played an ineligible player. And logically,  the NCAA
should
then strip Duke and Coach K of their 2010 title (see also: the precedent set by Derrick Rose and his SAT scores).
But would they really do that to the golden boys of college basketball?
  It's hard to say this early when facts are still coming to light.
In a perfect, Kentucky-centric world, yes, the NCAA would conduct a thorough investigation and, if Thomas didn't have a reasonable explanation for his financial windfall, use the "strict liability" principle to make the correct ruling.
I have to admit, I wouldn't hate seeing the Duke elitists squirm a little bit in the national spotlight- it would take some of the heat off Kentucky and Coach Cal and whatever nonsense we're being picked on for at the time. As a UK fan, I'm also interested to keep an eye on this just to compare how the investigation proceeds to how it would go down if it were at Kentucky. I'm inclined to think investigation and punishment would be much swifter and much harsher (see also: UNC's
lack of
academic scandal).   Only time will tell.
And with all his custom jewelry, time is something Lance Thomas should be able to tell us plenty about.
Lance Thomas- aka Mr. Nice Watch
@KristenGeilKSR