Could losing to Georgia signal no Final Four berth?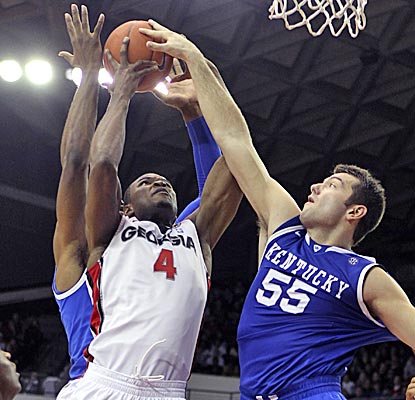 Found this stat pretty interesting.  In UK's 13 Final Four years, they have lost a combined 22 SEC games, or more accurately against current SEC teams.  But that should be no surprise that Kentucky's best teams dominated it's opponents.  But, what I found very odd, and discouraging, is that Kentucky has NEVER lost to Georgia during a Final Four season.  NEVER.  They have lost to Georgia 25 times total, but never during a Final Four season.   
Georgia: 24-0 (100%)
LSU: 14-1 (93%) Mississippi State: 14-1 (93%) Vanderbilt: 23-2 (92%) Florida: 20-2 (91%) Arkansas: 8-1 (89%) Alabama: 19-3 (86%) Mississippi: 11-2 (85%) Tennessee: 24-5 (83%) Auburn: 15-3 (83%) South Carolina: 9-2 (82%) Does this mean anything.  Duh.  No.  But, if the Cats are unable to make it to a Final Four, I have just given you a built in excuse, rather than blame Cal, Knight, or Jones.  You can blame Trey Thompkins.