Craig Skinner addresses Wisconsin trip, Wednesday's matchup against no. 5 Louisville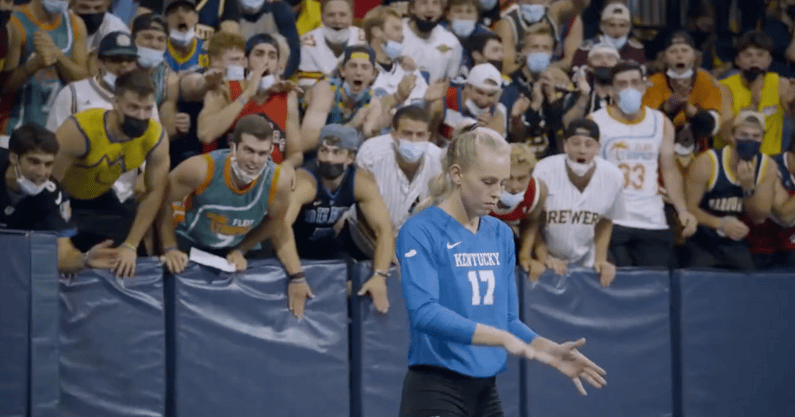 The 8th-ranked Kentucky Volleyball team has hit a few roadblocks out of the gates in 2021, now having lost to no. 2 Wisconsin and no. 17 Creighton. The road doesn't get any easier, as head coach Craig Skinner and his team face no. 5 Louisville on the road Wednesday night (7 p.m. on ESPNU) and then will return home to host no. 16 Stanford on Sunday (1 p.m. on SEC Network).
Here is everything Craig Skinner had to say about last weekend's results and the upcoming top-25 matches.
A tale of two halves vs. Wisconsin
Kentucky Volleyball looked as bad as they've looked all year in the first two sets in Madison last weekend. Craig Skinner said bluntly, "we were not good in the first couple sets…and they were very good." Ne noted that's a "bad combination on the road."
UK battled in the first set and ultimately lost, but in the second set, the Badgers decimated the Wildcats 25-11 (read more about the loss right here).
As bad as the first half of the game went, according to Craig Skinner, the team "learned about ourselves and made some changes" before the next set. And though they still fell in four sets after winning the third, Skinner saw some "fight and resiliency that we just haven't seen to this point.
"Our team was very upset in the locker room. They thought they should have been playing a fifth set to have the chance to win."
The score reflects a somewhat lopsided 3-1 victory, but Craig Skinner's group was within a couple of points of making it a 2-2 game with all the momentum heading into a fifth set.
A statement win vs. Marquette
Two Saturdays ago, Kentucky came out flat against a good Creighton team following an emotional win the night before. This past weekend, Craig Skinner was much more pleased with how his team performed the day after a raucous match the night before.
"For us to turn around play against a team who prepared for us all week and win 3-0 on the road — with another big crowd, raucous student section behind our bench. You know, very pleased with the emotional, mental piece."
You can read more about this one with a click here.
A top-10 matchup between rivals
"How cool is it that we're both in the top ten?" Craig Skinner asked about Wednesday's game vs. no. 5 Louisville.
The extraordinarily difficult schedule rears on as the 'Cats go into enemy territory for a bout with the Cards. On this year's Louisville team, Craig Skinner had this to say:
"They're very balanced, very athletic. Their middles are both very talented. They have one of the best setters in the country. Their right side has one of the best blockers our players will see, and they have experience. A lot of those players have been playing for several years."
It's yet another road matchup against an elite and experienced squad for Craig Skinner and the Wildcats. But a welcome challenge nonetheless.
Kentucky's own lack of experience
Craig Skinner has consistently emphasized the experience level of many of Kentucky's opponents this year, especially with Wisconsin and Louisville. But his own team — which trotted out a fairly experienced group last season — is depending heavily on underclassmen so far. When asked how that has been a challenge, Skinner explained:
"There's little things. Whether it's footwork or positioning or situational things that our players have never done or seen before. So you have to coach those on top of skills and training. So there's just more time spent on fundamentals, basics, things like that before we can evolve into some more strategic things that more experienced teams are able to work on."
Kentucky Volleyball had its shortest offseason ever and this team has twice as many underclassmen (10) as upperclassmen. Craig Skinner has his work cut out for him in developing the next generation of UK Volleyball stars.
Those underclassmen have already made their mark on the program, though. Madi Skinner was a rotation hitter a year ago and as of now she's the most efficient hitter on this year's team and led the team in kills in both of last weekend's matches. And she's developing into a dependable back row player that's capable of playing the full rotation — just like her older sister Avery.
Freshmen Eleanor Beavin and Emma Grome have both usurped starting roles in their rookie years. They aren't quite at the level of their predecessors (Madison Lilley and Gabby Curry), but they've shown promising flashes early in the season.
Craig Skinner and the Kentucky Volleyball team will be in action tomorrow night in Lousiville at 7 p.m. on ESPNU before returning home for a 1 p.m. match vs. Stanford that will air on the SEC Network.