Matt's too busy to post this, so allow me to break the news that Tom Crean, Marquette's coach and Tom Izzo's most loyal disciple, will be named Indiana's head coach.
It seems a great hire from here.  Crean's a strong recruiter, and his team's style of play is just 20th century enough to please the IU faithful.  More importantly, it's the sort of hire that shows Indiana is still a relevant national player.  This hire should be splashier than Kelvin Sampson's hire ever was.  Why?  Because they don't get much more media-friendly than Tom Crean. When the writers love you, you're always in the game.
Now, here's the other part–Crean does major recruiting damage in Chicago.  Dwyane Wade and Jerel McNeal immediately come to mind.  Long of the short–Crean doesn't get players from Chicago like Bill Self, but he gets his share.  Seems like, after Self and Crean get theirs…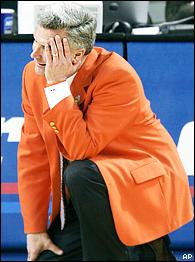 …then that guy gets his.
Bruce Weber, your job just got harder.