Cristian Conyer travels to Tennessee this weekend ahead of final decision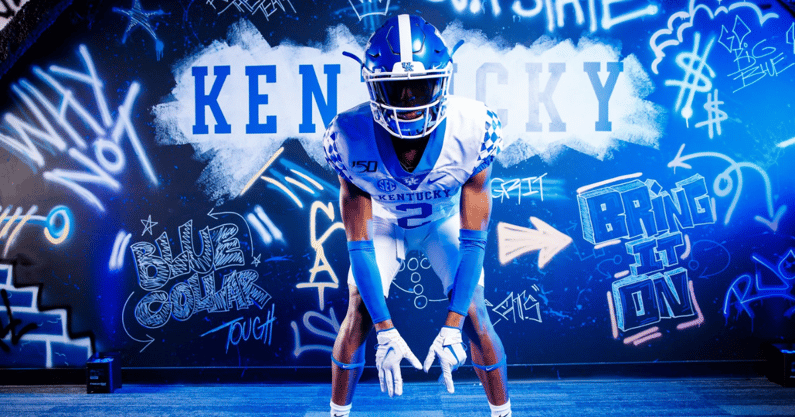 It's a battle between Kentucky and Tennessee for Bowling Green's own Cristian Conyer, who will make a trip to Volunteer Land this weekend before making his final decision on July 3.
The three-star ATH out of South Warren High School (KY) was in Lexington this past weekend for an official visit where rumors surrounding his recruitment began to fly once he left town. Two major predictions from On3's Chad Simmons and 247Sports' Josh Edwards came in on Monday that now have Conyer landing at UK. Simmons previously had a pick logged for Tennessee.
"The overall visit was awesome for me and my family," Conyer told KSR on Monday about his OV to Kentucky. "The entire staff showed my family that I'm a priority in the program. I didn't really learn anything new because I have been communicating with the staff for some time now.
"I spent a lot of time with (Dekel) Crowdus, Dane (Key), and Anthony Brown during my visit. I also talked with (Carrington) Valentine about simply being a DB at Kentucky."
Kentucky appears to have made a significant impact on Conyer during his official visit. The 'Cats are now viewed as the favorite heading into his final OV. That being said, Tennessee will have the opportunity to flip the narrative once again. Conyer has been to the UT campus plenty of times — just as he has to Kentucky — so expect the Vols to roll out the red carpet for their final pitch.
"I'm looking forward to going back and taking a last look at UT this weekend. Once I'm back I will discuss both schools with my parents and make a final decision," Conyer said.
The Wildcats have seven commits on the board from the '23 class, four of them from the Bluegrass State. However, only one of them, Frederick Douglass (KY) product Ty Bryant, is considered a defensive back at the college level. Conyer, who is being recruited at cornerback, could be the fifth in-state commit and would give the 'Cats a big recruiting jolt as the summer season rolls around.
"Kentucky likes my athletic ability and my length and my ability to play man," Conyer added. "I do love the attention that's being put on the defensive side of the ball because that's what wins championships."
In the end, it's going to come down to whichever school Conyer believes will give him the best opportunity to succeed not just on the gridiron, but also in life.
"I want to be in a program that will help me become the best version of myself on and off the field to prepare me for life after football," he said. "I'm going to have a chance to play in the SEC and get a free education and attend a school that isn't too far from my hometown."