Cutter Boley hits 4-star status; Kentucky, Michigan and Tennessee are early contenders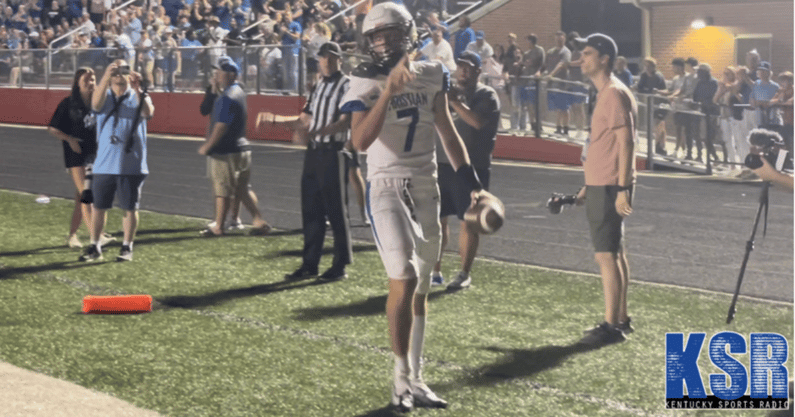 Cutter Boley is the fastest-rising high school prospect in Kentucky, regardless of class. The Lexington Christian Academy standout has picked up offers from Alabama, Tennessee and Michigan in recent months, and now, he's a top-50 recruit and top-five quarterback in the class of 2025.
In 247Sports' newest recruiting rankings, the Hodgenville native came in at No. 45 overall and No. 4 at the quarterback position. He's also the No. 1 player in the state by a country mile.
On3 has not yet released its 2025 rankings, but Boley has earned early four-star status. He was also named to On3's 2025 Football Prospect Watch List.
"A lot of kids have really good arm talent," Boley recently told On3. "But what sets me apart is, like, the way I move for a kid my size. I move really well in the pocket. I move around really well. I ran like a 4.65(-second) and a 4.7 (-second) this year for my 40 (yard-dash). So, I can move. … I'm definitely not what you describe as a dual-threat, but I can extend plays and make plays with my legs also."
Where do things stand with Kentucky? The in-state star has taken three unofficial visits to Lexington, the first coming back on June 14, 2021, followed by trips on Jan. 15, 2022 and June 7, 2022. He's also taken trips to Purdue (three), Tennessee (two), Michigan (two), Ole Miss, West Virginia, Alabama, Georgia, Clemson, South Carolina and Notre Dame — many being camps.
The Wildcats offered a scholarship back in December, his second Division I offer at the time, with Ole Miss being the other.
Liam Coen was the first to make contact with Boley, but Rich Scangarello has taken over since assuming offensive coordinator duties this spiring. The four-star quarterback is a fan of Kentucky's new play-caller, along with everything else about the program.
"I love his personality, I love who he is as a person," Boley said of Scangarello following a 38-34 loss at Madison Central on Friday. "I'm a (class of) '25 so (the coaches) can't text me or anything yet. I've been talking to them on the phone, I call them and stuff like that. Everything is great. I love the feedback I get from the fans, I love the feedback I get from the coaches, everybody, (Mark) Stoops, all the way around the board."
It's an offense he could see himself playing in down the road, especially as a quarterback with NFL dreams.
"It's very attractive," he said. "We run a lot of RPO, a lot of play-action here at LCA. I feel like running that pro-style offense will get me ready for the NFL if that's available to me and I can live up to that. That's an offense I would definitely want to play in."
Overall, though, Boley doesn't focus a lot on recruiting. Still only a sophomore — he'll graduate in 2024 and enroll early in 2025 — he knows he's got plenty of time before a college commitment is on his radar.
"I'm talking to a few coaches a week, not focused on (my recruitment) at all," he said. "Still talking to coaches because it means a lot to me, but I'm focused on the season. If I get all of these offers and don't perform, I'm not going to have all those offers anymore. I have to come out here and show I can do it on the highest level."
If he had to single out three programs prioritizing him the most early, though, Boley said Kentucky, Michigan and Tennessee were showing "a lot of love."
Will the Wildcats be able to keep the four-star quarterback in-state? There's a long way to go and they've got company, but they've done a solid job early.
Come on down.