Cutter Boley is the ideal quarterback for Liam Coen's offense at Kentucky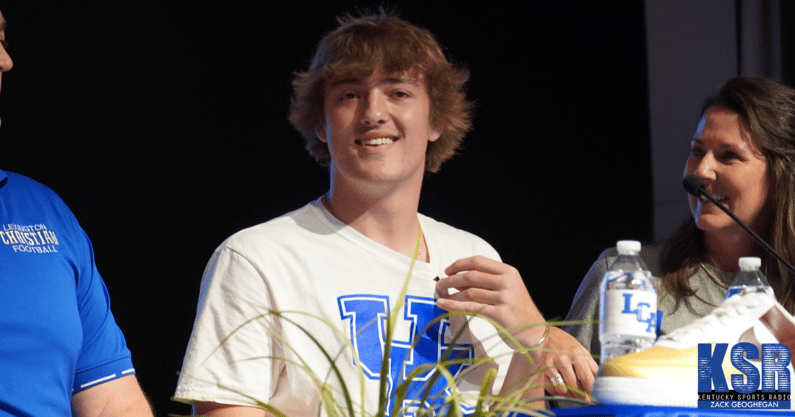 From the moment Liam Coen laid eyes on Cutter Boley, he knew the potential that was lurking in the young, skinny, and relatively-unknown high school quarterback from Hogdenville, KY. There was an instant connection between the two, both on and off the field. If Coen could find a way to coach Boley at the next level, he was going to make it happen.
That was roughly three years ago now. Fast forward to the spring ahead of Boley's senior season and Coen has successfully pulled off one of the biggest recruiting wins of the last few decades for the Kentucky football program.
Boley, considered a four-star QB from the class of 2024 and a Top 75 prospect in the country, announced his verbal commitment to the Wildcats on Thursday in front of his friends, family, and classmates at Lexington Christian Academy. It was a packed crowd in attendance, with nearly everyone in the room already knowing exactly which school Boley was going to choose.
"When (Coen) came back, I was like, 'Okay, this might be the spot' because I knew what he could do offensively," Boley told On3's Chad Simmons. "I knew he made Will Levis do really well. He put him in good situations and that's the type of offense I want to play in. That kind of offense puts me in the best situation to succeed in terms of setting me up for the league and getting to the next level after college."
But it wasn't always a forgone conclusion that Boley would land with Kentucky, especially when Coen left to take the OC job with the Los Angeles Rams. Boley ultimately chose the Wildcats over the likes of Michigan, Tennessee, Florida State, and Penn State. There were even more big-name programs chasing after him, including Alabama, Notre Dame, Oregon, and plenty of others. But that's all they were doing — chasing.
Once Coen returned to Lexington for his second stint as Kentucky's offensive coordinator, you might as well have signed Boley's national letter of intent then and there. For lack of a better term, it was love at first sight between the two.
Just ask Max Staver, who has been Boley's quarterback coach and "mentor" for years now. Staver is a QB himself, having begun his college career with the Florida Gators in 2013 before ending it at Maine in 2017, where he was coached by an offensive coordinator by the name of, you guessed it, Liam Coen. In fact, Coen even recruited Staver when the latter was a highly-regarded high school recruit out of Brentwood (TN) Academy.
Everything came full circle on Thursday at LCA.
"I brought Cutter to the UK camp, this would have been three years ago," Staver told KSR shortly after Boley committed to Kentucky. "This was Coen entering his first season at UK. And Coen fell in love with him. He said he's gonna be a guy that we're gonna offer. And then he leaves for the Rams, comes back, and he calls me about a year ago and he says 'I saw some video on Cutter', it was some footage we took in Nashville. We called it his Pro Day script. We had it professionally done and (Coen) said 'Dude, the ball is coming off a little bit different.'
"Coen fell in love with (Boley) from the day I took him there three years ago but he just needed to see some things be refined, and I think he saw that."
If Coen needed any more confirmation of Boley's talents, all he had to do was look at Boley's 2022 stats with the Eagles. He led the state of Kentucky in passing yards with 3,901, right at 300 yards per game. He completed 254 of 400 pass attempts (63.5 percent) and threw 36 touchdowns to 15 interceptions in 13 contests.
Staver, alongside his father Bob, now owns and operates a quarterback training program called "QB Vision", which is based out of Nashville, TN. Staver first got connected with Boley when a young Cutter was in seventh grade and attending a camp at the NFA Quarterback Academy in Nashville. Staver has helped guide Boley throughout his development and recruitment ever since. Like Coen, It didn't take long for Staver to see the potential in Boley's game.
"When you look at Cutter's hands, even in seventh grade. His hands were bigger than mine and in the 2018 (NFL) Draft I had probably the biggest hand size at 10.25 (Cutter's hands are currently at 10.50 inches)," Staver said. "So I knew there were some genetic markers that he was gonna be special. But then just seeing how he played the position naturally, how he moved in space, how he anticipated throws. When you see a guy of that caliber that early, I think you know what he's gonna become, it's just a matter of is he willing to put the work in. And Cutter was.
"We matched the DNA, the genetics with the work ethic, and those two things together blossom into a great prospect. I want to say in seventh grade, seeing that clip of him move out of the pocket left, flip his hips, and spin it 50 yards downfield with ease, leading his receivers through tight man coverage. I was like there's not a lot of seventh graders making that throw."
Staver knows Boley's quarterback abilities better than most. He's watched the progression first-hand from when Boley barely stood 6 feet tall at LaRue County to now clocking in at 6-foot-5 and ranking as a four-star recruit. On that same note, Staver can say the same about Liam Coen as an offensive coordinator.
At Lexington Christian Academy, Boley plays in a similar style of offense to what Coen rolls out at Kentucky. By the time Boley makes it to UK's campus this January, he'll already have two years of familiarity with Coen's schemes under his belt.
"He's playing in the most college-ready offense right now," Staver said of Boley. "And watching his film, going over his film — for example the mesh concept, he's working nine variations of mesh. I know that directly fits into Coach Coen's offense as I played in it. He's really going to get two years of high school playing in that offense so by the time he hits his freshman year, I think he's one of the most college-ready quarterbacks to come out in a while.
"He's gonna play in a pro-style offense, there's no doubt about that. He's gonna play for one of the best minds in offensive college football."
Boley and Coen might as well be a match made in football heaven. Hopefully, they can make some magic at Kroger Field for years to come.