Cutter Boley impressed with Kentucky visit, Liam Coen's offense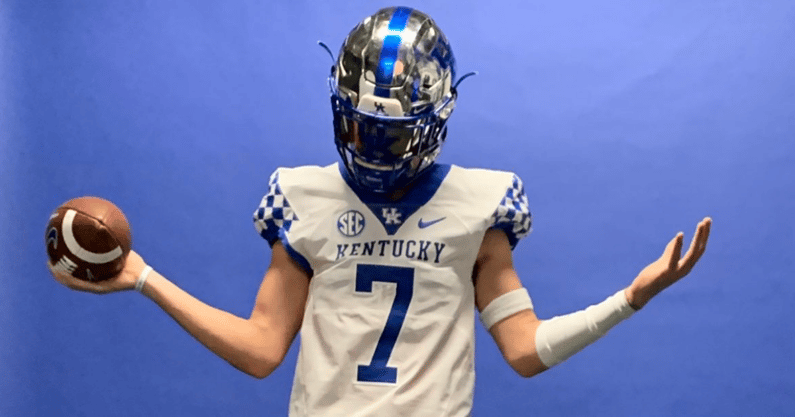 Get ready to hear the name Cutter Boley more often. The 6-foot-5, 205-pound pro-style quarterback is one of the Bluegrass state's top up-and-comers on the gridiron and he's hearing plenty from the Kentucky Wildcats.
Boley was in Lexington last weekend for UK's Junior Day, where he toured the campus, checked out the facilities, and soaked in the overall atmosphere of what Kentucky has to offer. Speaking of offers, he picked one up from the Wildcats when offensive coordinator Liam Coen extended a scholarship back on December 11.
The two sides have remained in contact ever since and Boley's trip to Lexington left him even more impressed with the program than before. They talked about Coen's offense, his plans for the future of the roster, and how UK is on the rise as a whole. Boley is also hearing from UK quality control coach Mark Perry.
"The visit was great," Boley told KSR on Friday. "I got to talk to (Liam) Coen almost the whole time, he walked around with us the whole time, it was awesome."
Boley suits up for LaRue County High School, located not far outside of Elizabethtown. He recently reclassified from the class of 2024 to the class of 2025 in order to help develop his skills and build his strength, but told KSR he intends to enroll early at whichever program he ultimately lands with.
Playing varsity during his freshman season in 2021, Boley threw for 1,391 yards, 11 touchdowns, and seven interceptions in 11 appearances. He ran for another 245 yards on the ground and an additional five scores. LaRue finished with a 5-7 record in the 3A, but the potential is clearly there for this young gunslinger.
Kentucky isn't the only school building an early relationship with Boley, either. Ole Miss and Lane Kiffin actually reached out and extended him his first Divison I offer, doing so just two days before the 'Cats. Eastern Kentucky University offered a week later before West Virginia did the same on Jan. 16.
Boley told KSR he's also hearing frequently from Purdue and Tennessee. A visit to WVU is currently scheduled for the weekend of Jan. 30 and then one to Purdue sometime in early March.
It's only a matter of time before the schools outside of the surrounding states begin to reach out. But even when they do, Kentucky will always have the inside track. Boley grew up as a UK fan and said that earning an offer from the 'Cats was "kinda a dream come true."
His family holds plenty of connections to the city of Lexington, as well, where he's been a frequent visitor over the years. Boley's older brother is a current student at UK.
"The people, for sure," Boley said about what draws him to Kentucky. "We have a lot of connections there and a lot of people that we know and a lot of connections mainly to Lexington, which is awesome, we're up there a lot. It feels like home almost."
Boley was first introduced to Kentucky and Coen through his Nashville-based quarterback coach, Max Staver, who previously played QB under Coen when the latter was the offensive coordinator at Maine in 2017. Staver convinced Boley to camp at UK over the summer in front of Coen, where he performed well and first established a relationship.
Coen was a fan of what he saw in Boley and Boley was equally impressed with what he's seen out of Coen's offense so far.
"Since he got there I was really interested in what they were gonna do and what type of stuff he was gonna run and type of offense," Boley said. "But I love it, a lot of play-action, lot of pro-style that fits me well."
On the field, Boley said that he excels in knowing how to read defenses, connecting on deep throws, and with his overall football IQ. He added that he needs to add some muscle and clean up his footwork as areas to improve upon. With plenty of time left to develop before entering the college ranks, he has a chance to be one of the state's premier QB prospects in the very near future.
Check out his 2021 season highlights below.