Cutter Boley Among Kentucky Targets in 2025 On300 Debut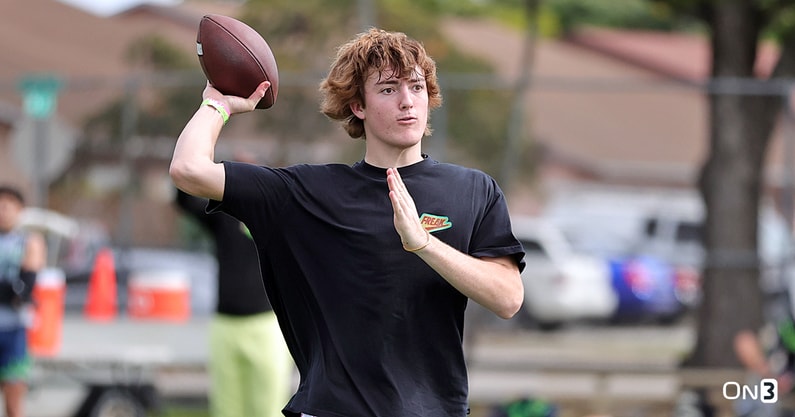 After patiently pouring over the tape, On3 has cultivated a pecking order for the rising junior class. The first edition of the On300 for the class of 2025 is here and it features some notable names for Kentucky football fans, particularly at the quarterback position.
Cutter Boley debuts in the On300 at No. 30 overall. He's the nation's No. 4 quarterback and the top-ranked player from the state of Kentucky. Last year the 6-foot-5 quarterback threw for 3,901 yards, 36 touchdowns and 15 interceptions in his debut for Lexington Christian.
Boley is familiar with Kentucky's nearby campus, visiting UK multiple times this spring. The highly sought after recruit has also been to Tennessee, Penn State, Michigan and Notre Dame. He may not conclude his career in the class of 2025. Originally a 2024 prospect, there have been not-so-quiet whispers that the quarterback may take his talents to college after this fall. He addressed those rumors recently with Jacob Polacheck of KSR+.
"It's not something I'm really searching for," he said. "If the perfect fit happens, I fall in love with a school, and decide I want to commit and they want me to come early, then I can do that."
Kentucky Targets in the 2025 On300
No. 63, Dorian Brew, WR
The 6-foot-3 wide receiver from Clayton, OH holds offers from Kentucky, Notre Dame, Ohio State, Michigan State and more. He's the No. 12 WR in the 2025 class and the top-ranked prospect in the state of Ohio.
No. 80, Marquise Davis, ATH
Vince Marrow has extended a scholarship offer, but this might be a tough one for the Wildcats. Cleveland Heights is a popular recruiting spot for Ohio State and the Buckeyes have already offered and hosted Davis for visits.
No. 124, Amaree Williams, EDGE
A 6-foot-5 edge rusher from South Florida, Williams is the son of former UK great Moe Williams. The No. 12 EDGE in the On300 has offers from Kentucky, Auburn, Miami, Florida and Georgia. He camped with the Cats last summer and told KSR that his trip to Lexington "felt like home."
No. 133, Bo Jackson, RB
The No. 12 ranked running back in the country is from Cleveland and visited UK last summer. Ohio State, Penn State, Pitt and Michigan State are the Cats' top competition.
No. 170, Trey McNutt, ATH
A two-way star from the Cleveland suburb of Shaker Heights, he'll most likely play cornerback at the next level. He told KSR+ he was surprised when he received an offer from Vince Marrow this spring.
"For it to be an SEC offer is pretty big to me," McNutt said. "I was just really excited. It was a big thing. My family was excited. I got congratulated a lot. I was just happy." 
No. 174, Justin Hill, EDGE
Hill receives this ranking a week after visiting Kentucky for spring practice. The No. 16 EDGE in America is from Winton Woods High School, a Cincinnati school Marrow recruits frequently.
No. 190, Luka Gilbert, TE
Gilbert attends another school that has sent many player to Kentucky, Lakota West. The No. 5 tight end in America was in Lexington for Kentucky Junior Day.
No. 209, Austin Alexander, EDGE
The 6-foot-3, 215-pound edge from Cooper High School in Burlington, KY is the only other player from the Commonwealth in the On300 rankings. Still early in his recruitment, Alexander only holds offers from EKU and Liberty.
No. 257, Carter Lowe, OT
The No. 20 offensive tackle in America is from Toledo, a place Marrow knows well. Kentucky is competing against Michigan and Ohio State for Lowe's services.
No. 254, Stone Saunders, QB
Ranked as the No. 20 quarterback in the On300, the passer from Harrisburg, PA received a scholarship offer when he visited Kentucky for Junior Day this spring. He was in Nebraska last weekend and told On3 he plans on returning to Lexington this spring.
No. 259, Ryan Montgomery, QB
Montgomery, a Findlay, OH native, also picked up a scholarship offer from Liam Coen during Junior Day. There's a potential roadblock for Kentucky in his recruitment. His older brother currently plays for Ohio State. If the Buckeyes go all-in with a committable offer, he's probably playing college football in Columbus.