Cutter Boley talks transfer to LCA, relationship with Rich Scangarello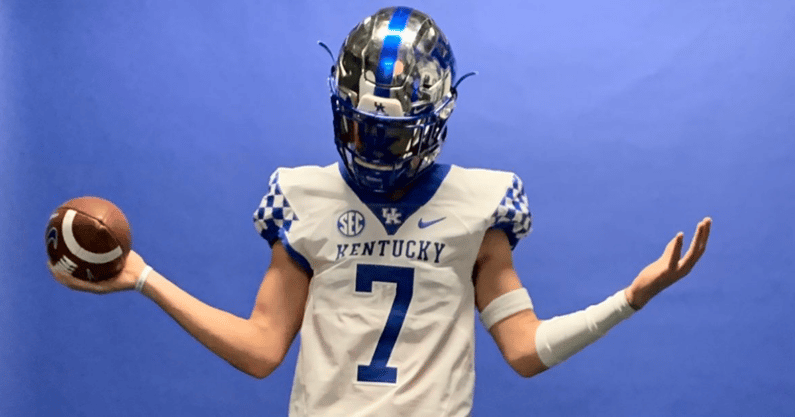 One of the state's top young talents is now a 10-minute drive from the University of Kentucky's campus.
Cutter Boley, a 6-foot-5, 195-pound class of 2025 quarterback, has transferred to nearby Lexington Christian Academy after previously attending LaRue County in Hodgenville, KY. Boley confirmed the news with KSR on Wednesday. He intends to play two seasons with LCA before attending a prep school for his final high school football season. He will early enroll in college in January 2025.
"We had some connections at LCA and we didn't know at first, we were just kinda looking," Boley told KSR about the transfer. "Then once I got to meet the coaches, the people around the program, and just to see how really invested the people are in the program, it was a move that I had to make."
Boley played varsity during the 2021 season for LaRue County, which finished with a 5-7 record. In what was his second year as a starter, he threw for 1,391 yards, 11 touchdowns, and seven interceptions across 11 appearances. He ran for another 245 yards on the ground and an additional five scores. The potential is there for the towering signal-caller — a move to LCA should help him reach it. He started practicing with the team this week.
"Everybody's attitude is the same," Boley said of his early impressions at LCA. "Everybody has the same end goal in mind here. Everybody is striving to be something really great and it's making me really excited for the season."
Right now, the goal is team-building and developing chemistry, Boley says, but the ultimate goal is taking home a state title at the end of the year. LCA was the 2A state runner-up in both 2020 and 2021, losing to Beechwood in both outings.
Recruiting buzz on the rise
Boley has been a target of the Kentucky coaching staff since December, when former offensive coordinator Liam Coen extended an offer. It was the second Divison I scholarship for the Bluegrass native — the first came a couple of days prior from Lane Kiffin and the Ole Miss Rebels. Boley then earned an offer from EKU a week later and one from West Virginia in January. The Kansas Jayhawks offered in March, too.
But it wasn't until about a month or so ago, Boley says, that his recruitment saw a significant spike in attention.
In early April, Boley visited Tennessee, Clemson, and South Carolina all in one week, where he made solid impressions all around. He was then named MVP at the QB Universe camp in Atlanta the same week and attended an Under Armour camp in early May. A few days after the UA camp, Pittsburgh extended an offer.
Boley is regularly hearing from more and more schools at this point. This summer will be an important one for him, as he plans to participate in several camps. Boley says he'll camp at Kentucky, Clemson, Cincinnati, Louisville, Notre Dame, Tennessee, Alabama, Florida State, Florida, and Virginia Tech in the coming weeks.
Clemson is a school that sticks out to Boley early on. He is a fan of both head coach Dabo Swinney and offensive coordinator Brandon Streeter, the latter of which he speaks with often. The Tigers are clearly intrigued with his talent too, as Boley will have taken two trips there in a matter of a few months.
That being said, Kentucky has the proximity advantage. Boley visited Lexington several times during the spring and can now return even easier than when he lived in LaRue County. The 'Cats, along with Clemson, Tennessee, and Cincinnati, are the four schools Boley says are recruiting him the hardest right now.
Relationship building with Rich Scangarello
One of the reasons Kentucky is recruiting Boley so often is because of what the program continues to see in his raw talent. Coen initially sparked the connection with an offer, but once he left for the Los Angeles Rams, there was a brief gap in communication.
However, with Rich Scangarello coming over from the San Francisco 49ers to replace Coen, Kentucky might be in even better shape with Boley. The QB has met with the new Wildcat OC a handful of times, and the relationship has blossomed quickly.
"I really like him," Boley said of Scangarello. "They're kinda opposite attitude-wise. Coen was outgoing and friendly and then Scangarello is kinda chill and mellow, but I really like Scangarello, I really like what the other quarterbacks at UK said about him, about how he really is the quarterback whisperer like everyone says. He knows what he's doing."
The term "quarterback whisperer" has been thrown around a lot when players and coaches mention Scangarello. But what exactly does that mean to Boley?
"He just sees something in the quarterback and the footwork and the arm path that other people don't see, and he's able to fix stuff in your throw and in your play style that will help you make it to the next level."