Tim Couch on Cutter Boley: "He's everything you want in a quarterback"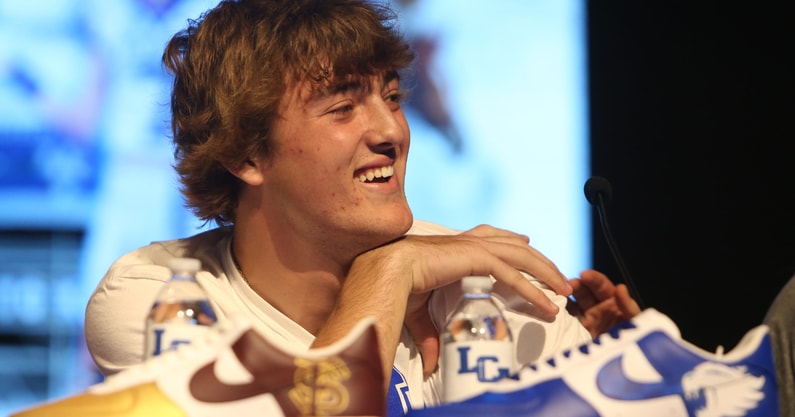 Cutter Boley is Kentucky's highest-ranked quarterback prospect since Tim Couch. Coincidentally, Couch, who went on to become the No. 1 pick in the 1999 NFL Draft, has had a front-row seat to Boley's development. Couch's son Chase plays defense for Lexington Christian Academy and Couch was in the stands for every game last season. This morning, Couch called into "The Leach Report" to share his thoughts on Boley, who committed to Kentucky yesterday and joins a special club of Wildcat in-state quarterbacks.
"I saw every snap the kid took last year and I don't know if I've ever seen a quarterback at that age that I've been more impressed with," Couch told Tom Leach. "You kind of just go down the list and he checks every box. He's 6'5", makes every throw on the field. He can throw the ball well on the run. He can scramble good enough, he can make plays with his legs.
"He sees the field really well, he anticipates throws. He's very smart, very accurate, very tough. He played through some injuries last year with an ankle injury. Just everything about him. I like everything about him. He's very competitive. He's everything you want in a quarterback and just really, really impressive for a guy that age."
Subscribe to the KSR YouTube Channel for press conferences, interviews, original shows, fan features, and exclusive content.
Couch on the play "that showed me a lot about what [Boley's] made of"
Yesterday, Freddie Maggard described the unique pressure that comes with being a quarterback representing your home-state school. Time will ultimately tell, but one of Boley's strongest traits seems to be his calm demeanor. Couch has seen it firsthand and believes it will help him handle everything that comes with being a born-and-bred Kentucky QB1.
"He's very level-headed from what I've seen so far out of him. I think he's going to be very much capable of handling all the pressure and hype surrounding him. It doesn't seem to faze him. I think Cutter is one of those guys, he doesn't get too high, he doesn't get too low. He's very level-headed."
Couch recalled a specific moment in which Boley's coolness came in handy. LCA was playing Owensboro Catholic in the playoffs and Boley threw a pick-six. With the season on the line, Couch was eager to see how the young quarterback responded to the costly error.
"I was kind of like, okay, let's see what he's made of here. It was kind of crunch time and he just marched right back down the field and threw a touchdown on the next possession. You really love to see that from a quarterback at any level, especially at that age.
"A pick-six, nothing is really demoralizing as that to a quarterback, and that showed me a lot about what he's made of and that type of temperament he has to play that position is very important. You have to be able to shake off negative plays and that kind of stuff. He handles the good and bad very well."
Sign up for the KSR Newsletter to get breaking news and daily headlines delivered directly to your inbox.
Boley already throwing NFL and college routes
After reclassifying, Boley is considered the No. 6 quarterback and the No. 70 overall prospect in the 2024 On300. Couch believes he has the "whole package" and is particularly impressed by his timing and anticipation on throws, telling Leach that Boley is already throwing college and pro-level routes.
"A lot of times, high school quarterbacks, they see the receiver come open then they throw the ball because there's a lot more separation in high school than you're going see in college and you can really see a guy come open but Cutter, he anticipates throws.
"Another thing is, he's throwing NFL or college-type of routes. He's throwing deep comebacks and 18-yard-in and legitimate throws and seam patterns down the middle of the field. He's sinking it in over a linebacker and before a safety. It's just really impressive for a guy that age and like I said, everything he does, I'm very impressed with. Got to see quite a bit of him last year and just can't wait to see what he does this year."
Same. To hear Couch's complete interview, which also includes his thoughts on where Will Levis went in the NFL Draft and his son Chase's recruitment, check out The Leach Report podcast.