Dabbing UK Kid's Tuesday Morning Wakeup
One young UK fan stole the show during Bowling Green East's enormous win in last night's Little League World Series game. While the Kentucky team was busy scoring 11 runs in the seventh inning to defeat the Iowa team, 14-4; there was a kid winning over hearts all across Twitter with his celebratory dabbing in the outfield.
Dabbing BBN kid is even more awesome than I first realized RT @brustacus41 @BarstoolBigCat pic.twitter.com/CCRntZ3vHo

— Matt Jones (@KySportsRadio) August 23, 2016
Auto-dab, indeed. Oh, and congrats to the Kentucky Little League team, too. They are now one win away from the U.S. Final.
Get a look inside the 1865 tailgating units later today.
I will be touring UK's new 1865 Tailgating Units outside Commonwealth Stadium a little later this morning. Media are invited to tour the newly installed and furnished tailgating units and I will quickly report back with photos from inside. Then you can decide whether or not it's worth the cost to rent one for a game this season. If you do, we better be invited.
We will hear from Coach Eddie Gran and the offense today.
Camp's winding down so this may be our last opportunity to get some questions in with the offense before Week 1 of the college football season.
DeMarcus Cousins came home to a surprise party.
In case you missed it, DeMarcus Cousins' girlfriend and closest friends threw a surprise party for him upon his return to Sacramento from the Olympics. See the special gold medal cake and watch the video of the surprise
here
.
Shout-out to these KSR/Dodgers fans at Saturday's game against the Reds.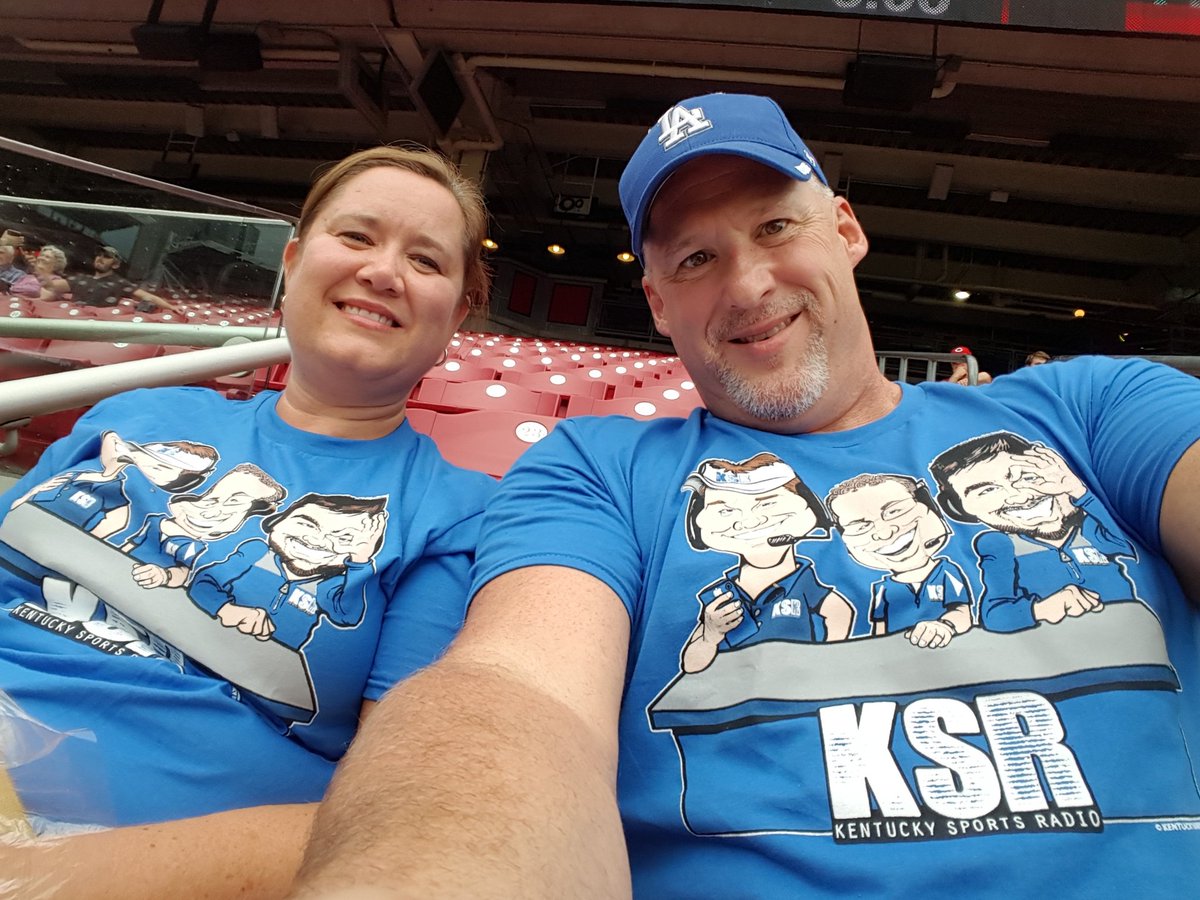 Love those shirts. Still don't love baseball.
Rick Pitino said UK isn't honoring the 1996 national title because of him.
Pitino told Terry Meiners, "It turned all around – they don't remember those days," Rick said of Kentucky fans' distaste for him now. "Those college kids today weren't even born. So the fact that we could get away – now, if I wasn't the Louisville coach, certainly, it deserves to be in Rupp in front of everyone. I'm sure at a later point this season, they'll do something for that team without me." To be fair, Kentucky honored the '96 team in Rupp three years ago with the presentation of new rings. But yeah. We don't like you, Rick.
Jedrick Wills bumped up to No. 16 player in the class by Rivals.com.
Rivals updated its recruiting rankings yesterday and Lafayette's Jedrick Wills is now the No. 16 overall player in the 2017 class. Unfortunately, Wills will soon pick Alabama barring some change of heart in the coming days. Last Friday he insisted his recruitment is still wide open, but I heard quite the opposite around two weeks ago with some pretty concrete information that puts him with the Crimson Tide. An official announcement could come at any time.
KSR is in Coal Run today.
Get in there.