Daimion Collins Delivers in Crunch Time for Kentucky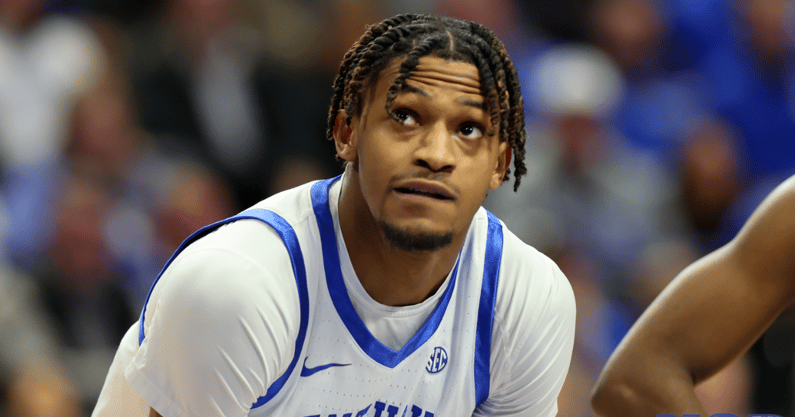 Oscar Tshiebwe was not himself Saturday night at Rupp Arena. Going toe-to-toe with Colin Castleton, one of the nation's leading shot-blockers, Kentucky's powerful post player was just 2-of-14 from the field before he fouled out with 1:38 to play. Daimion Collins entered into the action and came up big for the Cats down the stretch.
The Gators cut the deficit to four following a bucket from Castleton. On the ensuing possession Collins was sent to the free throw line. Despite only playing five minutes all night at Rupp Arena, he sunk both free throws with :51 on the clock to give the Cats some cushion and ultimately pull away with a 72-67 win.
"You guys know what he has been through. He has been through a lot, and he is always keeping a smile on his face so that is big time for him," Jacob Toppin said after the game. "He is a good soul, and he comes into practice, works out, and he is putting in the work and when his time came, he shined. I am proud of him, and this team is proud of him." 
Collins made 3-of-4 free throws, grabbed a rebound and stole a pass in five minutes off the bench.
Daimion Collins Carving Out a Role
Daimion Collins' father passed away suddenly just before the start of his sophomore season at UK. While mourning the loss, the skinny forward lost between 15-20 pounds. Since the start of the new year he's been using basketball as his outlet, gaining weight and it's turning into much-needed production for the Cats.
"He gained the weight back, that was the one thing he had to do and then the other thing is he had to get back in that competitive spirit, and he's there," said John Calipari. "(I) Need to play him more. Need to play Oscar (Tshiebwe) less. I mean, Oscar, I got to chalk it up to he's playing too many minutes. How do you not dunk — you know what I'm saying? — the baskets, things that I know he can do. So probably playing him a little bit less. That means Daimion can play more."
It's the second consecutive game Daimion Collins has provided a spark for the Cats. He had a couple of dunks, including a powerful and one, in the win at Ole Miss. Kentucky has struggled to find consistency at the five behind Oscar Tshiebwe. Collins' ability to protect the rim and clean up misses might just be the missing piece of the puzzle for John Calipari.
Subscribe to the KSR YouTube Channel for press conferences, interviews, original shows, fan features, and exclusive content.