Daimion Collins is a "blank slate," a rarity among high-profile recruits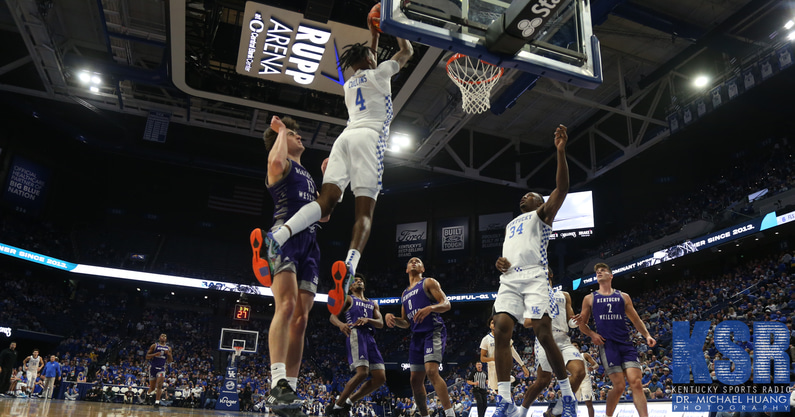 A five-star athlete out of Atlanta High School (TX), Daimion Collins averaged 35.2 points, 14.4 rebounds, 7.0 assists, and 6.2 blocks per contest en route to 2020-21 MaxPreps Texas High School Basketball Player of the Year honors as a senior. He would finish the year ranked as a top-20 prospect, sitting at No. 16 overall in the final On3 Consensus.
The numbers and ranking are clearly there, and his highlights are out of this world. He looks like a man amongst boys — mostly because he was.
Standing 6-foot-9 with a 7-foot-5 wingspan, there simply wasn't anyone in his area that could stop him. From the small town of Atlanta, TX — the latest numbers show a population of 5,423 — he was too long and athletic for the competition to slow him down.
Now playing for the greatest tradition in the history of college basketball where the lights shine bright 24/7, it's quite the adjustment.
"He's from a city of 4,000 people. He probably didn't play anybody over 6-5," Kentucky assistant coach Jai Lucas told the media Thursday. "It'd be like moving from somewhere that didn't have internet or TV to New York City, in the middle of Times Square. That's the best way I could put it."
Raw, certainly. Thin, absolutely. We're talking about a kid who just started playing basketball at the age of 16 and didn't lift a single weight until he got to Lexington. He's a work in progress.
But Collins is different than most raw basketball players walking into their first year of college. Unlike other players, the five-star signee has no bad habits to unlearn or break. Instead, everything is fresh for him. It's all positive growth.
He's like a blank slate, a piece of clay for coaches to mold and help reach his potential.
"Daimion, he's like that blank slate right now," said Lucas. "Just getting better and better, week by week. You can put him in at multiple positions, he can do multiple things."
According to Lucas, that's a rarity among freshmen. Most players come in hardwired to play a certain way, which almost always leads to bad habits coaches have to break early. It's a hit to the developmental process.
Instead, Collins was ready to be molded from day one, a breath of fresh air for the coaching staff.
"The best thing about it is he's a rare recruit in this time and age as someone who has not been conditioned or trained a certain way, told they're a certain thing," said Lucas. "He never lifted weights till he got here. He's one those blank slates that's rare these times where you can kind of mold them to be what he needs to be instead of unwiring him from something he's been told.
"When we find people like that, it's a good thing."
It's not all potential, though. If you ask Collins, he's still confident in his abilities as an instant-impact player at Kentucky. He did still average 35 points per game in high school, after all.
Call it a high floor and high ceiling.
"I'm a rebounder, can block shots, can shoot the mid-range, play above the rim, finish around the rim, and I can step out and hit the three, too," Collins said at UK Media Day.
It's a process. John Calipari was outspoken about Collins' growth at Media Day, discussing the specific changes he's making with the 6-foot-9 forward. Instead of floating on the perimeter and settling for jump shots, he wants him to use his size, length and athleticism to his advantage in the post.
"'How about you dive to the rim more?"' Calipari says he told Collins in practice. '"How about you find scoring opportunities within 16 feet? How about the shot goes up, don't be standing on the perimeter? Even though you're playing one of those spots, you've got to be a diver.' And all of a sudden yesterday he was ridiculous."
But he also wants Collins to take risks and do the little things he's clearly capable of doing to stand out. Players with 7-foot-5 wingspans and superhuman verticals don't come around every day. Use those physical gifts and start turning that potential into production.
"You're trying to figure out guys," said Calipari. "I called Daimion in the office the other day and said, "You've got to show me more. I don't know enough about you. Make some mistakes. Shoot some balls you shouldn't shoot. Do some stuff so you can see what you are and what you're not and then we can talk through it."'
It's the type of coaching he asked for when he signed with Kentucky.
"I know they can help me get to where I want to be," Collins told KSR at the Iverson Classic in May. "I'm really excited to get there because I know — the coaches there and everybody else — I know when I get there they're going to push me to the best that I can be."
Collins finished with 22 points and seven rebounds in Kentucky's Blue-White Game. He followed it up with a six-point, two-rebound, one-block effort against Kentucky Wesleyan.
What will the freshman forward bring to the table against Miles College? We'll find out Friday evening at 7 p.m. ET.