Daimion Collins was the next man up against Alabama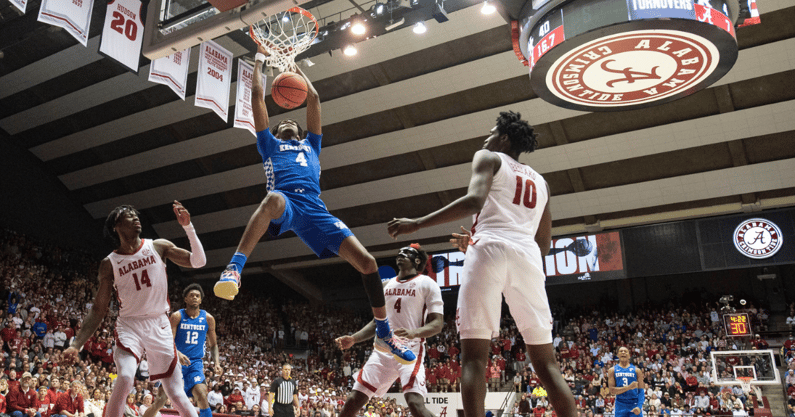 John Calipari, his coaching staff, and really the entire Kentucky team have preached a "next man up" mentality all season long.
Through 23 games this year, six different Wildcats have already hit the 20-point threshold. Additionally, bench players Jacob Toppin and Lance Ware have both had moments of brilliance this season. Anyone is liable to step up and take over for the 'Cats. Kentucky's versatility continues to be what makes them such a trendy pick for a Final Four run.
Which is why a big game from freshman Daimion Collins this deep into the season is so tantalizing to the ceiling of this team's potential.
On Saturday night against Alabama down in Tuscaloosa, Collins, a 6-foot-9 string bean with a 40-plus inch vertical, played his best game in a Wildcat uniform. The rookie went for 10 points and six rebounds in just nine minutes of action, shooting 2-3 from the field as he knocked down all six of his free-throw attempts. Kentucky won a defensive battle against the Crimson Tide, pulling out a 66-55 victory.
This game marked the first time since UK's win over North Florida back on Nov. 26 that Collins recorded double-figures in scoring. For the first time in months, it was his turn to step up as the next man in line.
"Everyone here in the whole program knows what Daimion can do," Fellow UK freshman TyTy Washington said postgame. "We all know he's 6-10 with a 45-inch vertical, just throw the ball up as high as you can and he'll catch it. Leading up to this point we all knew what he could do, he's been putting extra hours in the gym. Any time I go in there late nights I always see him in there.
"I knew this day was going to come. He just got his opportunity to play and he didn't pout or nothing, just went out there and played. And that's what he showed tonight, he showed his athleticism on both sides of the ball. He was just overdue for this to happen and it finally happened for him."
In what was another…weird…offensive showing from Kentucky's National Player of the Year candidate Oscar Tshiebwe, head coach John Calipari was searching for juice in what was an otherwise dry performance from his team. He turned to Collins with 4:46 left in the first half, who promptly came in and snuck behind the backline of the Alabama defense for an easy lob dunk courtesy of TyTy Washington.
That slam gave Kentucky a 23-21 lead as the 'Cats would not trail for the remainder of the night.
Collins continued to lurk on the baseline, hunting for easy lob opportunities as Calipari knew Alabama would leave that area open when UK attacked the paint. As good as Tshiebwe is, he's not a leaper. Collins is though, and it turns a simple lob play into something nearly unstoppable. Calipari knew ahead of the contest that Collins could be in for an important role against the Crimson Tide.
"Daimion Collins was the difference-maker," Calipari said postgame. "I don't know what woke me up in the middle of the night saying 'lob, lob, lob', and I watched enough of their tape — they collapse, so you have that if you have a guy to throw it to. And I told (Daimion) at the shootaround that we're gonna throw this lob and I'm putting you in for that reason, and he played great. Played great defensively."
The baseline lob has been a staple of Calipari's offense during his time at Kentucky, however, this roster hasn't been able to put it on display as frequently. Collins is the prototype for that exact play though, and Calipari drew it for him perfectly.
"He helped a lot. He just came in, he made his presence felt on defense," Washington added of Collins. "And then on offense, Coach Cal was just realizing their big was stepping up so we just throw it up around the rim and we know (Daimion's) gonna dunk it."
This was a clear breakout performance for Collins, who has struggled to see the court during SEC play. Coming into the Alabama game, he was averaging just 0.7 points and 1.2 rebounds in 4.5 minutes per outing. Any additional contribution from Collins will only make Kentucky even more dangerous. Maintaining that level of production will be the next step.