Daimion Collins is a big sophomore season away from NBA Draft leap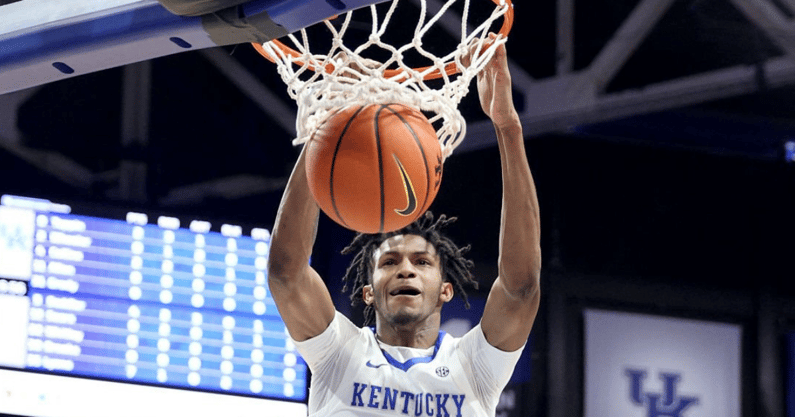 Daimion Collins showed flashes of his potential during his freshman season at Kentucky. Whether it was his massive poster flush against Robert Morris or his breakout performances against Alabama, he reminded fans how special he could be. The 6-10 forward has all the length to impact the paint on both ends while also possessing the skill set to handle and score from outside of it.
Experts already believe that Collins could be an NBA Draft pick next season. ESPN's 2023 NBA Mock Draft from Jonathan Givony and Mike Schmitz has Collins getting drafted 38th by the Boston Celtics. With a big sophomore season leap, he may even crack into the first round.
Collins was the first known Wildcat returning to Kentucky next season as UK should have plenty of options in the frontcourt next year. John Calipari said in an interview after the season ended that Collins could emerge not just as one of the best on the team, but one of the best in the nation.
"I think he becomes one of the best players in the country. I think the things he does, normal players can't do," Calipari said.
The #18 class of 2021 recruit in the country per On3 saw less and less playing time as this past season went on. After playing double-digit minutes in six of the first eight games, he played 10 or more minutes just once more the rest of the season. A lack of weight and strength played a part in that but, with a year of college ball and another summer under his belt, Collins should be able to add the necessary weight and continue to polish his game.
"How he dealt with it. Every day, the kid had a smile. And I said, 'You've got to get stronger. You've got to play more consistent. You've got to play like you're a guard even though you're 6-9, you can do both,'" said Calipari. "I look at him as one of the cornerstones of what will be this team."
Following the departure of assistant coach Jai Lucas, Collins' lead recruiter, there were concerns he would want to leave UK. He & his family instead used it as an opportunity to double down on his desire stay at Kentucky.
"We've known Jai for a long time. Hate to see him go, but life goes on. Ain't nothing changed with us," said Ben Collins, Daimion's father. "He likes where he's at and that's where he wants to be. We knew coming in he was undersized and was behind the rest of the kids because of where he was from, but we understood. He's done a year, he knows what to look for. He'll be ready when it's time."
Collins averaged just 2.9 and 2.0 rebounds in 7.5 minutes during 27 games for Kentucky. His per-40 minute numbers of 15.5 points and 10.9 boards show he could be a very productive player with a bigger role. Even next to Oscar Tshiebwe, Lance Ware, Jacob Toppin and Chris Livingston, Collins should and will be a featured piece for the Wildcats in 2022-2023.