Dakota Fanning's Saturday News and Views
I like kids. They're great...sometimes even funny. I get a little uncomfortable though when I feel like a kid has accomplished more by the age of 7 then I will accomplish in my entire life. I'm not saying I won't be nominated for a Screen Actors Guild Award before I die, but I wouldn't count on it either. When most of us were 7 years old, we were struggling with complex addition, reading Box-Car Children books, asking for the crust to be cut from our peanut butter and jelly sandwiches, memorizing the words to "Miss Mary Mack, Mack, Mack" and pushing for a post-8 p.m. bedtime. When Dakota Fanning was 7-years old, she was being nominated for major acting awards thanks to her strong performance in the movie 
I Am Sam. 
Fanning took Hollywood by storm that year, showing up on Red Carpets dressed like a small princess, conducting interviews with a ridiculous vocabulary that was 1/3-cute, 1/3-annoying, 1/3-"I almost feel sorry for you because your childhood can't be normal. " Fanning has continued to appear in movies, graduating to slightly more mature films such as 
The Secret Life of Bees
and 
Twilight
(notice I said "slightly"). Today, Dakota Fanning becomes an adult as she turns 18-years old. Happy birthday, and thanks for making my 7-year old and now-year old self feel equally unaccomplished. ----------------------------
"At 11 p.m. tomorrow I hope everyone on this campus will be dancing again..." 
-----
No, that's not a line from Footloose. That's a line from John Calipari, who used those words to ignite a gym full of mostly Kentucky students tonight at the Dance Blue event. Calipari dropped by to show his support, while simultaneously rallying the troops for tomorrow's big game against Missouri.
-----
Calipari was not the only person of interest to stop by the event tonight. ESPN College GameDay's Jay Bilas swung through to show his support as well.
In true Jay Bilas fashion, he commended the student body's effort, and then asked why they weren't playing Jeezy.
Real recognize real, Jay Bilas.
-----
Despite the fact that John Calipari tried to downplay the "end-all"/"must-win" significance of tomorrow's game with Missouri, tomorrow's showdown with Missouri for College GameDay's game of the week has been the talk of the town today. Wednesday's win against Vanderbilt provided some much-needed momentum for Kentucky heading into its biggest home game of the entire season to date.
What once felt like a "how could the timing be any worse?" situation for Kentucky with GameDay coming to town, now feels like a "this might be exactly the kind of excitement we need for a big game like this" situation.
-----
The story of Kentucky's entire season has seemingly been the quest for a quality win.
Kentucky's record shows 8 losses, but none of those losses will necessarily be what keeps them from making the NCAA tournament field. Kentucky's lack of 1 quality win over a sure-fire NCAA tournament team has been the missing piece of the puzzle/resume'. Missouri and Florida (both at home) give Kentucky 2 more chances to grab that all-important victory. Missouri is not only a current NCAA tournament team, but they are also a Top 50 RPI team. Both of those Missouri qualities bode well for Kentucky if they can get the win tomorrow.
-----
To the surprise of many, Kentucky enters tomorrow's game as a 2-3 point favorite
(depending on your source). Even though Missouri has had the better season, and appears to be in much better shape to make the NCAA tournament, the Tigers have struggled mightily on the road this season. The Tigers are 1-6 on the road in SEC play. Missouri's single road victory came over Mississippi State. Mississippi State is the worst team in a below-average SEC.
-----
Even with Vegas backing the Cats to narrowly top Missouri, the match-up could provide some difficulty for Kentucky. Missouri has one of the best backcourts in the league. Before some of Missouri's struggles during the season, the backcourt was even considered to be one of the best in the country. Phil Pressey was the SEC pre-season player of the year, and will be a load for Kentucky's guards to handle.
Pressey has dished out a conference best 6.9 assists per game to go with an 11.8 scoring average.
-----
After watching Kentucky against Vandy the other night, it will be interesting to see what Calipari's initial strategy will be for containing Missouri's guard play. Will Kentucky sag off to protect the basket like they did against Vandy initially? Vandy was able to exploit the game plan by converting from 3-point range over and over again. Or will Kentucky try to play out further on Missouri's guards, leaving them susceptible to getting beat off the dribble? Either way, something has to give.
-----
Missouri's supporting cast to compliment Phil Pressey is impressive as well.
Missouri has all the pieces of a top level team, though they have struggled to put it all together--especially on the road
. Missouri has an athletic wing in Keion Bell. They have a 3-point shooting threat in Jabari Brown. And then they have the interior duo of Alex Oriakhi and Laurence Bowers.
-----
On CoachCal.com, they had an interesting table comparing Kentucky and Missouri's team stats, including the national ranking in parenthesis.
Kentucky is actually better than Missouri in a lot of areas I wouldn't have necessarily expected.:
-----
The area that sticks out the most when looking at this chart, and an area in which Kentucky certainly misses Nerlens Noel-- is the rebounding.
Missouri is #2 in the country in rebounding margin at +10.2 per game.
"This team attacks the glass," Calipari noted in his pre-game comments. "If we ball-watch, you get beat." So while we may have our eye on offensive execution and how Kentucky's perimeter defenders handle Missouri's guards, one of the key areas of the game to watch will likely be Kentucky's ability to eliminate offensive rebound opportunities for Missouri, while also creating second chances on the offensive end for themselves as well. I'm looking at you, Willie Cauley-Stein and Alex Poythress.
-----
We've shown the video above a few times here on KSR this week, but the first minute still give me chills. Kentucky will have a chance to take the national stage tomorrow morning for College GameDay. The taping begins around 9 a.m., but the actual show airs on ESPN at 11 a.m. Kentucky will have a hard time topping the record breaking mark of 22,000 fans who attended in 2010.
With that said, Kentucky expects to have at least 15,000 fans tomorrow-- which is still 3x as many people as #1 ranked Indiana had for GameDay
. Can someone put that on a phonebook or something?
-----
Some of the GameDay crew members have already begun talking about tomorrow's environment.
Here's a few nuggets to comb through before tomorrow:
Jay Bilas:
On what he expects from Kentucky fans: "A big crowd. Big Blue Nation always shows... Kentucky doesn't have a team, they have a program. It's supported no matter what."
Rece Davis:
On Rupp Arena: "I don't think this is the most picturesque place. It's not the most intimidating place. But there is a great aristocratic feel here. You feel like you're someplace important when you come here because fans care so much."
On having GameDay here: "The thing I love about bringing GameDay to Kentucky is the passion of the fans. They want to show the world, the college basketball world, we're Kentucky and you're not. There's no place quite like it."
Digger Phelps:
On the key to Kentucky's season: "If Harrow just runs the team as a quarterback, everybody else will fall in place."
On John Calipari: "He's a master of marketing. Nobody can do what he has done and what he's still doing."
... And yes, Rece Davis. This should probably happen. 
-----
On the football side of things,
congratulations to Mark Stoops for purchasing his home today.
Although I was hoping that he and Calipari would be next door neighbors and take power walks together after enjoying a nice salad that Mrs. Calipari makes, I'm happy to see Stoops has officially settled in the city.
-----
The Kentucky football staff will once again be teaming up with the excitement surrounding UK basketball to help with another big recruiting weekend.
UK will be hosting another set of high profile juniors this weekend
, likely exposing them to the town's buzz for the College GameDay events.
-----
Julius Randle made a lot of comments today following his visit to Kansas. It sounds like the visit went exceptionally well with the Jayhawks
. Randle mentioned the fact that his visit would cause him to have sit down and think about some things, as well as the notion that he knows he could have a good chance to win a national championship if he chose Kansas. He didn't mention anything about Kentucky. He probably just ran out of time or something...
-----
In the most current bracketology updates,
Kentucky is still narrowly out of making the NCAA tournament field.
Kentucky was listed as the first of the "First Four Out" in today's Joe Lunardi prediction. All that tells me is that a win tomorrow would surely nudge us right on into the field. Leggo, as the kids say.
-----
In a bit of NBA news, DeMarcus Cousins had another big night for the Kings. Cousins finished with 26 points, 13 rebounds, 3 steals and 2 assists in the Kings' loss to the Hawks. Chuck Hayes chipped in with 5 rebounds.
-----
Anthony Davis left the Hornets game early tonight with a minor knee injury.
Although the initial reports are that Davis suffered from a sprain, his knee was heavily wrapped and he did not return to play. Hopefully it's nothing serious for the big fella.
-----
Congratulations to the UK men's baseball team for bouncing back from the first loss of the season.
The Cats improved to 4-1 on the season with a 6-1 win over Elon.
UK will take on Coastal Carolina at home on Saturday at 3 p.m. To read about the win from earlier today,
check out KSR College's wrap-up by Dean Bowling. 
-----
And last but not least, one final image from the Dance Blue event... (h/t ya boy, Coach Cal)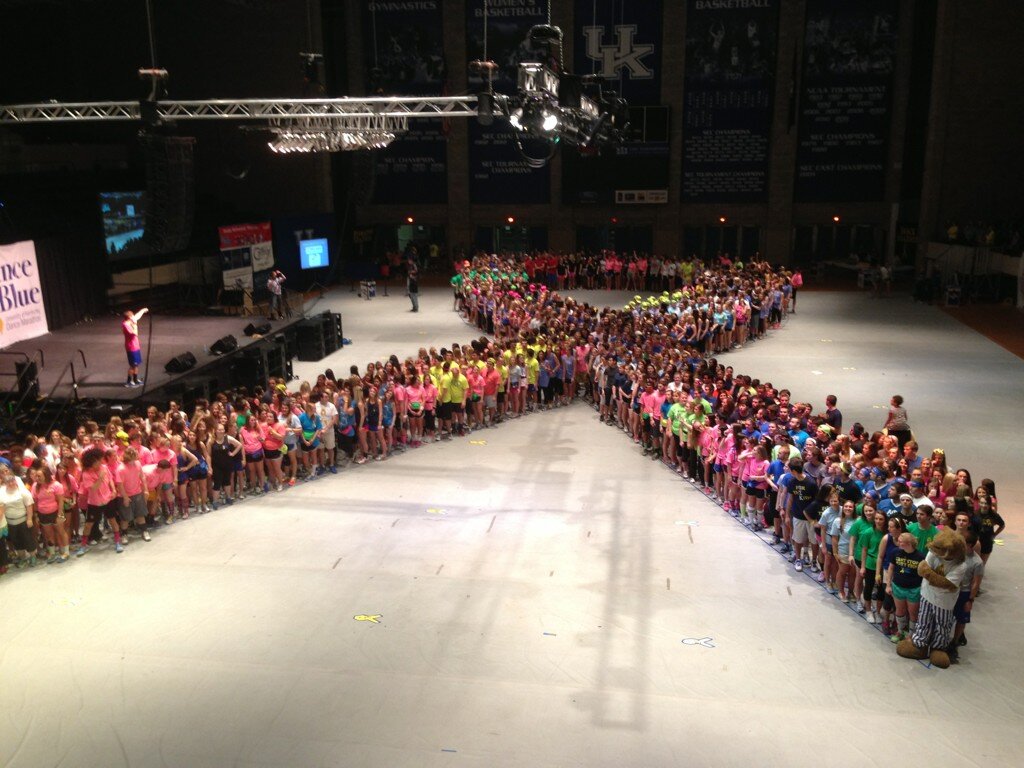 Sweet dreams. Boo Digger Phelps hard tomorrow, kids.