Dan Castellaneta's Friday News and Views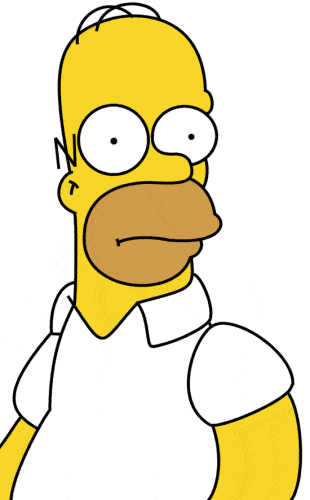 Today is the birthday of the voice of what I would argue is one of the three best television comedy characters for my money in tv history (the other two being Kramer and Barney Fife).
Dan Castellaneta is the voice of Homer Simpson
and has produced his words for 20 years on the longest running comedy in television history. What started as a part time gig on the Tracey Ullman show, given to a writer who could sound funny, has become the basis for multiple Emmys and a full-time career. Dan not only gave Homer his "D'oh", but he also does Grandpa Simpson, Mr Burns, Krusty and Barney, thus making his role the official "funny person" on the show. When I realized it was Homer's birthday, I was most intrigued to find out what a voice guy makes on a show like the Simpsons. I was surprised to find out that initially, Dan made $30,000 an episode, a sum that netted him $600,000 a year and remained unchanged for the first eight years. Since then, he has gained progressive raises and now makes a staggering $400,000 an episode, or nearly $9 million a year. On the one hand, it is the case that he has created one of the iconic characters ever...but he doesnt have to act, write, draw or do the other parts of the show...so we have to say that he may have the sweetest gig in America. Homer Simpson is and will always be a quote machine and "The Simpsons", while not a show I watch regularly anymore, is an classic and will live forever. To the (relatively thin) news: --- With almost nothing going on tonight, it was time to
focus on the debut in the NBA of the great John Wall.
He got a very difficult draw for his opening contest, getting Orlando on the road with a nationally television audience watching his every move. With a lot of hype and the NBA world watching, Wall's debut was so-so. He finished with 14 points, on 6-19 shooting and dished out 9 assists. There were some moments where Wall looked like he forced some things, but to be fair, without Gilbert Arenas or Josh Howard, he has very little in the way of help. He did showcase the fact that he is probably one of the 5 best finishes in the league in transition already and from the outset of the game, he showcased his uncanny ability to get to the basket. Shooting however is still a work in progress. Charles Barkley said at the beginning of the game that Wall's lack of help around him will "make him miss Kentucky...he will be like, 'where is Demarcus Cousins? Where is Patrick Patterson?" Barkley also noted that this will be the first time in his life that Wall will be playing with players that are as good as he is, a fact showcased early in the game. Still, it was a solid performance and one that Wall can build upon going forward. He is a superstar in waiting...tonight was the first step. --- As for the current group of Cats, it is going to be interesting to see how UK's starting lineup develops in the coming days. As of now, it
looks like UK could go small a great deal early
and create a first 5 that includes Brandon Knight, Deandre Liggins, Doron Lamb, Darius Miller and Terrence Jones. It is likely the case that this is the best lineup UK can put on the floor and will allow them to produce the most scorers and talent of any other combination. Such a lineup would have a hard time defending against traditional post big men, but fortunately for UK, there are only a couple of teams on their schedule that bring such an option to the table. Instead, Kentucky can use these five to play up and down the floor and get out in transition, where this team can be close to unstoppable. The problem for UK is that they have so little depth and want to play so fast....that is tough unless the guys are in (a) great shape and (b) stay out of foul trouble. Those two factors could end up defining the season, as the possibility of a small 5 predominating the minutes looks more and more likely. --- All of that talk about small ball could be rendered moot
if the Cats can get a certain Turkish big man eligible
. There have been a number of rumors that UK could hear something by the end of this week and I had been told by one source that it was likely. However after a few conversations today with folks around the program, it seems that few expect that to be the case. We are still likely a couple of weeks away from a decision, and what was expected to be done by this point, will continue to drag out for a while longer. The only solace that UK fans can take is this...I was told about a month ago, that if the news came soon for UK, it would probably be bad. The longer it takes, the more likely Enes would see some time on the court, although most now believe it wont be a full season either way. --- The football guys leave tomorrow
on their trek to the SEC's armpit, Starkville, Mississippi, for the annual Bulldog matchup.
In addition to giving us a chance to recycle cowbell jokes, the MSU game also allows everyone around KSR to remember the days when the only thing we cared about was going to the SEC Tournament and trying to come up with excuses to talk to this one MSU cheerleader that we fell for hard. We never really got up the nerves to do it, but in Mosley, my and MaconVolFan's minds, we were soulmates for those four-day excursions. For the football Cats, stopping the run will be the key and Steve Brown said this week that honestly he doesnt know what to expect from the Defense, but that he hopes it will be improved. So do I Steve, but I have no control over it, so lets cross our fingers that you and the boys can get it done. On offense, Derrick Locke is not making the trip, so it will be a Russell/Sanders duo once again...meaning more Hartline and a need for Cobb/Matthews/King and Brian Adams to step it up once again. More all day as we build towards the game on Saturday and the start of basketball games next week. Stay tuned....
and buy an iPhone app
if you (a) have an iPhone and (b) like awesome things. We got endorsements today from a host of you folks who bought it (the numbers exceeded our expectations) and a lot of nice things were said by "how come its not free!!!! I should get what I want, when I want it and not have to pay....!!! There should be no ads either because if you mmake money from this, you are an awful person!!! Dance for me monkey!") But most of you were wonderful as always, and we are glad you like it. One more thing...on Monday and Tuesday there will be probably be at least one paid political ad on the site...so if you complainers who dont like "politics on the blog" cant take the milliseconds of looking at something that isnt your choice, you might want to skip that day. More later....and until then, this picture of Eric Bledsoe going through some rookie hazing: