Early look at Dan Mullen, Florida Gators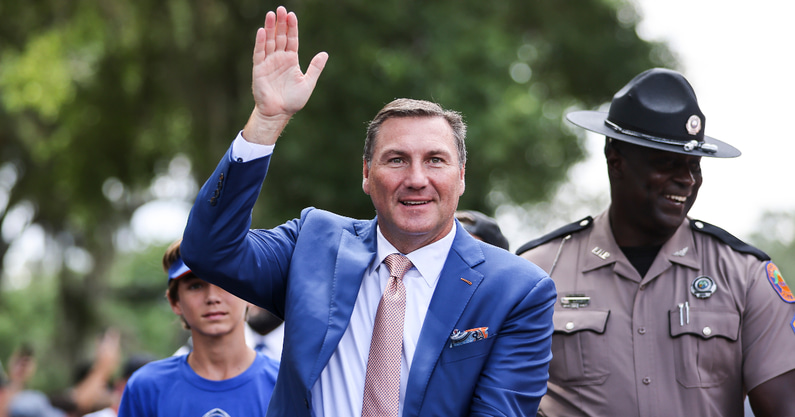 Want a big game? Kentucky will have a big game on Saturday evening when Dan Mullen and the Florida Gators roll into Lexington this weekend.
The Wildcats are off to a 4-0 start in year nine for Mark Stoops with a pair of SEC wins. However, the defending SEC East champs and No. 10 ranked Gators will provide a different kind of challenge at Kroger Field as Kentucky is an underdog for the first time this season.
KSR will have all of the preview content needed as Saturday quickly approaches. However, it's time for a quick cheat sheet to get up to speed. This is a dangerous team that can hurt opponents with big plays on both sides of the football.
Dan Mullen is managing interesting QB situation
After Kyle Trask threw for 4,283 yards and 43 touchdowns last season pacing the top passing attack in college football, the big question surrounding the Florida program was would be the next guy behind center.
All eyes went to former top-100 recruit and redshirt junior Emory Jones. However, redshirt freshman Anthony Richardson made a big move during fall camp. After two weeks, Florida was reaching a crossroads with what to do on offense.
However, the injury bug arrived. After throwing for 152 yards and rushing for 115 yards on just seven touches, the 236-pound quarterback tweaked his hamstring against USF. This caused him to miss the home games against Alabama and Tennessee the last two weeks.
Emory Jones responded after a slow start to the year.
The veteran completed 70.91 percent of his passes and averaged a respectable 7.35 yards per attempt to go along with efficient running. The dual-threat quarterback is fifth in the SEC in rushing yards (375) and his 53.7 percent rushing success rate is one of the better marks in college football.
However, Richardson is full go this week and should get at least a series or two against Kentucky. Jones has settled things, but we're not super far away from there being a QB carousel at Florida.
Havoc defense
There is no hiding from what defensive coordinator Todd Grantham wants from his unit. The Gators are going to play man coverage on the outside while hunting for tackles for loss more times than not. This style can be neutralized if an offensive line can own the point of attack.
So far this season, the Gators rank 29th nationally in yards per rush allowed (3.08) but the defense relies heavily on negative plays. With a stuff rate — run stop at or behind the line of scrimmage — of 19.08 percent, the Gators have been good at getting teams behind the chains. However, Grantham's defense has shown some weaknesses on a down-to-down basis.
For the season, Florida is allowing a 41.22 percent rushing success rate. Every foe on their schedule has had some bright moments on the ground when able to avoid negative plays. Alabama posted a 50 percent rushing success rate but was limited by negative plays.
To truly take advantage of the aggressive nature, Kentucky must establish the run.
For the season, Chris Rodriguez Jr. has a success rate of 51.76 percent and a stuff rate of 7.06 percent. This is a tailback that avoids negative plays and keeps the offense ahead of the chains. Part of his success is due to Kentucky's offensive line.
The Wildcats must be able to create a new line of scrimmage with their front and ride Rodriguez on a bunch of carries. This is how everything else will open up on offense when Grantham is consistently forced to put extra defenders in the box.
Kentucky can have a big day on offense, but the ground game must be established for that to happen.
Deep, balanced rushing attack
The element of the quarterback run makes Florida dangerous, but the Gators are getting terrific play from their three-man rotation at tailback.
Malik Davis, Dameon Pierce, and Nay'Quan Wright have combined to record 560 yards on 91 attempts averaging 6.16 yards per rush. Together, this group has a rushing success rate of 50.55 percent with 18 rushes of 10-plus yards.
After struggling to establish the ground game this year, the Gators have found the right mix on the offensive line as Dan Mullen has built another lethal rushing attack. This could be the No. 1 rushing offense in all of college football.
On Saturday, Brad White's stingy run defense will be put to the test. The Wildcats are 21st national in yards per rush allowed (2.89) with a 32.98 percent rushing success rate allowed. Only eight rushes in 94 attempts have gone for 10-plus yards against the Wildcats.
This will be a top matchup in the game as Kentucky looks to slow down a ground attack that has rushed for over 240 yards in each outing this season. Everything Florida does on offense starts with their rushing attack. The element of quarterback run makes the Gators difficult to defend.