Dane Key donates autograph signing proceeds to breast cancer research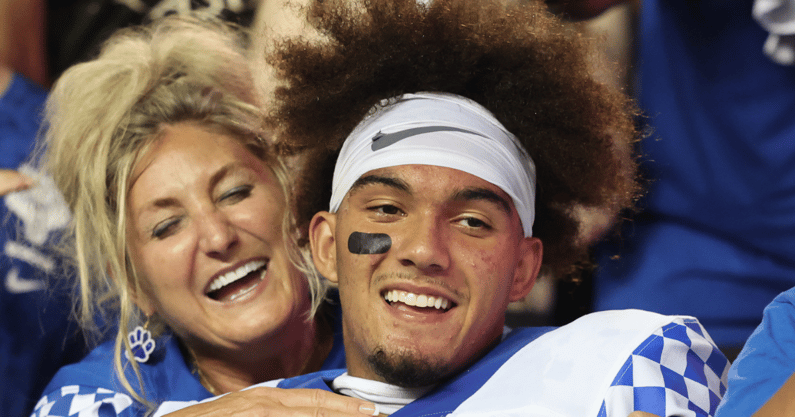 With the Name, Image, Likeness (NIL) era in full swing, student-athletes can finally earn money from autograph signings, merchandise sales, and endorsements. What players do with that money is entirely up to them, but this morning, we got a pretty cool story about how one Wildcat is using his NIL earnings for good.
Kentucky freshmen wide receivers Dane Key and Barion Brown did an autograph signing at KSBar and Grille last night and drew an impressive crowd despite the bad weather. According to our own Ryan Lemond, a close friend of the Key family, Dane donated all of his proceeds from the signing to breast cancer research in honor of his mother, Nicole, a breast cancer survivor. Athlete Essentials, which partnered with Commonwealth Causes on the event, matched Key's donation.
"They made some good money last night, both those guys," Ryan said. "Dane's mother is a breast cancer survivor, Nicole. Dane donated all of his money to breast cancer research, [the money] that he made last night. And Athlete Essentials matched it. Thank you so much to everyone that came."
Good on you, Dane.
Key, Brown on Liam Coen, Devin Leary
Prior to the signing, Key and Brown sat down with Ryan Lemond, Matt Jones, and Drew Franklin on the KSR Pregame Show to talk about their first year as Wildcats. Both excelled as freshmen, Brown finishing with a team-high 50 catches for 628 yards and four receiving touchdowns and Key with 37 catches for 519 yards and team-high six touchdowns. That said, they're also both very happy to have Liam Coen, who recruited them, back in Lexington as offensive coordinator.
"I'm super excited," Key said. "I had a meeting with him the other day. Just hearing what he had to say and him listening to me, what I had to say. Just had a great conversation with him. Super excited for him to be back and I know a lot of people in the building were just happy to see his face around there and I know we're ready to work with him."
"Just knowing, my senior year in high school, me coming to games and seeing what he can do with Wan'Dale [Robinson] and [Josh] Ali, that's always a big plus as a receiver when you can go to a school and see them throwing the ball or at least trying to throw the ball," Brown said.
What about their new signal-caller, Devin Leary? The NC State transfer is still working his way back from a season-ending injury, but Brown is looking forward to catching his passes once they take the field together.
"Can't wait. As people know, he came off an injury so he hasn't been able to throw or do a lot so we're just making sure he gets back healthy."
Elsewhere on the roster, Key and Brown singled out fellow wideouts Dekel Crowdus and Brandon White, linebacker Keaten Wade, and defensive back Zion Childress as names to watch in the 2023 season. As for the cast on Key's right wrist, which you can see below?
"I'm all good. Just taking care of some things."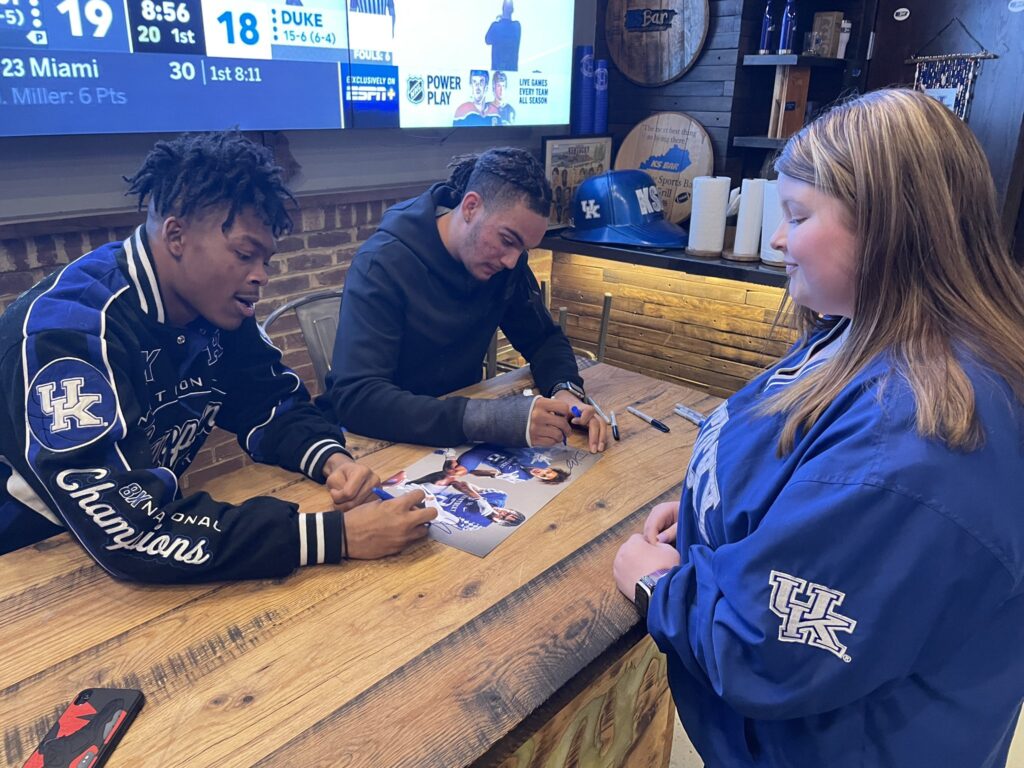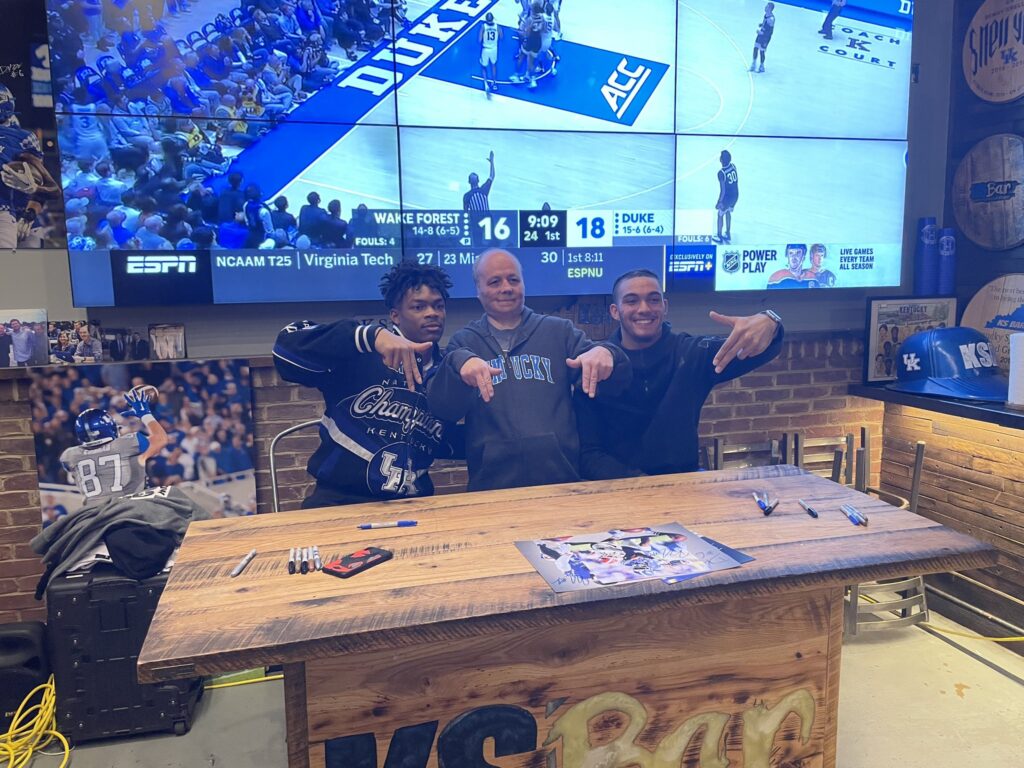 Hometown Hero, "Ls Down for Life"
After a standout career at Frederick Douglass High School, Key chose to stay home and play for Kentucky, picking the Wildcats over Oregon, South Carolina, and Michigan. After his first season, Key said he's still very happy with his decision.
"Yeah, for sure. Just every week, just knowing that I've got to look for extra tickets because I'm at home. It's like what Barion experienced when we went to Tennessee, he kept asking for 100 tickets in the locker room. But it's just awesome, being able to ask for all those tickets because you know that you're going to have the biggest support group in the crowd there cheering you on."
Brown may hail from Nashville, Tennessee, but he quickly learned one of the pillars of being a Kentucky Wildcat: hating Louisville.
"As soon as I committed, I knew what I signed up for," Brown said. "Ls Down for life."
Brown is so happy in Lexington that he routinely shot down rumors he was going to transfer elsewhere.
"Just like every week, I guess a fan or somebody would see something happen, or a rumor that he's going to transfer because he didn't get the ball this many times or he's going to transfer because of this or that. So, I just think honestly that was a fan perspective that was going around.
"That's why I had to tell BBN, I'm here. Y'all ain't gotta worry about nothing. I'm here to stay."
Brown and Key covered plenty more in the interview, including the recent Justin Rogers social media drama, what makes Vince Marrow such a great recruiter, and their relationships with Mark Stoops. You can hear it in its entirety on the KSR Podcast feed or the media player below.