Dane Key on 5-star WR: Barion Brown: "We're going to get him."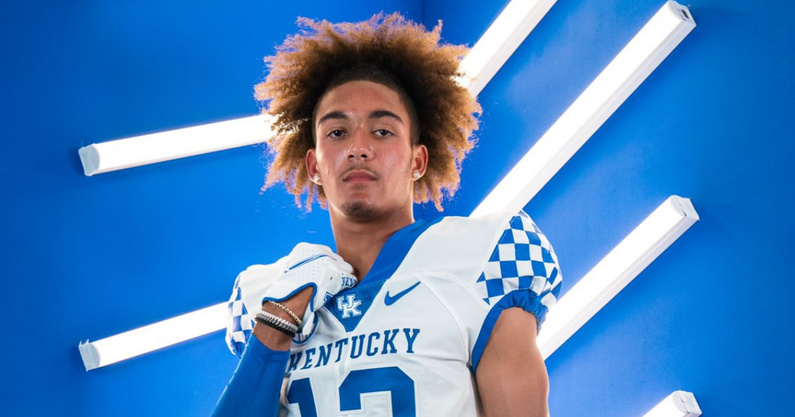 Ranked No. 16 in the latest 2022 On3 Consensus Team Recruiting Rankings, Kentucky football has already made a strong splash on the trail this cycle. It's a class that features one five-star, eight four-stars and six three-stars as we enter the month of November.
The latest to join the fold? Four-star wide receiver Dane Key, who announced his commitment to Kentucky last week. And if you ask the in-state standout, he certainly won't be the last as we inch closer toward signing day.
In an interview with Kentucky Sports Radio on Tuesday, the Frederick Douglass standout has two key prospects he's pushing to join him at UK. The first? Four-star offensive tackle Aamil Wagner, who is set to announce his commitment next week.
Aamil Wagner
"The guy we're working on now is Aamil Wagner, Ahmad Wagner's little brother," Key told KSR. "We're trying to get him right now, he's one that's uncommitted."
Key said following his commitment to Kentucky last week that Wagner was at the top of his priority list among uncommitted prospects. By the time the four-star lineman commits, Key expects UK to come out on top.
"We're trying to get Aamil Wagner now," Key told KSR on Friday. "That's who we're going to get, that's who I'm going to start recruiting really hard so he can play with me at the next level."
Wagner is set to announce on November 11, choosing between Kentucky, Maryland, Notre Dame, Ohio State and Penn State.
Barion Brown
Beyond Wagner, the biggest name left on the recruiting board going into signing day is none other than five-star wide receiver Barion Brown. Like Wagner, Key expects Kentucky to land the nation's No. 14 overall prospect.
"We're trying to get Barion Brown," Key told KSR. "We're gonna get him. I know we're gonna get him."
Beyond being a top-15 prospect overall, Brown is rated by On3 as the No. 2 wide receiver in the senior class. The dual-sport track star is also the back-to-back Tennessee state champion in the 100- and 200-meter dash. His 10.49-second time in the 100 in spring of 2021 is the third-fastest TSSAA state meet time since 1985.
Last week, Brown confirmed he would sign during the early signing period, adding that a commitment is coming sooner rather than later.
"It shouldn't be long before I come down to a decision," he told Tyler Palmateer of Main Street Preps on Thursday. "Probably two, three weeks. My head hasn't really been on that too much right now."
Kentucky is loaded with playmakers
Speaking of playmakers, Kentucky already has offensive weapons such as Key, Keaten Wade, Destin Wade, Jordan Anthony, Brandon White and Josh Kattus committed for 2022. Though they project as defensive players in college, Treyveon Longmire and Alex Afari are both considered versatile athletes in their own right.
Add in guys like Barion Brown to close out the class, and it's a group of weapons Key is excited to play with in Lexington. And that's not even counting his best friend and former Frederick Douglass star, Dekel Crowdus.
"We've got Destin Wade, Keaten Wade, Alex (Afari), we've got a lot of playmakers," said Key. "It does excite me (playing with new recruits), but you know, I already have a dude there in Dekel Crowdus. I can't get any closer than what me and him already are."
The early signing period will run from December 15-17. The regular period will then open on February 2, 2022 and close April 1.
Is Kentucky on the cusp of its greatest recruiting class in school history? It appears we're trending in that direction.