Darian Kinnard Named to Reese's Senior Bowl All-America Team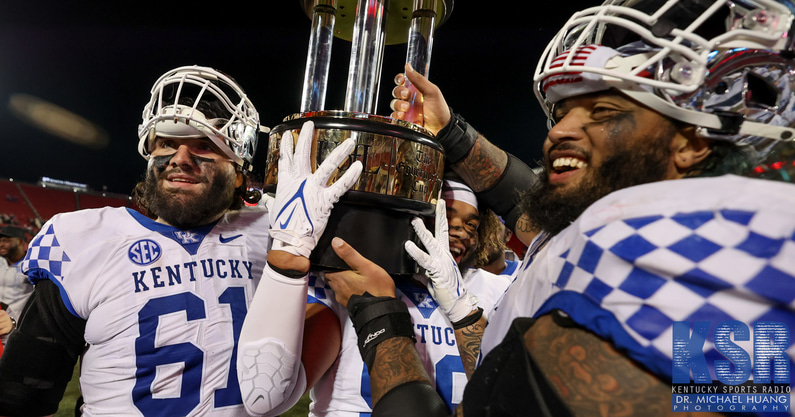 Kentucky senior offensive tackle Darian Kinnard continues to rack up the postseason awards, this time being named to the third annual Reese's Senior Bowl All-America Team.
Earlier today, Kinnard earned First-Team All-America honors by CBS Sports and was also the recipient of the 2021 SEC Jacobs Blocking Trophy.
Kinnard is one of 29 Reese's Bowl All-Americans, a list made up of college seniors uniquely selected based on the Reese's Senior Bowl's scouting staff's thorough two-year evaluation process. The process consists of tape study, live-game exposures, objective data, football character, personal character and trusted feedback from National Football League front office personnel.
Kinnard, a 6-foot-5, 338-pound mountain from Knoxville, Tennessee, is one of three Wildcats to accept an invitation to the Reese's Senior Bowl set for Feb. 5, 2022 in Mobile, Alabama. Senior safety Yusuf Corker and senior defensive end Joshua Paschal have also accepted invitations. 
Kinnard led the team this season at the right tackle position with 30 knockdown blocks. He also allowed only one quarterback sack in more than 350 pass plays. The first-team All-Southeastern Conference selection by Pro Football Focus and the league coaches was a semifinalist for both the 2021 Rotary Lombardi Award, given to an offensive or defensive lineman who combines outstanding performance on the field with the character and discipline of NFL Hall of Fame coach Vince Lombardi, and the Outland Trophy, given to the nation's most outstanding interior lineman. In addition, he earned first-team All-SEC honors by the league's coaches and Pro Football Focus.
Under Kinnard's leadership on the offensive line, the Wildcats' offense is averaging 431.1 total yards per game, including 206.1 on the ground, and is averaging 6.57 yards per play, which would set a new school record for a season. According to PFF, UK leads the SEC in rushing yards before contact, averaging 2.6 yards per attempt.
Postseason Awards for Kinnard:
First-Team All-America (Reese's Senior Bowl, CBS Sports)
First-Team All-SEC (PFF, Coaches)
2021 SEC Jacobs Blocking Trophy