Darian Kinnard named SEC Offensive Lineman of the Week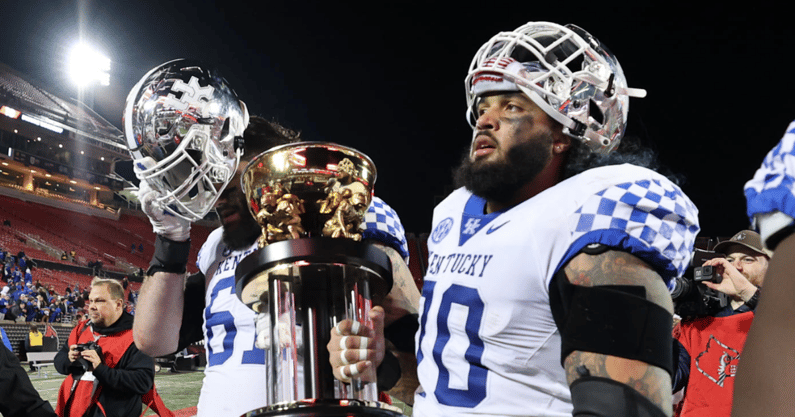 The star of Kentucky's Big Blue Wall earned some recognition for his performance vs. Louisville. Darian Kinnard was named SEC Offensive Lineman of the Week today, his second such honor this season. Kinnard also took home the award for his play vs. Vanderbilt on Nov. 13.
In the 52-21 beatdown of the Cards, Kinnard had two knockdown blocks, did not allow any quarterback sacks, and did not have any penalties or missed assignments. He had 11 blocks at the point of attack, including a key fourth-down conversion that set up a score. Kentucky scored on seven of the eight possessions in which Kinnard was in, the sole exception being the possession that ended the first half.
Behind the Big Blue Wall, Kentucky rushed for a season-high 362 yards, averaging 7.4 yards per rush. The Cats' seven rushing touchdowns broke a Governor's Cup record. With the win, Kentucky concludes the 2021 regular season with a 9-3 record and will go bowling for the sixth-straight season. We'll find out where this Sunday, Dec. 5.