De'Aaron Fox, Malik Monk hoping to avenge 2017 NCAA Tournament loss with NBA Finals run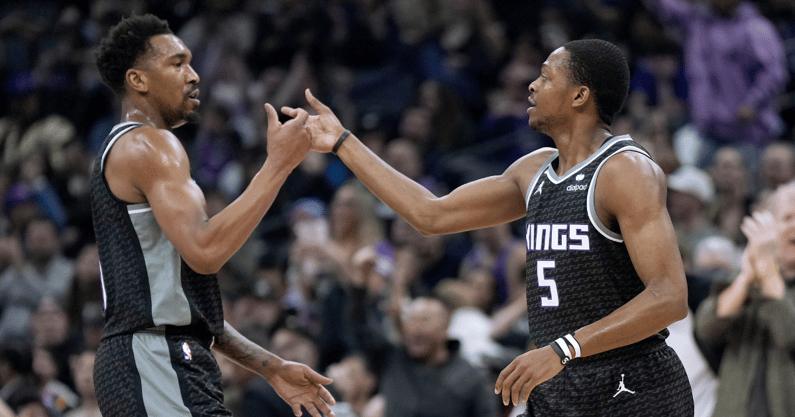 De'Aaron Fox and Malik Monk were one Luke Maye last-second shot away from taking Kentucky to the NCAA Tournament's Final Four in 2017. Fast forward six years later and the lethal scoring duo is looking to make another deep run for a championship, only this time with hopes of making it far enough to win the whole thing.
Fox and Monk are once again teammates, playing alongside each other for the Sacramento Kings, which has shocked the entire NBA world with its impressive play throughout the 2022-23 season. Sacramento is third in the Western Conference with a 43-29 record, locking up a winning record for the first time since 2005-06. That was also the last time the Kings made it to the NBA Playoffs — the longest such drought in league history.
The vibes are different in Sac-Town now. The Kings are led by Fox, who was named an All-Star this season for the first time in his six-year professional career. He's averaging 25.4 points, 4.2 rebounds, and 6.1 assists per outing while shooting a career-best 51.6 percent overall from the field. Alongside fellow All-Star Domantas Sabonis, those two have formed arguably the most dangerous offensive tag team in the entire NBA.
Coming off the bench for Sacramento, Monk is also having a personal-best season. He's been in the Sixth Man of the Year conversation during various points this season, averaging 13.6 points, 2.7 rebounds, and 3.9 assists in 22.5 minutes per contest off the pine. Monk exploded for 45 points last month against the LA Clippers in a one-point win for the Kings.
Together, Fox and Monk are still looking to avenge that crushing loss to North Carolina from years ago. The NBA recently profiled the two former Wildcats, where Fox touched on his goals to win an NBA championship with Monk in Sacramento.
"Obviously everyone wants to win a championship, no matter what level it is," Fox said. "When we committed to Kentucky, we knew that we only had that one opportunity. But now that we came together again, if we could win an NBA championship, I think that would cover those wounds for sure."
Sacramento won't be favored to make the NBA Finals this season — or even make it to the Western Conference Finals, for that matter — but with the NBA's top-ranked offense, opposing teams would be foolish to overlook the Kings. Fox and Monk have proven they can show up when the games matter most.
Fox and Monk on swapping jersey numbers
Prior to arriving at Kentucky, Fox and Monk both wore No. 5 in high school. But once they made it to UK's campus, Fox says that he ceded the No. 5 jersey to Monk and switched to No. 0.
Fox would only sport that number for his one year in Lexington though, switching back to No. 5 once he was drafted fifth overall by the Kings. The main reason? His new Sacramento teammate, former Kentucky All-American Willie Cauley-Stein, who was drafted two years earlier by the Kings with the sixth overall pick, was already wearing No. 00, and Fox didn't want to have two guys wearing similar numbers, so he returned to the classic No. 5, which he's kept ever since.
When Monk joined Fox in Sacramento, he says he wanted No. 5 again, but there was "no way" Fox was going to let him have it back this time around, so Monk reluctantly accepted the No. 0 jersey.
The rest, as they say, is history.