De'Aaron Fox's Relationship with UofL: It's Complicated
[caption id="attachment_208354" align="alignnone" width="427"]
Mark Zerof | USA TODAY Sports
[/caption] Kentucky point guard De'Aaron Fox's relationship with the University of Louisville has gone back and forth since he was first recruited by the Cards in the summer of 2015. Fox was recruited by UofL first.  Rick Pitino offered Fox a scholarship in June, a month before John Calipari did the same.  He took an official visit to Louisville in September, a few weeks before his official visit to Lexington for Big Blue Madness.  The Cards came first until he chose to attend Kentucky in November, with UofL as his second choice. In a
preseason interview with T.J. Walker
, Fox said: "I liked both schools so, I'm a part of the rivalry now so I can't say I like Louisville now, but
when I wasn't a part of either school I liked both."
After committing he learned to put Louisville out of the picture, only to bring them back in to throw shade.  This picture at McDonald's All-American game angered many Louisville fans. [caption id="" align="alignnone" width="600"]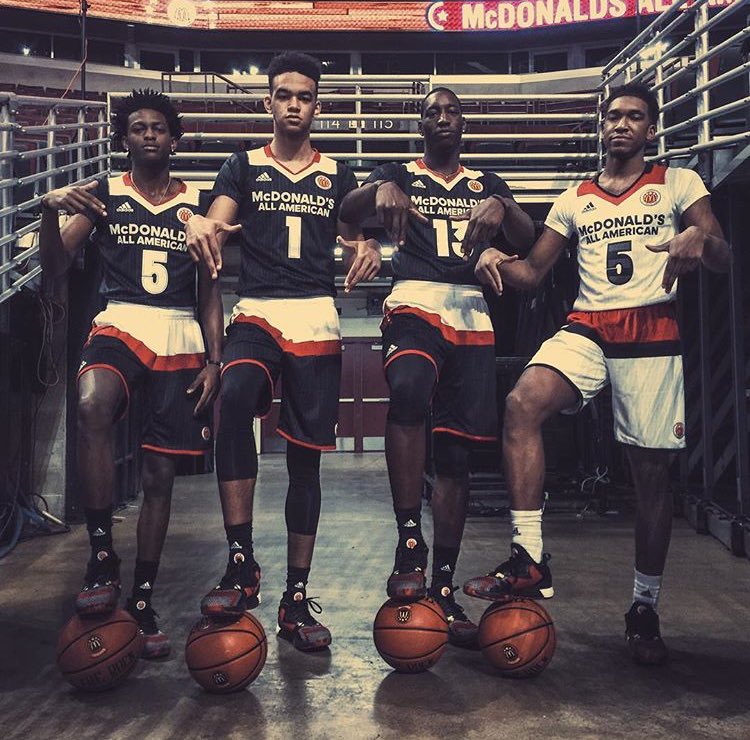 @The_SKJ[/caption] "I wouldn't say that picture was bad but I heard it's hanging up in their locker room. If you have a picture in your locker room you can keep it, draw whatever you want on it," he told Walker.  
"I know they're worried about us but we're not worried about them."
Fox has no regrets.  He looks forward to traveling to the Yum! Center to face the school he once considered attending. "We did it and I wouldn't take it back.  If people are finding it serious that's them. I wouldn't take it serious. It's a rivalry. What do you want us to do?"  Fox said, "We're going to Louisville and you hear about what happens when you're on the road like that and what they say.  It's something you really look forward to. Not just because it's Louisville but any rivalry game on the road." He provided bulletin board material for his rival before he even arrived on campus, but Fox isn't exclusively filled with hate for the Cards.  Some Kentucky fans couldn't believe what they saw on Twitter late Saturday night. https://twitter.com/Swipathef0x/status/782431263110160385 He's thrown L's down yet he wanted their football team to beat Clemson?  For fans, that's unacceptable, but learning to hate Louisville is just one of the many things players must learn when they come to campus: where the's best place to eat, how to schedule an appointment with your advisor, master the dribble-drive and hate Louisville. By the time December 21 rolls around, I have no doubt that Fox will have learned to keep the L's down. [
Cats

Illustrated
]