DeAndre Square: "We were ready for the moment."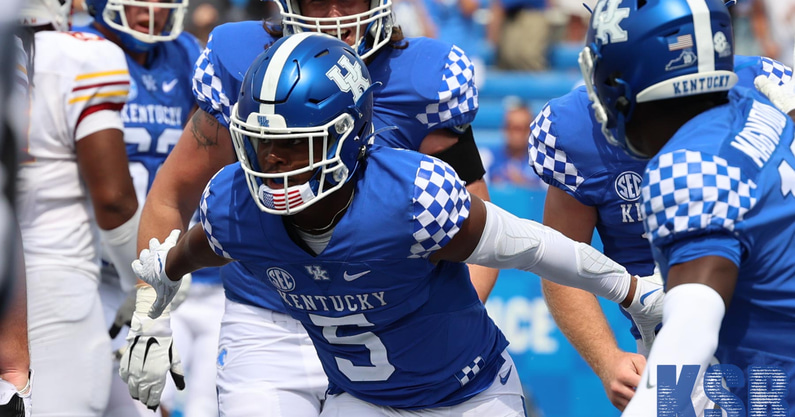 This year's Kentucky football team has made a habit of flipping the narrative. That's been a blessing, as Liam Coen's new-look, run-and-gun style has opened whole new possibilities on offense. It's also been a curse, as the formidable running game UK fans have grown accustomed to has suddenly looked susceptible.
But the latest new wrinkle for this team — and perhaps the biggest reason why they're 4-0 — has been on defense. No, it's not the dominant force that we've seen in the past, as evidenced by lapses against Missouri and Chattanooga. What it is, however, is clutch.
On Saturday night, while Josh Ali and the 'Cats fumble-happy offense was busy trying to lose, the defense stepped up when it had to. And then it did again. And again, and again and again until the W was secured. Led by senior DeAndre Square, they got the job done when it counted.
"We knew if we came in with a lot of effort and attention to detail, that we could stop the run," Square said after the game. "I feel like we were ready for this moment. We showed up tonight."
Square had a season-high eight tackles against South Carolina, most on the team — and they couldn't have come at better times. On this Gamecock drive in the second quarter (third slide in the tweet below), he stuffed the ball-carrier at the line of scrimmage on back-to-back plays, securing a huge turnover on downs:
On the night, Kentucky's defense was consistently at its best in the biggest moments: they held the Gamecocks to just 3-12 (25%) on third downs, and an impressive 0-3 on fourth-and-short. As promised, they shut down South Carolina's rushing game entirely, allowing just 58 yards and 2.2 per attempt on the ground.
Two of those fourth down stops came in the fourth quarter, on back-to-back drives, following back-to-back fumbles. A lesser defense might get frustrated in those situations, but not Kentucky's.
"We always have the mentality of when a sudden change happens, we always say, 'good,'" Square said. "We get to show our talents. When stuff like that happens, we get excited."
It was this mentality that carried UK to a win on Saturday, and should bolster them to more going forward. And as for the gaudy turnover margin that has some fans doubting the legitimacy of the team's undefeated start, well, the defense has a say in that, too.
"They say turnovers happen in bunches," Square said. "Once we get one, I feel like we're gonna get it rolling."
Hopefully, that roll happens sooner rather than later. But when it does, these 'Cats could be a scary sight.