Death of Jim Matney Has Inspired Johnson Central Athletics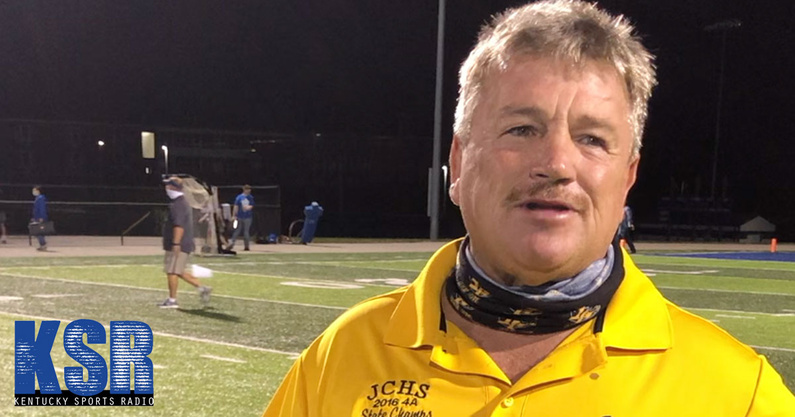 [Ed. Note: On Friday, the Kroger KSR Game of the Week heads to the mountains for Johnson Central at Letcher County Central. As part of our preview this week, we will be remembering Jim Matney, the late, great Johnson Central coach who passed away from complications due to COVID-19 in September.]
A mountain-made man that loved his holler, his family and his program passed away Sept. 28 after battling complications from COVID-19.
Jim Matney was much more than the football and wrestling coach at Johnson Central High School. He was a son, a brother, a husband, an uncle, a friend—and most importantly, a father.
His two sons, Dalton and Carson Matney remembered his father on social media. Carson said, "I was blessed to have the best dad ever," in an Instagram post the day Jim passed. Dalton took to Twitter to honor his father:
Donations can be made to the college funds of the Matney brothers through City National Bank. The bank is located at 632 Jefferson Ave. in Paintsville.
The Golden Eagle Family
What makes Matney's legacy so special is the fact that all of Johnson Central athletics is one big family, no matter the era.
Blake Gamble, who wrestled and played football under Matney at JCHS from 2014-18 was quickly brought onto the coaching staff shortly after graduating. It wasn't until he put on the headset that he was able to appreciate everything Matney did for the program that did so much for him.
"Coach Matney is a lot of the reason that I decided to do what I decided to do with my life," Gamble said. "He genuinely did it for the kids, more than anything else. He didn't take a whole lot of personal credit for anything that we ever accomplished. Once I got to see things from this side of the curtain, that kind of opened my eyes to just how special of a person he really was."
A Mountain Man of the People
The man once dubbed 'The Governor of the Mountains' instilled his take-no-prisoner, hardworking lifestyle into his kids every year. That mindset certainly translated to the gridiron.
You wouldn't think so, with the way you saw his athletes play on the football field and on the wrestling mat, but Matney was a kind, loving man that cared deeply for the kids he coached and the people in his community.
"Just seeing how much he included [kids], like myself, versus someone who came out of a hollow with no shoes. We were the same person," said KHSAA football and wrestling legend J.J. Jude.
In all of his time coaching, he won two state championships (2016, 2019). He's also one of 12 coaches in KHSAA history with 300 or more victories in their career. At the end of the day, Matney didn't care about any of that. He just wanted to make an impact on kids to not only embrace themselves but where they come from as well.
"This man was the best coach in the state, and maybe anywhere," new Johnson Central head coach Steve Trimble said.
His Legacy Lives On
On the night of Matney's passing, programs from the University of Kentucky to high school programs from Paducah to Pikeville all left their lights on at 7:30 p.m. in honor of the fallen legend.
"Coach Matney, we just wish him and his family the best," Kentucky head coach Mark Stoops said. "We respect his legacy and honor him. I have great respect for high school coaches … people that sacrifice a lot of their life impacting other people's lives. Coach [Matney] was certainly that way."
Since His Passing
It's been just over three weeks since his passing and the Golden Eagles have played with their hearts on their sleeves every Friday night. They've dominated their opponents, knowing Matney is smiling down on them. Just three days after his passing, Johnson Central took the field to play Clay County in a night that renamed their field after Matney.
"There was talk of maybe canceling the [Clay County] game, but that would be the last thing that he would want us to do," Trimble said. "I think the best thing that could ever happen for them now is to get out on the field and play and do the things that he's taught them to do and that he's instilled in them."
That smash-mouth lifestyle was at the forefront of their minds as the Golden Eagles ran 30-straight rushing plays for 354 yards and five touchdowns. Trimble called it therapy.
"I've never been more proud of a group of kids in my whole life," Trimble said after the win. In the three weeks since Matney's passing, Johnson Central has rushed for 927 yards and 16 touchdowns while outscoring opponents 126-12.
What Johnson Central Can Do Next
As a part of this week's Kroger KSR Game of the Week, Johnson Central will take on Letcher County Central for the 4A District 8 Championship.
Matney's soldiers have a chance to do the impossible and win districts despite everything that's been weighing on the team mentally. To go into the playoffs on a potential five-game winning streak is a testament to the will, drive and determination their former coach has drilled into them throughout their tenure as Golden Eagles.
"You mountain kids have made believers out of a lot of people for a lot of years," Matney said in a now-viral speech to his team a few years ago. "My question to you guys, is what are we going to do this year? Are we going to carry it on? Are we going to carry on what we believe in?"
Matney certainly believed in the mountain way of life—the Johnson Central way of life. Whatever happens on the football field, these athletes will know they've laid it all on the line for their coach. The same way hundreds more have suited up for on countless fall evenings throughout the years. Whatever happens, those mountain kids will make their old man proud.
Fly like a Golden Eagle, Coach Matney.