DeMarcus Cousins reportedly set to join Taiwanese pro team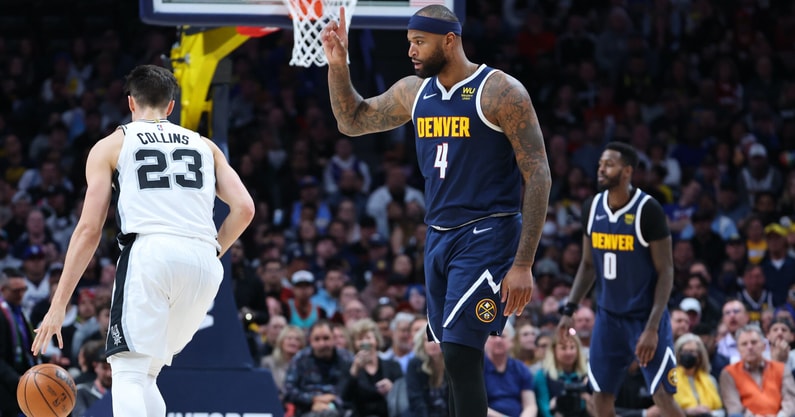 Could former Kentucky star DeMarcus Cousins be taking his talents to East Asia? Multiple local news outlets in Taiwan, namely TVBS and Basketball Network, are reporting that Cousins is in discussions with teams in the country's T1 League to play overseas.
The former Wildcat would join former NBA superstar Dwight Howard in the Taiwanese pro league, where he exploded for 38 points, 25 rebounds, nine assists and four blocks in his debut earlier this week with the Taoyuan Leopards. Cousins' team has not yet been announced, though the Tainan TSG Ghosthawks and Kaohsiung Aquas have been rumored as potential options.
Now 32 years old, Cousins played 48 total games last season for two different NBA teams, 17 games with the Milwaukee Bucks and 31 games for the Denver Nuggets. Despite thriving in his role off the bench for both franchises, he went unsigned this offseason.
In the weeks leading up to the regular season back in October, Cousins publicly asked for NBA teams to give him another chance in the league, hoping to prove he can be a valuable addition to a locker room and help a franchise win games.
"Have I made mistakes? Absolutely. Have I done things the wrong way? Absolutely. For that, I'm very apologetic," Cousins told Yahoo! Sports at the time. "But I've done even more things the correct way and I've done even more positive things compared to my negatives. I just don't want those positives to be overlooked. And obviously, whenever it gets to the point where the negatives outweigh the positives, you should probably move away from him. That's just how life goes. But I don't believe I'm in that boat. I'm just asking for a chance to show my growth as a man and a player."
Injuries derailed Cousins' standout NBA career, rupturing his Achilles, tearing his quadriceps and tearing his ACL in a two-year stretch from 2018 to 2019. Prior to that difficult stretch, though, he averaged 21.1 points and 10.8 rebounds per game in seven seasons in Sacramento and 25.0 points, 12.7 rebounds and 5.0 assists per contest in two seasons in New Orleans. He was an NBA All-Star four straight seasons from 2014-2018.
From 2018 through 2022, Cousins played for five different teams across three seasons, averaging double-digit points just once (16.3 points and 8.2 rebounds per game in 30 games with the Golden State Warriors in 2018-19).
During his lone season at Kentucky, Cousins averaged 15.1 points, 9.8 rebounds and 1.8 blocks per game before declaring for the 2010 NBA Draft, where he was selected fifth overall by the Kings.
Fast forward 12 years, and the former Wildcat could be on the move to Taiwan.