Delusion, with Jerry Tarkanian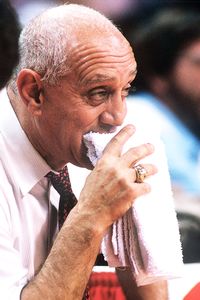 Holy crap. This towel-chewin' fool done went out and started blogging---for a
newspaper
. That's right folks, Jerry Tarkanian is relevant again. And this time, it's not for cheating or
having Anderson Hunt, Larry Johnson, Greg Anthony and Stacey Augmon on one team.
In Tark's latest piece, he relives some old recruiting stories. And lo and behold, who does he single out? Why, UK and Sam Bowie, of course! Tarkanian begins by telling the story of how Bowie became interested in UNLV. Apparently, Bowie O.J. Mayo'd the coach and told him he'd been thinking about playing out west.
Bowie, according to Tarkanian, wanted pretty girls, warm weather, a starting spot, and a hotel management degree
(<---what?). Tarkanian thought the Rebs had a shot, so he started taking red eye flights to visit Bowie in Pennsylvania. Surprisingly, each time he did, UK assistant Leonard Hamilton was already checked into Lebanon's (PA) only hotel. The same hotel Bowie dreamt of one day managing (I made that up). When Tarkanian heard that Bowie's mother was in the hospital, he sent an assistant to visit. Soon therafter, the assistant called and said that, unbelievably, UK's entire staff was visiting Bowie's mother in the hospital. Later, someone called and
said that Bowie had been seen driving around in a Cadillac
. It was at this point, Tarkanian says, that he knew they had lost Bowie. Furthermore, Tarkanian claims he later learned that UK had a room in Bowie's hometown hotel year round, and that room had been "Sam's playpen"---whatever the hell that means. Tarkanian claims that he never recruited against UK again. This story is not all that hard to believe. It's no secret that shady stuff goes down when recruiting; but is this all true? Maybe, maybe not. Who knows, really, besides those involved? However,
the fact that Jerry effing Tarkanian is intimating that UK, or anyone, for that matter, engaged in questionable recruiting practices is insane
. Again, maybe they did. The point, though, is that Tarkanian is widely considered to have ran one of the dirtiest programs in NCAA history. Later in this same piece, Tarkanian accused Arizona of lying to parents of recruits about what went on in Vegas (hookers involved!). It's striking how indifferent Tarkanian is to these supposed smear tactics from other teams. He just sort of drops the improprieties without warning or explanation and moves on. Part of that, of course, is that these things happened several years ago, and perhaps that's "just the way it was." The other part, I suppose, is that Tarkanian
has
to see the hypocrisy in crying foul in regards to the recruiting practices of others. Of Tough Guys, Thieves and Wildcats (
Las Vegas Sun
) (HT:
TBL
)
Fake Gimel Edit: Let's review a timeline of Jerry's hard-working, never-cheating time at UNLV. The best part: "On the front page of its newspaper, The Las Vegas Review-journal publishes a photo of UNLV players Moses Scurry, Anderson Hunt and David Butler in a hot tub of known sports fixer Richard Perry."