Deondre Buford fits Big Blue Wall recruit and develop blueprint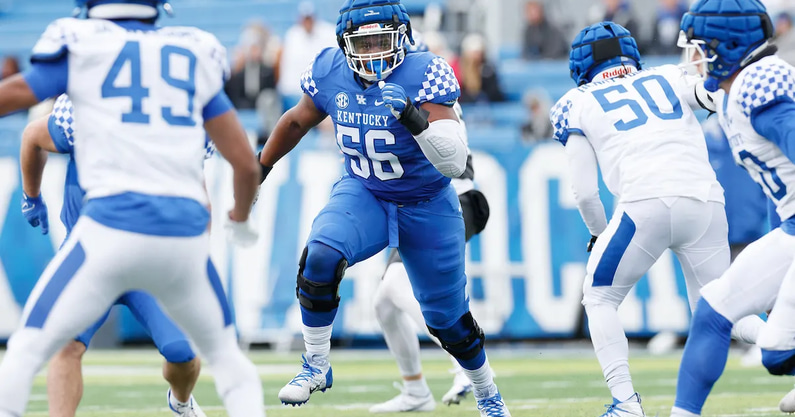 Following the end of the 2021 season, the Big Blue Wall lost two starters to the NFL Draft and another was signed by the Atlanta Falcons in free agency. The program is also on its third offensive line coach in three years. Signs are pointing to a trench play regression in Lexington.
Kentucky's offensive line room has other plans.
With the addition of Auburn transfer Tashawn Manning along with the return of Kenneth Horsey and Eli Cox, Kentucky should be very good along the interior with a load of SEC experience. However, there are some big holes to fill on the edge.
Last fall, Darian Kinnard and Dare Rosenthal teamed up to give Kentucky one of the best tackle duos in college football. That won't be the case heading into 2022. Instead of dipping into the transfer portal, Kentucky is leaning on its established development blueprint to find its left tackle of the future.
Deondre Buford (6-3, 312) was a top-500 recruiting win for Kentucky in the class of 2020 out of Detroit (Mich.) Martin Luther King. After spending two years on the sidelines, the redshirt sophomore is expected to step into the starting lineup in 2022. The young player received a vote of confidence from the head football coach in Atlanta.
"Really pleased with Deondre," Mark Stoops told local media at SEC Media Days about Buford. "Really felt like he had a great spring."
In the past, we've seen multiple redshirt sophomores step into the lineup and become multi-year starters in the Stoops era. Logan Stenberg was the first, and the left guard became a three-year starter before being drafted. Luke Fortner jumped into the rotation in 2018 and became a third-round pick after a position switch to center. Horsey was the next, and now the redshirt senior is one of the best left guards in the SEC. Cox continued that list last year and is making the same position move as Fortner.
A pattern has been created, and Buford is the next one in line. Horsey will be there as a veteran to help lead the way.
'It was the same thing with me two years ago when I had my first start during the COVID year I just filled in right behind Stenberg after he got drafted," Horsey told reporters. "It's just about recruiting and developing and being patient and waiting for your time. I feel like we got guys that have bought in and seen the blueprint ready to take it one step forward."
Kentucky is a developmental program. Not every solution can be solved in the transfer portal. The Wildcats are leaning on a proven method as the program is asking Deondre Buford to take over at one of the most important positions on the field. Recent results tell us there is a good chance the young prospect turns into a good player.
Buford will have some veterans to lean on the interior. Both Horsey and Cox have had the same path and will be there for the youngster to provide guidance.
"I know what it's like to not have much playing time and step out on the field," Horsey said. "I take it as my responsibility to make sure that these guys know what's in store for them because you can't actually understand what to do and how you need to do it until you go through it. Being able to have older guys in the room to help you along the way is definitely helpful because I remember how helpful it was for me being able to play in between Landon [Young] and Drake [Jackson]."
Buford will be joined by redshirt junior Jeremy Flax at right tackle as expected new starters on the Big Blue Wall. Kentucky needs both to take over important positions. Each will be leaning on veterans for assistance. The program seems to have a proven plan that will again be used this season.