Deone Walker makes On3's Preseason True Freshman All-American Team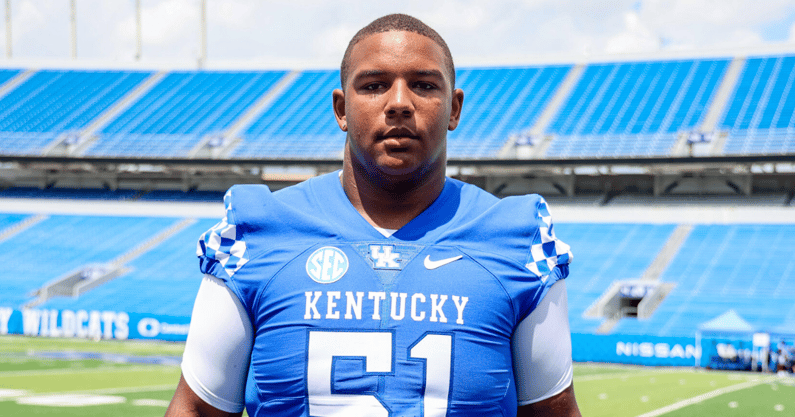 Deone Walker has been one of the standouts of Kentucky's fall camp thus far; that buzz has not gone unnoticed by the national media. Kentucky's defensive lineman made On3's Preseason True Freshman All-American Team this morning, the lone Wildcat on the list.
"Deone Walker has created significant buzz throughout fall camp as a potential, if not likely, day one starter along Kentucky's defensive line," On3's Director of Scouting and Rankings Charles Power wrote. "The 6-foot-6, 330-pounder has received heaps of praise from Mark Stoops and fellow Wildcat players according to KSR. Walker has been a standout in large part due to his combination of size, length and quickness. The Detroit Cass Tech product is one of several four-star prospects to sign with Kentucky in the 2022 cycle and is among the handful who could be serious contributors this fall. Walker was the No. 269 overall prospect in the On3 Consensus."
Walker is absolutely massive, standing at 6'6″, 330 lbs. If you recall, Kentucky held off Michigan to land the former four-star recruit from Detroit (Mich.) Cass Tech. He was named to the Detroit Free Press All-State Dream Team in 2021 after racking up 43 tackles, 15 tackles for loss, and six sacks in seven games.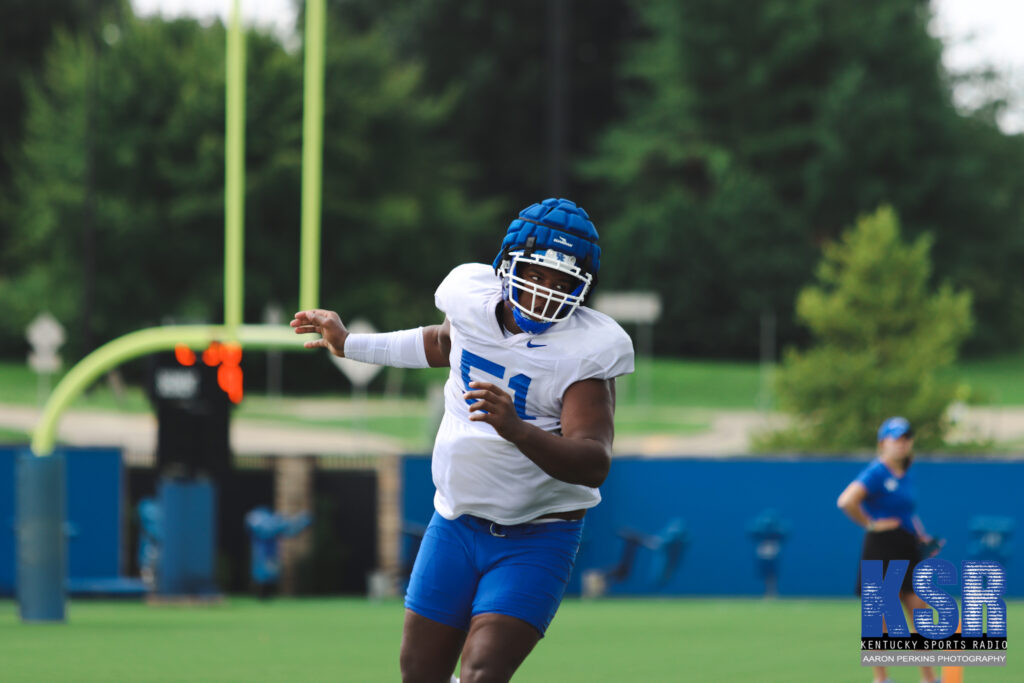 Stoops, players rave about Walker
Walker played with the ones at Kentucky's scrimmage on Saturday and could open the season as a starter on the defensive line, quite a feat in the SEC. In addition to size, Walker has length, with hands measuring 11″ and arms 33″.
"I want to have length," Stoops said about Walker. "To have a d-lineman with that kind of length and then be loose enough and sudden enough to get pressure on the quarterback from the inside position. He's very good."
Praise from the head coach is big, but Walker has also earned respect from Kentucky's veterans.
"Man, Deone, that's a different cat right there," Jacquez Jones said. "He's so big and the way he moves, I feel like Deone, he's just special. He's special. Nobody that big should be able to move like that. He's a special talent."
"Deone's young, and he's raw, but he's very physically gifted," redshirt junior center Eli Cox said. "He's very tall, he plays with a lot of length. He plays with really good explosion and strength for a young guy. It's something that he'll be able to provide a great look for us on offense because he's built just like every other SEC defensive lineman we play every day."
"He's been great. He didn't come in here just thinking that everything was going to be handed to him," super senior linebacker DeAndre Square said about Walker. "He's been working and he's just a big guy. You don't see too many guys that big moving like that…If he just stays the course and keeps learning and improving he's going to be really good here."