Depth Chart Projection: 2023 Kentucky Defense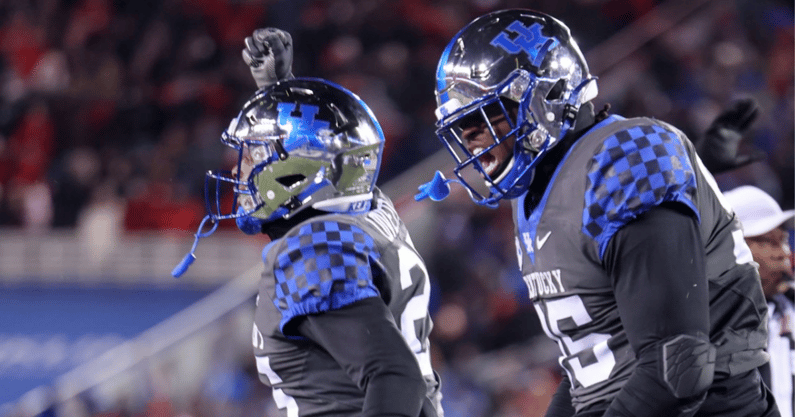 The transfer portal window has closed. National Signing Day might bring another player or two, but for the most part, we know what the Kentucky football roster will look like in 2023. After finishing fourth in defensive efficiency last fall, the high-water mark of the Stoops era, the Wildcats lost valuable leaders at linebacker. Despite a few surprise departures (Carrington Valentine, Justin Rogers), Brad White still has a ton of experienced players on the depth chart to build off of last year's success.
Defensive End
Kahlil Saunders (6-5, 288, RSo.)
Tre'vonn Rybka (6-4, 275, Jr.)
Darrion Henry-Young (6-4, 255, Jr.)
Kentucky needs more production from this position. No, they do not need to become Josh Paschal, but these three combined for just 3.0 TFLs, 2.5 sacks and zero QB hurries in 2022. Kahlil Saunders showed more than expected during his redshirt freshman campaign. If he's the only one that takes the next step, the Cats can get creative in pass rushing situations by bringing in an Edge to play 5-technique.
Nose Guard
Jamarius Dinkins (6-5, 280, RFr.)
Josaih Hayes (6-3, 309, Jr.)
Keeshawn Silver (6-4, 315, RSo.)
Based off experience and recruiting ranking, Josaih Hayes should seamlessly fill the void left by Justin Rogers. However, he didn't really play in the second half of 2022. Why? Not sure, but Jamarius Dinkins showed flashes. He has exceptional length for the position, but needs to bulk up this offseason. Former five-star North Carolina transfer Keeshawn Silver is the wild card on the depth chart. He could be a game wrecker, but I have a feeling it will take him some time to get in shape and find his footing in Lexington.
Defensive Tackle
Deone Walker (6-17, 785, So.)
Octavious Oxendine (6-1, 285, RJr.)
Are those measurables for Deone Walker accurate? Probably not, but would anyone question them? Kentucky's Goliath on the defensive line is unlike any player the BBN has ever seen. A true difference-maker, after earning Second Team All-SEC Honors as a true freshman, I can't wait to see what he has in store for year two.
Jack Linebacker
J.J. Weaver (6-5, 245, Sr.)
Keaten Wade (6-5, 240, So.)
Tyreese Fearbry (6-5, 230, Fr.)
The return of J.J. Weaver is huge for Kentucky's Edges. Brad White has assembled a talented group of outside linebackers on the depth chart, but they just finished their first season on campus. Grant Godfrey could be another playmaker on the edge too, but the cake has to bake at this spot. Keaten Wade and Tyreese Fearbry should see some snaps in certain packages, while Weaver works to finally have a breakthrough in production after an injury-riddled three seasons.
Mike Linebacker
D'Eryk Jackson (6-1, 241, RJr.)
Luke Fulton (6-4, 225, Sr.)
Jayvant Brown (6-0, 220, Fr.)
D'Eryk Jackson was supposed to emerge into a starting role in 2021, until he suffered an Achilles injury in spring practice. Jacquez Jones transferred to fill the void, delaying Jackson's rise up the depth chart ever so slightly, but he's still logged a ton of reps and a handful of starts. He led the Cats in tackles with 67 last fall. I included Jayvant Brown because you don't sign four-stars just to sit them. Even though he won't be here for spring ball, I expect he'll eventually enter the rotation.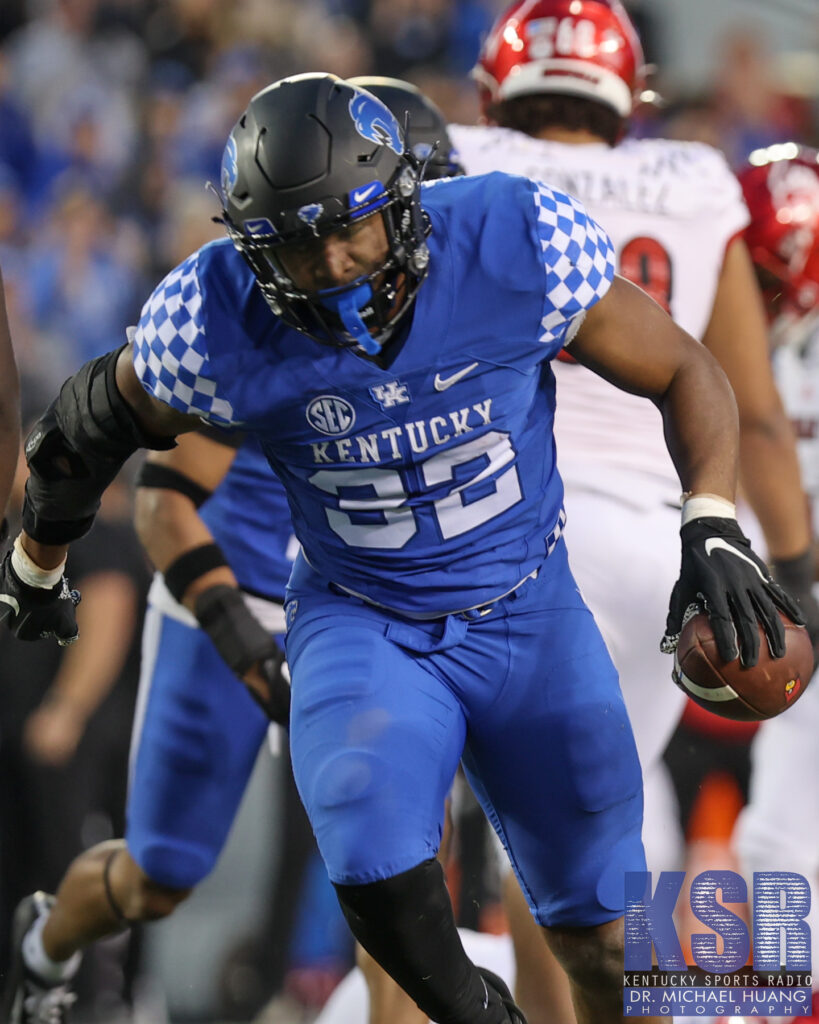 Will Linebacker
Trevin Wallace (6-2, 240, Jr.)
Martez Thrower (6-2, 224, Jr.)
After two years of learning behind DeAndre Square, it's finally Trevin Wallace time. An elite athlete, if he can become a student of the game, he'll be a tackling machine getting upwards of 90-100+ this fall.
Sam/Nickel
Vito Tisdale (6-1, 184, RJr.)
Alex Afari (6-2, 203, So.)
Vito Tisdale has always played like a wild card. That is especially the case after returning from a season-ending knee injury. Prior to the injury, he was working out at cornerback. Nickel is probably where he's best used, but Alex Afari showed flashes throughout his true freshman season. He's earned the right to receive snaps. Fortunately for both, UK will play more nickel and less 3/4 next year, giving each plenty of opportunities this fall.
Boundary Cornerback
JQ Hardaway (6-3, 190, So.)
Jantzen Dunn (6-0, 185, RSo.)
Avery Stuart (6-2, 175, Fr.)
This position is defined by young talents with traits. All three are inexperienced, yet have the size, length and speed that Kentucky values in its cornerbacks. JQ Hardaway gets the early nod over Jantzen Dunn and Avery Stuart because he has the most in-game experience of the three. However, any of them could become the primary playmaker by mid-season. This is a wide open competition.
Free Safety
Jordan Lovett (6-2, 202, RSo.)
Taj Dodson (6-1, 203, Sr.)
Jordan Lovett proved that he is a dude in 2022. He was excellent in run support, finishing second on the team with 62 tackles. His head-hunting cost him a couple plays in pass coverage, yet he still had a pair of picks, tied for the most on the team. Lovett is well ahead of schedule, on his way to becoming an all-conference player for the Cats.
Strong Safety
Jalen Geiger (6-1, 197, RJr.)
Zion Childress (6-0, 191, Jr.)
Similar to Tisdale, how Jalen Geiger plays after a season-ending injury will define how snaps are divided among the deepest position group of the defense. Initially a free safety, he made the switch to strong in 2022. I would not be surprised if he swung between both positions to give Lovett and Zion Childress an adequate amount of snaps. Those two were outstanding after injuries sent players to the sideline.
Field Cornerback
Andru Phillips (6-0, 190, Jr.)
Maxwell Hairston (6-1, 185, RSo.)
After starting his season at nickel, Andru Phillips was forced to play more and more in the field throughout 2022 and performed well. Maxwell Hairston does not play with the same physicality, but the young talent has plenty of untapped potential.
Experience, Safeties are Strengths of the Kentucky Defense
Last year Kentucky had leaders at all three levels of the defense. This year might feature their most star power, starting with Deone Walker. J.J. Weaver could play his way into that category. It feels like Trevin Wallace is a genie trapped in a bottle that is ready to unleash havoc on the SEC.
The back end of the defense is where this group will truly shine. Between free, strong and nickel, Kentucky has five players with significant SEC snaps under their belt that can all contribute in a variety of ways. This will give Brad White an opportunity to get in his bag and pull out a ton of different looks to try to confuse opposing quarterbacks. They also can act as a blanket of sorts as the Cats try to find the right pieces at cornerback.
This defense may not have the same efficiency numbers as 2022, but they can make up for that with playmakers that produce turnovers. After struggling to create takeaways for two seasons, I expect that to change in 2023.