Derrick Baity Jr. has been one of the best cornerbacks in all of college football
Want to know why we haven't heard the announcers talk about Kentucky's inability to cover elite wide receivers this season? And more specifically, why there haven't been many (if any) gripes about cornerback Derrick Baity Jr.? Because Baity has been really good. Damn good. One of the best in college football good. According to CFB Film Room,
the senior cornerback has been targeted just 20 times this season, allowing just three total receptions.
Three catches. In six games. When you think of all the screen passes, quick curls, and backs catching balls out in the flat we see week after week in college football, it just makes that statistic even crazier. He's not even giving up the cheap balls other corners across the nation give up without thinking twice. To take it one step further, he has allowed zero catches on 16 targets thrown ten-plus yards downfield. The Cats haven't given up many long balls through the air this season, and Baity has been a major part of it. Check out the graphic: [caption id="" align="alignnone" width="1200"]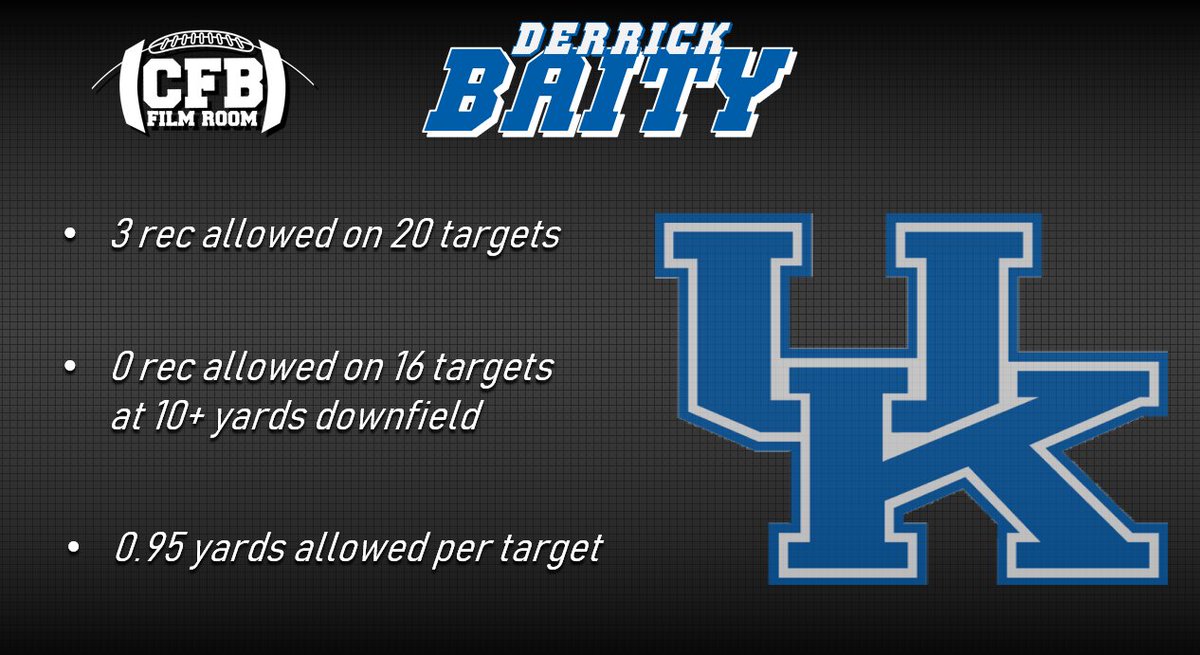 @CFBFilmRoom[/caption] When you break it down to yards per coverage snap, Baity Jr. is actually the No. 5 corner in college football and the No. 2 corner in the SEC, allowing just 0.38 yards per. The fine folks over at Pro Football Focus put together the following graphic: https://twitter.com/PFF_College/status/1051876105592827905 From a pure numbers standpoint, he's already racked up 20 total tackles, four pass deflections, one interception, and one forced fumble through six games. And that's with him locking down the opposing team's top target each week and quarterbacks being too scared to throw his direction. After a dominant freshman season, we all assumed it would be cornerback Chris Westry being the star of Kentucky's #NoFlyZone in the secondary. Just a few years later, Baity has taken over that role with ease. [mobile_ad]