Devin Askew, Johnny Juzang advance in the NCAA Tournament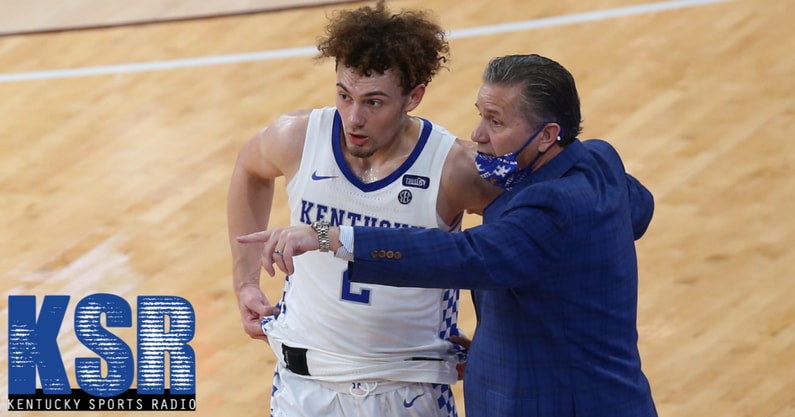 Kentucky didn't advance in the NCAA Tournament, but two former Wildcats did.
Johnny Juzang got March Madness started with a tight win, with No. 4 seed UCLA defeating No. 13 seed Akron by a final score of 57-53. And then from there, Devin Askew helped No. 6 seed Texas beat No. 11 seed Virginia Tech by a final score of 81-73 on Friday.
Juzang finished with nine points on 3-11 shooting and 1-4 from three to go with five rebounds, three steals and two assists. As for Askew, he finished with three points (1-1 FG) and one rebound in the win.
With the win, Juzang and the Bruins advance to the Round of 32 to take on No. 5 seed Saint Mary's on Saturday at 7:10 p.m. ET. Askew and the Longhorns will take on No. 3 seed Purdue on Sunday. Both players will advance to the Sweet 16 with wins and then could potentially face off in the Elite Eight.
Juzang played at Kentucky in 2019-20 before putting his name in the transfer portal at the conclusion of the season. He averaged 2.9 points (37.7 FG%, 32.6 3PT%) and 1.9 rebounds in 12.3 minutes per contest. After transferring to UCLA, Juzang has since averaged 16.0 points and 15.8 points in back-to-back seasons, shooting at least 43 percent from the field and 35 percent from three in both years.
Askew suited up for the Wildcats in 2020-21 before leaving the program, averaging 6.5 points (34.5 FG%, 27.8 3PT%), 2.9 assists and 2.6 rebounds in 29.0 minutes per contest. At Texas, the sophomore guard is averaging 2.2 points, 1.4 assists and 1.0 rebounds in 15.0 minutes per game.
As for Kentucky, the Wildcats were sent home with a loss in the opening round of the NCAA Tournament, falling to Saint Peter's in overtime by a final score of 85-79.
In case you forgot.