Devin Booker will miss beginning of training camp due to health/safety protocols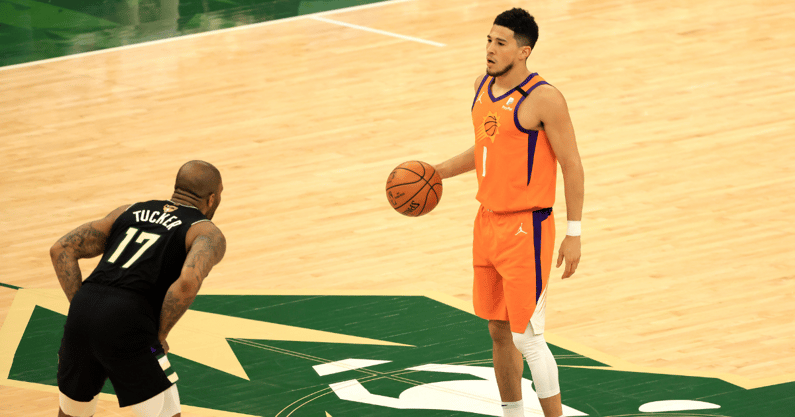 Devin Booker is only three months removed from a surprise run to the NBA Finals, and now his training camp appearance is going to be delayed.
According to the Phoenix Suns, Booker is expected to miss the beginning of training camp, which is set to begin early this week, due to health and safety protocols. The Phoenix Suns All-Star shooting guard is coming off a career season where he helped lead the franchise to a 2021 NBA Finals appearance and the most successful season in over a decade.
"Phoenix Suns guard Devin Booker is in health and safety protcols and will not participate in Monday's Media Day or the start of training camp. The Suns will have no further update on his status until he is available to participate in training camp."

Phoenix Suns
It is not known at this time whether or not Booker, who won a Gold Medal for Team USA over the summer at the Tokyo Olympics, tested positive for COVID-19 or if he simply came in close contact with someone who had, but it's not an ideal start to his 2021-22 campaign. The season will tipoff on Oct. 19, although the Suns will start its season a day later on Oct. 20 against the Denver Nuggets. Phoenix will begin training camp on Tuesday with Media Day scheduled for Monday.
Booker's vaccination status against COVID-19 has not been publicly released.
During the 2019-20 season, Booker averaged 25.6 points, 3.7 rebounds, and 4.6 assists per game on a shooting split of 48.4/34.0/86.7 as he was named an NBA All-Star for the second consecutive year. The soon-to-be 25-year-old was the perfect co-star next to future Hall of Fame point guard Chris Paul as the duo led Phoenix to a 51-21 record and a trip to the Finals for the first time since 1993.
Expectations will be high this time around for Booker and the Suns, but missing the early stages of training camp isn't exactly a good start. Get well soon, Book.