Devin Booker named NBA Western Conference Player of the Month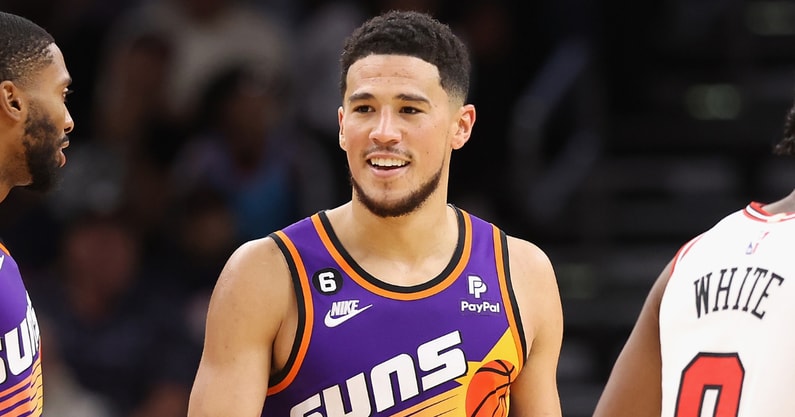 51 points on Wednesday, Conference Player of the Month on Thursday.
As Kevin Durant said better than anyone else could, that's "F***in ridiculous Devin Booker".
Earlier today, Booker was named the NBA's Western Conference Player of the Month for the months of October and November after leading the Phoenix Suns to the conference's top overall seed. The 26-year-old former Kentucky Wildcat is putting up video game numbers this season and has the Suns atop the West at 15-6. Booker is averaging 29.0 points, 5.3 rebounds, 5.8 assists, and 1.1 steals in 36.5 minutes per game on a shooting split of 48.9/37.8/87.8 through 21 games played.
Booker is coming off a season-high 51-point masterpiece on 20-25 shooting in a 19-point win over the Chicago Bulls on Wednesday night, bringing his total to 95 points over the last two games played. He dropped 44 points in a five-point win over the Sacramento Kings on Monday.
The head coach of Booker's Suns, Monty Williams, was tabbed as the Western Conference Coach of the Month. Boston Celtics All-Star wing Jayson Tatum was named Eastern Conference Player of the Month after putting up averages of 31.6 points, 7.8 rebounds, and 4.5 assists per game.
Booker is on pace to make a fourth consecutive All-Star Game appearance for his play during the first quarter of the regular season. More impressively though is how he's handling the majority of Phoenix's offensive responsibilities. Starters Chris Paul and Cameron Johnson have played a combined 18 games this season while another regular starter, Jae Crowder, has not played a second as he waits for a trade out of Phoenix.
Booker is getting buckets from every single spot on the floor this year and doing so with ease; his shooting numbers are rivaling career highs. He's knocking down a ridiculous 58.9 percent of shots between the 10-16 foot range — an elite number and also a career-high, per Basketball-Reference. Booker is taking more shots in the paint than ever before and converting at a high rate while still efficiently firing off 6.4 three-pointers per game.
It's still early, but Booker is a true MVP candidate as the season currently stands. Basketball-Reference's MVP Award Track has him at fifth behind Tatum, Nikola Jokic, Luka Doncic, and Giannis Antetokounmpo, respectively.
He's only getting better, too…