Devin Booker's Nursing Home Visit's Wednesday Night News and Views
[caption id="" align="alignnone" width="400"]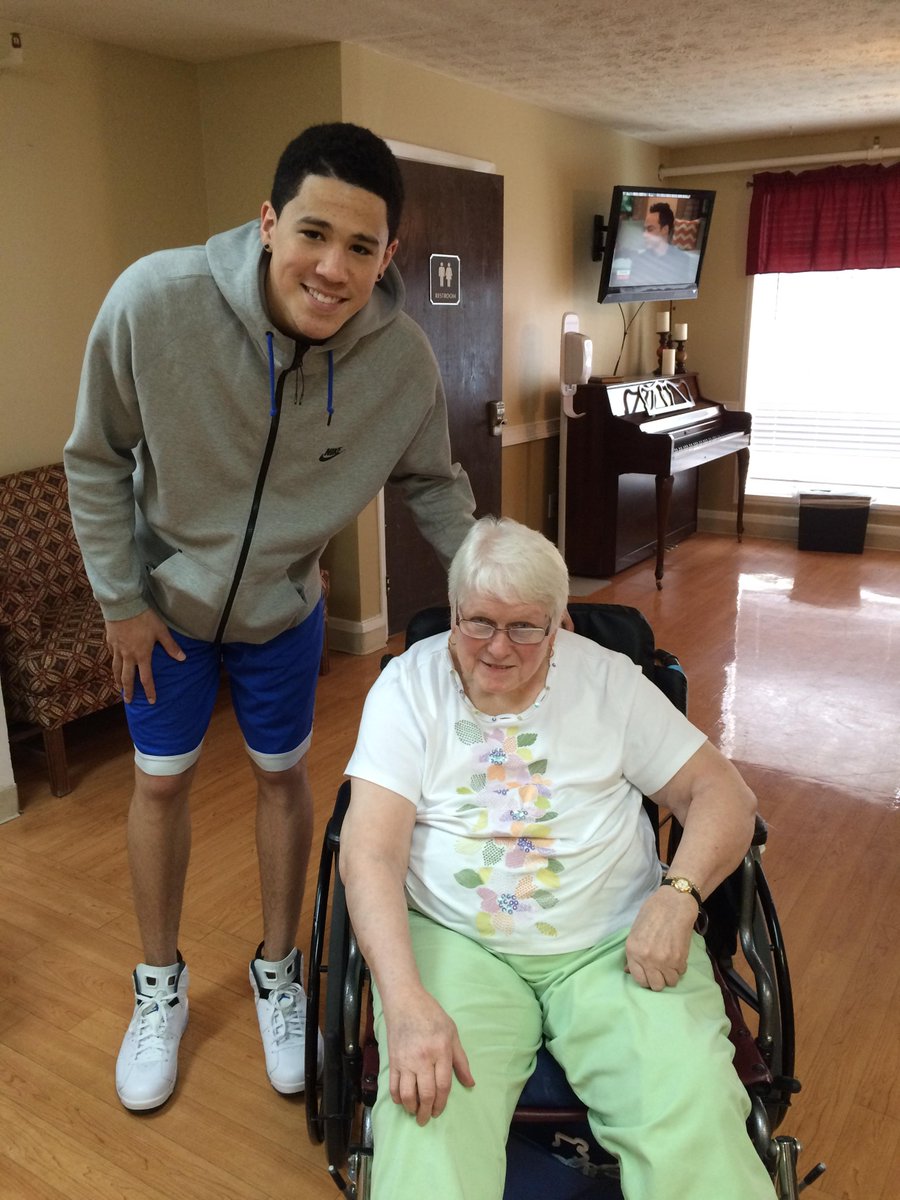 @AlexRisen
[/caption] It can't be said enough... These guys really are unlike any we've seen in Lexington. Devin Booker, who should be busy getting ready for this summer's NBA draft, spent an hour at Cambridge Nursing Home today to hang out and take pictures with the residents. Do you think UK put him up to that? No. Of course not. The season's over. Booker's gone. No need to force PR. It was simply Devin Booker, who should be busy getting ready for this summer's NBA draft, hanging out with the residents and staff at Cambridge Nursing Home. These guys, man. They're something special. I've seen it since the feet-washing in the Bahamas last fall and they continue to amaze me with their kindness and involvement around the community. You were 19 once. Did you hang out in a nursing home? No. And you weren't worth millions. What a special group of young men we're sending off to the NBA to get rich. Be proud, BBN. Be very, very proud. Now let's do this News and Views thing...  
Spring football is over.
It happened so fast! Believe it or not, spring football at Kentucky already happened; it's over. The Cats practiced one final time on Wednesday before putting the balls away until the fall. Maybe it's because there was no spring game, or because Wisconsin, but spring practice flew by when fans weren't really paying attention. And that's unfortunate because it was a very good spring for the Cats, undoubtedly the best in a long, long time. For a recap of the spring, why don't you scroll down for my 10 Things We Learned From Spring Football posted earlier tonight. If you don't want to do that, just know that Mark Stoops sees a huge difference between the conclusion of his first spring and his third at UK.
There is a new name on Coach Cal's recruiting board.
And he has a KSR connection. There is now mutual interest between Vincennes University's Mychal Mulder and the staff at UK. Kentucky reached out to the JuCo shooting guard a few weeks ago and a scholarship offer may follow in the near future. If it does, Mulder's entire mindset could change. He had narrowed his recruitment down to Wichita State, Creighton and Indiana, but this new interest from Kentucky has his full attention. Mulder is an outstanding three-point shooter and a First Team All-American in the JuCo ranks. He shot over 46 percent from downtown this past season, averaging almost 16 points per game. As for that KSR connection, his head coach is Todd Franklin. I spend every Thanksgiving and Christmas with Todd Franklin. We've known each other for, oh, my entire life. But back to the stuff you care about, Mulder is really good. And Rick Pitino 
really 
wants him and we always enjoy taking one from Rick.
It was Dakari Johnson's turn to be on KSR radio.
Dakari was at Pazzo's for Wednesday morning's remote broadcast and the only thing I remember from his interview is he admitted to singing Beyonce in the shower. He said lots of other good stuff but that's what stood out to me. You'll have to listen for yourself to catch the rest: I think he said something about wanting to go back to Brooklyn to play for the Nets, too.
Sam Malone launched a sports marking company.
It didn't take long for Sam to capitalize on his career with Kentucky. You can say he "gets it." Earlier today, Sam announced the launch of Won Every Game LLC, his first business venture:
I have always dreamt of owning my own company and within 10 days of my college career ending, I have fulfilled that dream. I've started my own global sports marketing company, Won Every Game Productions LLC. Already, I have agreed to terms with Philadelphia 76er Nerlens Noel and his management firm Decus. Next week, Nerlens and I will travel to the Philippines for business meetings, clinics, and media events. In addition to the partnership with Nerlens, I've had discussions with a number of prospective clients. My thanks go out to all of the fans that supported me for the past four years, my teammates, my friends, Coach Cal, and the Gatton College of Business.
Your move, B-Long. Appreciation Sports is calling your name.
Willie Cauley-Stein will throw out the first pitch at the Legends game tomorrow night.
Kentucky's 25th consensus All-American will take the mound prior to the Lexington Legends' home opener Thursday night at 7:05 pm at Whitaker Bank Ballpark. He will also sign autographs in the concourse from 5:45-6:45 pm before he heads out for the first pitch around 6:50ish. Dollar beers, too. (
That takes me back
.)
Any soccer fans out there?
USA vs. Mexico, anyone? Just me? Well alright. Moving on...
Anthony Davis is going to the playoffs!
31 and 13 for A.D. to lead the Pelicans past the Spurs in the season finale and into the playoffs. May I remind you, he is only 22 years old and the team had 21 wins the year he was drafted. MVP trophy in the next three years. Write it down.
The entire internet has seen Drew Barker get sucker punched.
I mean's it's EVERYWHERE.
If I were sitting around with my friends and not writing to a couple hundred thousand people, there is a word I would use to describe Patrick Graffree and his punch. I'll let you imagine what that word is; a lot of you probably called him the same thing when you saw it. Eastern Kentucky has to kick him off the team, without question. I'm shocked he got off with the law. That is a blatant assault. There's no fight there. It is the definition of assault and both he and Barker are very lucky Barker wasn't hurt worse. Also, it's a little disappointing to see Barker's teammates' reaction, or lack thereof. They were clearly outnumbered but how about a little more help than casually walking over and picking up Drew's hat. Your boy just got knocked out. Do something. If that were BTI getting blindsided with a punch by a massive dude, I wouldn't have hesitated before rolling up my sleeves and sprinting out the door to wait for the area to clear out. Then I would've tiptoed back in with big sunglasses and a fake mustache to see if he is okay.
I will co-host tomorrow's show with Ryan Lemond. 
Matt's gone for the week and he left the KSR airwaves in our hands. It's been a while since I've been on the morning show so I'm really looking forward to it, although I have no idea what we'll talk about. Maybe I should be doing, like, show prep or something. Nahhhhhh....