How a Connection to Will Levis led Devin Leary to Kentucky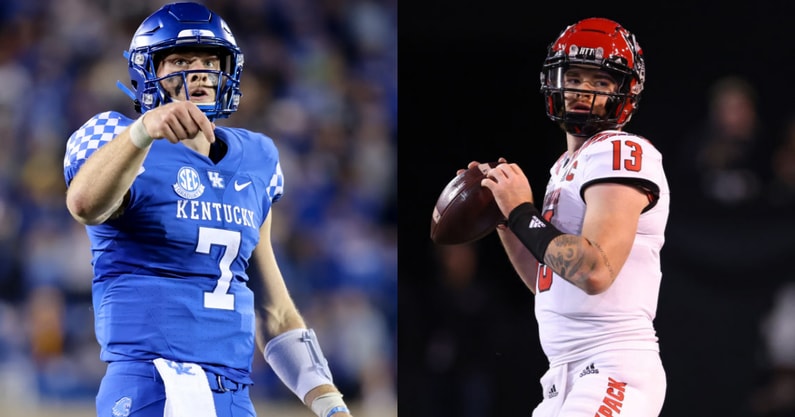 Devin Leary would not be at the University of Kentucky without Will Levis. The former Kentucky quarterback played a much more direct role in landing the future Kentucky quarterback than we previously thought.
As the year neared an end, the BBN knew Kentucky would be an attractive destination for transfer portal quarterbacks. After all, a former backup transferred to Kentucky and developed into a future top 10 NFL Draft pick. What we did not know is that Will Levis would already have established a relationship with the Wildcats' next quarterback.
"This past summer I had the opportunity to go to the Manning Passing Academy and Will was actually one of my roommates. We stayed in dorms and Will was my roommate," Leary shared with BBN Tonight this week. "We were kind of just talking ball at the time. Obviously, I was approaching my season at NC State and I was very focused there. Who knew that I was going to end up where he was leaving from?"
Levis was one of the top performers at the Manning Passing Academy. Following their week in Louisiana, each suffered injuries that led them to fall short of lofty expectations in 2022. When Devin Leary got a chance at a fresh start in the transfer portal, Will Levis encouraged him to take a leap and come to Kentucky.
"Once I entered the transfer portal, Will texted me and said, 'Dude, if Coach Coen is coming here, there's no better quarterback coach in the world to come get developed by.' I trust Will, I look at Will as a good friend and as soon as I heard that from him and saw the way that he was able to develop after transferring, it made total sense."
An Unexpected Visit
Devin Leary took Levis' advice. After speaking extensively with Scott Woodward, the NC State quarterback visited Lexington. It was nothing like what he expected.
"Honestly, getting off the plane I expected a ton of farmland. I expected a bunch of horses, which I did get to see, but I didn't realize how big the city of Lexington actually was and all the resources that they have here," said Leary. "The University of Kentucky, the campus and how big it was really stood out to me."
Devin Leary Prepares for SEC Transition
We all know It Just Means More. Leary is still learning exactly what that means, but he has a good idea. After all, he saw Kentucky up close in the 2020 TaxSlayer Gator Bowl. He did not play in the Wildcats' 23-21 win — he suffered a fractured fibula in October –but Devin Leary knows this is a line of scrimmage league.
"In the SEC, no matter who you're playing, each and every week you gotta bring your A-game. I think it's a lot more physical from an offense, defensive line standpoint. It's more powerhouse I think compared to the ACC," Leary told BBN Tonight.
"Playing in the ACC as a three-year starter, I think it's a lot more finesse, being able to go a little bit faster, put the ball on the perimeter. Where in this league you see the Alabamas, Georgias, you gotta establish a run game. You gotta win up front first. That's something I'm excited to be a part of, excited to really learn more about different run concepts, blocking concepts, passing concepts and then just using my ability to put the ball on the perimeter and push the ball downfield. I'm really excited to go against SEC defenses."
Next week we'll hear more from Devin Leary and all seven of the newcomers from the transfer portal. Stay tuned.