Devin Leary Leading by Example at Kentucky Spring Practice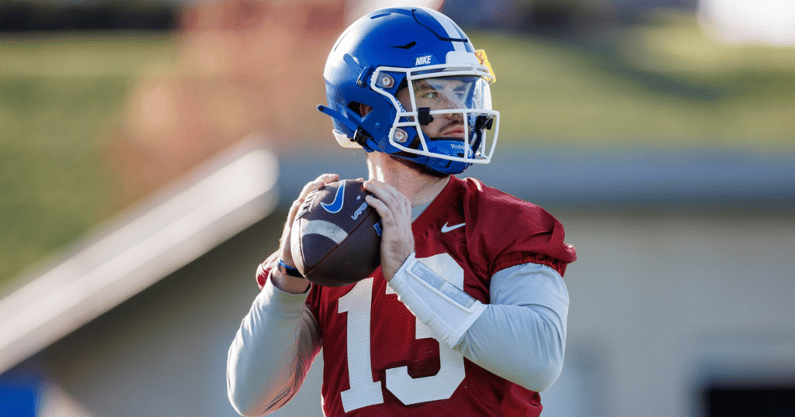 Mark Stoops called out the Kentucky football team on Saturday. "We got no leaders right now."
The Wildcats' head coach did not direct his frustration toward any one specific player. However, it's easy to wonder why the quarterback, typically the team's top representative and spokesman, was not pushing his teammates in the right direction. Offensive coordinator Liam Coen is not demanding Devin Leary to take command of his teammates three weeks into his tenure as the Wildcats' signal-caller.
"He needs to more so worry about himself and stay in his lane in that sense, while also reaching and touching these kids in terms of after the play, just going and grabbing them and talking to them about what they saw and what they can do better on that play," Coen said Tuesday. "In terms of vocally and being out in front, it's probably not the time right now."
Devin Leary is Putting in the Work
Devin Leary does not need to be a ra-ra guy right away. He's still building a rapport with his teammates the same way Will Levis did, by going to work every single day.
"It's not easy right away. He's more right now a lead by example, try to do the right things kind of guy. He's trying to learn the offense and all that," Coen said.
"By nature, he's not really a fiery guy. But he's up here every single day with all the wideouts and all the tight ends watching film, and he does all the right things in terms of you're asking a quarterback to do. Once I think after spring and he gains a little more of these guys' respect, and (develops) relationships with those guys, I think he can take the next step from a leadership standpoint."
That's not just lip-service. Even though he's a different kind of passer than his predecessor, they share a similar mentality.
"He's the same type of leader. He wants everybody to get better," said wide receiver Tayvion Robinson. "I swear I see his car up here everyday when I drive by. It's been fun. He's a good guy and a good leader too."
Subscribe to the KSR YouTube Channel for press conferences, interviews, original shows, fan features, and exclusive content.
Introspective Tayvion Robinson
The 2022 season did not go according to Tayvion Robinson's plans. He committed to Kentucky to play for Liam Coen. A month after arriving on campus, the Virginia Tech transfer had a new play-caller. Robinson had 130+ receiving yards in two of his first five games, then his production slowly dipped for the rest of the season. Absent from the sideline late in the year, Robinson admitted he let his emotions affect not only his play, but his relationship with his teammates.
"Obviously it didn't go the way that I wanted, with the switch with the coordinators and the rocky season," he said. "The thing I learned about myself, when the situation doesn't go the way it's supposed to, it doesn't give you an excuse to not give your full effort to your guys. I lacked in that area in some games.
"Right now I'm just trying to revamp my image from last year and wipe that season under the rug. It's a new season, new coordinator, some new guys I'm playing with and being team-first at all times."
The clean slate has been a refreshing change for Kentucky's slot receiver. Although there are some challenges to learning a new offense and learning where his new quarterback is placing passes, he's loving every minute of it. Leary's accuracy is providing more opportunities for Robinson in the middle of the field. He just has to be ready for the ball in unexpected places.
"(Leary) threw a ball like that today. It was a route that Dane ran. He fitted the ball in-between a cover two corner and a safety. It was very impressive. He does stuff like that all the time," said the Kentucky wide receiver.
"He's very smart where he throws the ball. He's consistent. When we read a defense we kind of know, or guess where the ball's going to go, and it goes completely different, it does catch us off guard. We're just out there trying to make plays."