Dick Clark's Thursday News and Views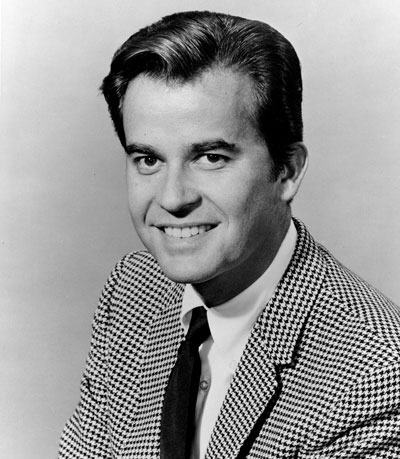 "For now, Dick Clark... So long." The signature departing line from Dick Clark's broadcasts is fitting today, as the world said goodbye to the legendary game show host, radio and television personality, and businessman. Clark
suffered a heart attack on Wednesday
at Saint John's hospital in Santa Monica, a day after he was admitted for an outpatient procedure. He was 82 years old. Clark, nicknamed "the world's oldest teenager" for his boyish good looks, was
best known for hosting long-running television shows
such as
American Bandstand,
 five versions of the game show
Pyramid,
and 
Dick Clark's New Year's Rockin' Eve
. For 39 years, Clark rang in the new year with his rockin' TV special featuring live music, special guests, and his famous countdown to 12 midnight. It just won't be the same going into 2013 without hearing Clark's unmistakable voice say, "It's real good to be back with you again this year." So tonight, we salute the man who has seen more balls drop than a high school sports physician. He left a lasting impact on the entertainment industry and every December 31st house party across America. Clark once famously said,
"Music is the soundtrack of your life,"
and his soundtrack has sadly come to an end. Dick Clark... So long. News. Views.
 With all five starters removed from last year's legendary team, the Kentucky staff is left filling in the holes to prepare for next season. Sure, UK has already claimed the No. 1 recruiting class in the country, but the four guys who make up that class aren't enough if Kentucky wants to compete next season. There is the obvious need to sign power forward Anthony Bennett, and on Wednesday, we learned that the staff is also pursuing a new, but old,
potential backup shooting guard
. Former Word of God Academy guard 
Torian Graham worked out in front of Coach Antigua
on Wednesday afternoon and he told The Cats Pause that UK is recruiting him again. The 4-star guard has had Kentucky at the top of his list forever, but the love wasn't mutual until Shabazz Muhammad's name dropped from UK's board. Now, Graham is the best option if Cal wants to add another guard and I think he will jump all over an offer from Kentucky
if
Cal wants him and
if
he can qualify. There were complications with the admissions department at NC State before Graham decommitted in December to re-open his recruitment. He says he currently has a 3.6 GPA and plans to take the ACT later this month. Graham
visited Lexington this past season
for the Vanderbilt game and he has ties to Kentucky through John Wall, who played with his older brother in high school. Everything I've seen about this kid says he is in love with Calipari and Kentucky, so get ready to see him coming off the bench next season if Calipari decides to go that route.
 Back to the big 2012 name out there,
Anthony Bennett
. He's a must-get. There's no easier way to put it. The Cats need one more big body to complete the frontcourt and Bennett is the ideal prospect to fill that last spot.  Assuming Amile Jefferson ends up somewhere in North Carolina, Bennett is really the
only
prospect to fill that spot. Kentucky could be in trouble if he ends up at Florida or Oregon. Bennett still hasn't set up any visits but Florida, Oregon, and UNLV were in to watch him workout on Wednesday. He plans to announce sometime in early May, and according to Nerlens Noel, Kentucky has
a little over a 50% chance at getting him
. Please. Please. Please.
 Scout.com released its
final rankings for the class of 2012
and there wasn't a whole lot of movement in the top ten. Nerlens Noel held down his top spot, while Alex Poythress and Anthony Bennett came in at No. 7 and 8, respectively. Archie Goodwin is the 14th ranked player in the class followed by Willie Cauley-Stein at No. 48.
 ESPN named its
High School All-Americans
 on Wednesday and three Wildcats received honors. Nerlens Noel made the first team, Alex Poythress made the second, and Archie Goodwin was named to the third team. Read what ESPN said about each player
here
.
  Whether you like it or not, football is moving back into the forefront and its biggest event of the spring is less than three days away. The annual 
Blue/White Spring Football Game
 is set for this Saturday at 6:00 p.m at Commonwealth Stadium. Admission and parking are free for all on a first-come, first serve basis, so arrive early if you want a good seat and a short walk from your vehicle. The red, blue, and green parking lots open up at 8:00 a.m. and fans are invited to tailgate before the event. Gates open at 4:30 p.m. The format will be the same as last year's game. It will feature the first team (White) vs. the second team (Blue), with the Blue team receiving a 14-0 advantage to start the game. Last year, the Blue team jumped out to a 28-7 lead but needed a last minute field goal to clinch a 31-28 lead. This year, fans in attendance will receive free roster cards at each gate and a poster commemorating the win over Tennessee. Posters are limited and they look like this:
  A couple hours before the Blue/White game kicks off,
UK baseball will play host to LSU at 2 p.m.
at Cliff Hagan Stadium.  The teams are ranked No. 1 and No. 2 in the nation this week (LSU is on top) and they're tied for the lead in the Southeastern Conference with 11-4 records. Needless to say, it's a pretty big game for the Bat Cats. Go out and show them some support and then head over to Commonwealth for the perfect Saturday afternoon double-header with UK athletics.
 I have good news for all you aspiring Kentucky bloggers out there! We're looking to
add new writers to our KRSCollege.com roster
. If you're in college and are interested in joining the team,
send your resume and a writing sample to

[email protected]
. All submissions need to be in by Monday afternoon or they won't be considered. We'll select the best applicants from the bunch and then conduct interviews in Lexington on Sunday, April 28th, so make sure you're available that day if you apply. It is the only day we'll be interviewing.
 Also, don't forget about the
KSTV Casting Call
, which begins this weekend in Florence, KY. Scroll down for more details. That'll do it for now. I'll leave you with a photo of the late Dick Clark.