Diving Across The Finish Line's Tuesday Morning Wakeup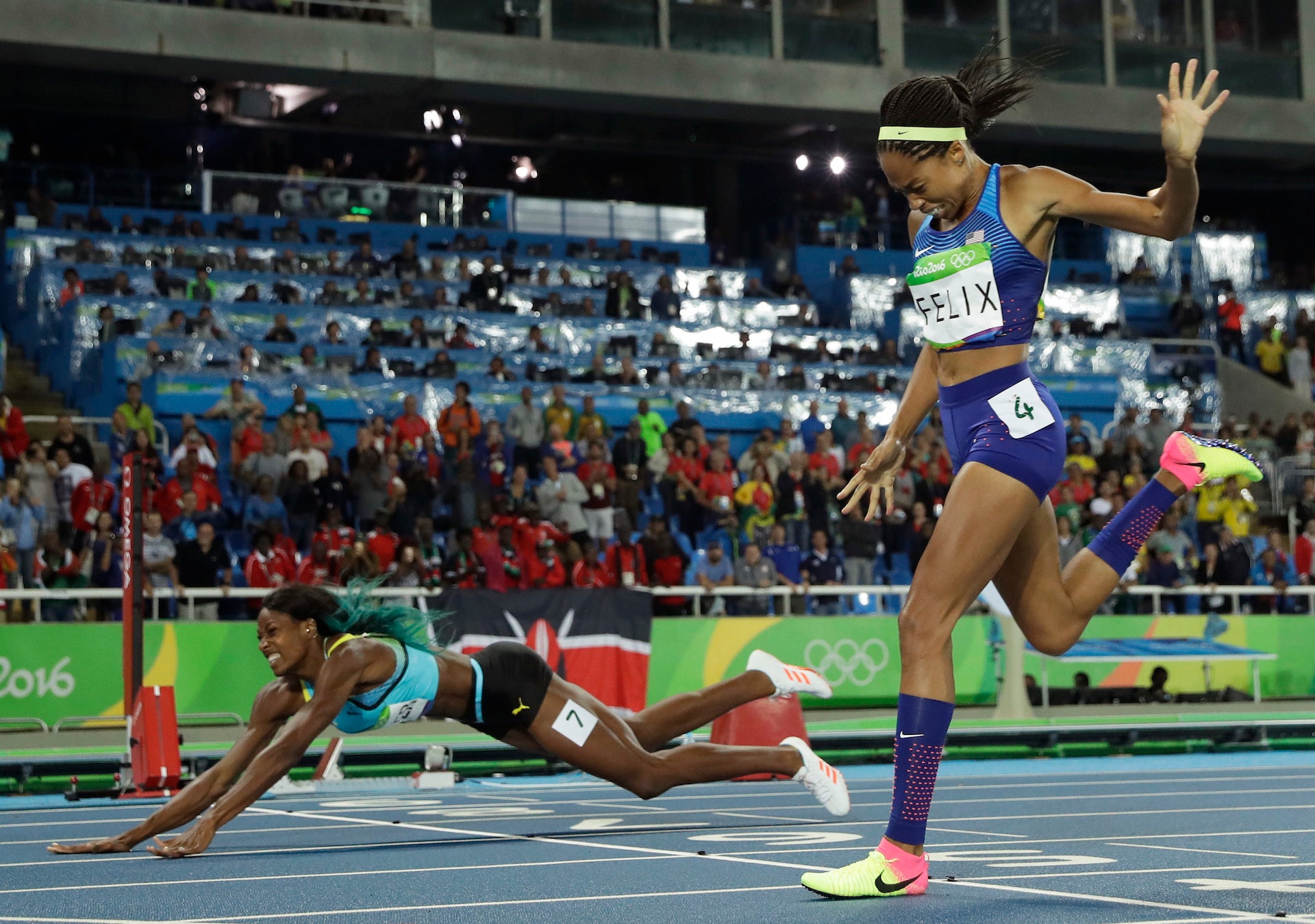 What do we make of Shaunae Miller's dive to win gold in the women's 400 meters?
Miller, a member of the Georgia Bulldogs track team, robbed American Allyson Felix of gold by diving forward to cross the finish line first in the women's 400 meters. Miller would've finished second if she had taken another stride, but the lunge forward put her ahead of Felix in the end. Many are praising Miller for her effort; others think it shouldn't have been allowed. I saw an online Twitter poll with over 25,000 votes that had it at an even split with 50 percent loving the effort and 50 percent thinking it was out of bounds. I'm torn on the matter. I want to say she's out there to run, but at the same time, the goal is to cross first. I guess I'll join the camp that believes The real question here is, what does this say about sliding into first base? I can remember arguing with my coach over sliding into first (back before I hated baseball) and he convinced me it slows the runner down. Now we have this to bring all of the first-base-slide advocates back from the dead.
World Class .......

Everyone is talking about. Shaunae Miller beats Allyson Felix 400m #Gold  in stunning fashion. pic.twitter.com/DC6SXp2LAh

— Adjusted Well (@Adjustedwell) August 16, 2016
More from football camp today.
Coach Eddie Gran and select players from the offense will speak to the media later today to give updates from Tuesday's practice. As always, you'll find everything you need from the practice here at KentuckySportsRadio.com.
Knockout stage is set for DeMarcus Cousins and Team USA.
Here are the final standings from group play:
| | |
| --- | --- |
| USA — 5-0 | Croatia — 3-2 |
| Australia — 4-1 | Spain — 3-2 |
| France — 3-2 | Lithuania — 3-2 |
| Serbia — 2-3 | Argentina — 3-2 |
| Venezuela — 1-4 | Brazil — 2-3 |
| China — 0-5 | Nigeria — 1-4 |
Venezuela, Nigeria, China and Brazil were all eliminated, leaving the following quarterfinal match-ups: USA vs. Argentina Australia vs. Lithuania Spain vs. France Croatia vs. Serbia That USA-Argentina game will tip tomorrow at 5:45 pm; the semifinal games will be played Friday with the championship game on Sunday at 2:45 pm.
Freddie Maggard's Behind The Facemask series to continue today with Jacob Hyde.
Freddie will get personal with "The Lawnmower" from Clay County in a new edition of 
Behind The Facebook 
today. Be on the lookout for that.
"We've got to fundamentally continue to get better."
Mark Stoops told the media there is a lot to get done during the remaining practices in fall camp, ahead of the season opener in a little over two weeks. "We're going to challenge them this week," he said. "We've got to get a lot of work done this week. It's critical that we keep on pushing forward and have a great couple weeks here as we're about a third of the way through camp." The Cats will practice five times over the course of three days with two practices yesterday, one today, and another two-a-day scheduled for tomorrow.
Okay, I'm finally on board with Stranger Things.
It took me a little longer than the rest of the world, but 
Stranger Things 
now has my full attention. After struggling through the first couple of episodes, I finally knocked out the third and fourth episodes last night (with my phone off) and had to talk myself out of starting the fifth so I could get some sleep. I now understand why everyone is talking about it. And now I will join them in talking about it. Excellent show with tons of nostalgia.
ESPN announced game time and coverage for UK's game against Hofstra.
The Cats will travel to Brooklyn to play Hofstra on Sunday, December 11 and we now know that game will be televised live on ESPN at 3 pm. So plan accordingly.
Kentucky Sports Radio radio is in Lexington again today.
But where?