DJ Wagner, Aaron Bradshaw visiting Kentucky for Big Blue Madness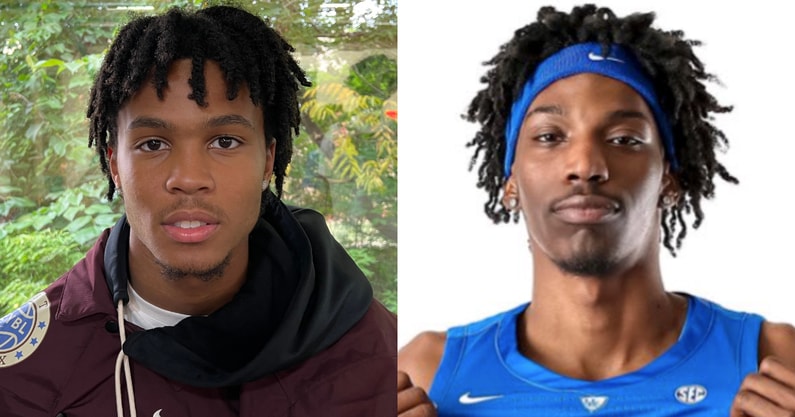 Add two big visitors to the Big Blue Madness guest list. Travis Branham is reporting that DJ Wagner and Aaron Bradshaw will come to Lexington for Madness on October 14. The five-star teammates from Camden, NJ are two of Kentucky's top prospects in the 2023 class.
This will be Wagner's second visit to Kentucky. On3's No. 1 prospect in the 2023 class took his official visit to Lexington for Madness last season. Bradshaw, On3's No. 17 prospect, took his official to Kentucky in June. The five-star center recently announced he will make his college decision on November 16. Kentucky and Louisville are among the schools both Wagner and Bradshaw are considering. John Calipari prioritized the pair during the fall live evaluation period, visiting them before any other prospects.
Right now, Kentucky has a 59.4% chance of landing Wagner per the On3 Recruiting Prediction Machine and an 86.1% chance of getting Bradshaw. Having both in the house for Madness certainly won't hurt the Cats' chances.
Reed Sheppard, Justin Edwards, Rob Dillingham also expected at Madness
Kentucky currently has three commits in the 2023 class: five-star small forward Justin Edwards, five-star combo guard Rob Dillingham, and four-star combo guard Reed Sheppard. Sheppard joined Jack Pilgrim and Shawn Smith on Sources Say last night and said all three commits will be at Madness as well.
"We stay in touch quite a bit. We have a group chat going and I reached out to them about Big Blue Madness so I'm pretty sure both of them are going to be there so that will be cool to all be there at the same time. I try to stay in touch with them and interact with them as much as I can and they do the same."
Does Sheppard believe Kentucky can add Wagner and Bradshaw to the mix?
"I hope so. I hope so. I think we have a shot but I'm not 100% sure. I stay in contact with both of them. I hope we do. I think that'd be awesome. That'd be a heck of a team and I think we'd get along really good but whatever they decide is probably the best for them but I sure hope we get both of them."
UPDATE: Branham added that neither is expected to visit Louisville as of now.