DJ Wagner agrees to NIL partnership with Lexington exotic car club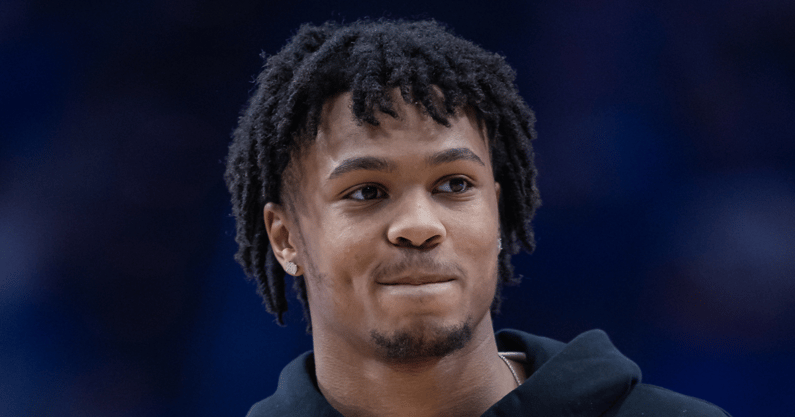 DJ Wagner hasn't even made it to campus yet, but he's already taking full advantage of local name, image, and likeness (NIL) opportunities.
On Tuesday, Wagner announced on Instagram that he has entered into a partnership with Lex Exotics, an exclusive exotic car club based out of Lexington, KY that allows its members to store their own vehicles or access vehicles from the company's fleet of exotic cars.
In his announcement video, the five-star Kentucky men's basketball signee was showing off a Rolls-Royce Cullinan, which he says he'll use to arrive at Tuesday night's McDonald's All-American Game in Houston, where he is one of four future Wildcats set to participate.
"Today I am happy to announce my partnership with Lex Exotics," Wagner said. "… Lex Exotics is a great place full of amazing cars and many more. I'm already a member but I can't wait to get on campus and show ya'll much more amazing they are… See ya'll in Lexington at the launch party."
Check out Wagner's Instagram video about the partnership below.
"Lex Exotics is the only car club of its kind throughout Central Kentucky and Southern Ohio/Indiana," the company's website states. "With membership tiers offering free access to the fleet it's often a great alternative and worry-free solution to having to spend the capital to acquire an exotic car, make payments, insure, and maintain an exotic vehicle.
"As a Lex Exotic member you have all the benefits of having your own luxury fleet without any of the headaches. In addition to the cars, you have access to the car vault for member meet-ups, private parties, honor bar, golf simulator, 110' HD theater to watch the games or on any of the 2 other 85" flat screen TV's, plus test your skills on the Red Bull Racing F1 Simulator."
Wagner has already locked in NIL deals with the likes of Nike, NOCTA (Nike's sub-label in collaboration with rapper Drake), and WME Sports. Now he can add exotic cars to his lineup.