DJ Wagner bounces back in game two at HoopHall Classic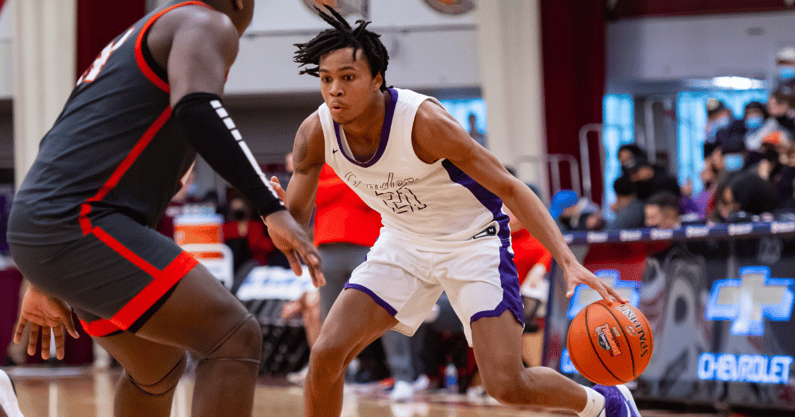 D.J. Wagner struggled to find his offensive rhythm in his 2022 HoopHall Classic debut over the weekend. But as all great scorers do, he put that bad memory in the past and performed much better in game two on Martin Luther King Jr. Day.
The No. 1 player in the class of 2023 according to the On3 Consensus, Wagner has been a highly sought-after Kentucky target since he was born. His father, Dajuan Wagner, played under UK head coach John Calipari during his Memphis days, eventually going No. 6 overall in the 2022 NBA Draft.
Now a junior at Camden High School up in New Jersey, the younger Wagner is drawing more and more attention.
That attention culminated in a Saturday statline of 12 points (5-20 FG, 2-9 3PT), four rebounds, four steals, and five turnovers. His Camden squad dropped its second game in a row as a result, falling to Calvary Christian 66-48.
On Monday afternoon, however, Wagner came alive in a terrific bounceback performance. The 6-foot-3, 165-pound combo guard posted 21 points on 9-19 shooting (3-7 from beyond the arc) to go along with five rebounds, two steals, and four turnovers. Camden was able to take down a Milton High School program that trotted out a pair of high four-star guards from the class of 2022 in Kanaan Carlyle and Bruce Thornton.
Despite the competition level, Wagner helped power his team to a much-needed victory. He was later named MVP for his impressive showing.
"We were coming in with a chip on our shoulder," Wagner said after the win. "Just forgetting about the last game. Just having a short-term memory to that kind of stuff, not worrying about losing and stuff like that. Just seeing what we can do better and using the game as a learning lesson. Today we just came in with a chip on our shoulder and we wanted to win."
Coming into last week, Camden was riding a 44-game win streak before Skyy Clark and Montverde Academy put an end to that. Another loss a few days later at HoopHall put some pressure on Camden, and Wagner specifically, to play better. That's where the chip on their shoulders came from, and it led Camden to a bounceback win over a good opponent.
"I love that kinda stuff," Wagner said of the challenges his team has faced. "I love taking on a challenge. Playing against great teams, teams that are very talented. I love that kinda stuff. We all love them kinda challenges and we all love to compete. So we look forward to this kinda stuff."
There is certainly an added pressure playing as the No. 1 recruit among his peers, but Wagner doesn't feed into it. For him, his mindset is always "on to the next one" and performing as a cohesive unit. Both he and Camden accomplished that on Monday.