DJ Wagner leaning on "blood brother" Kareem Watkins with future decision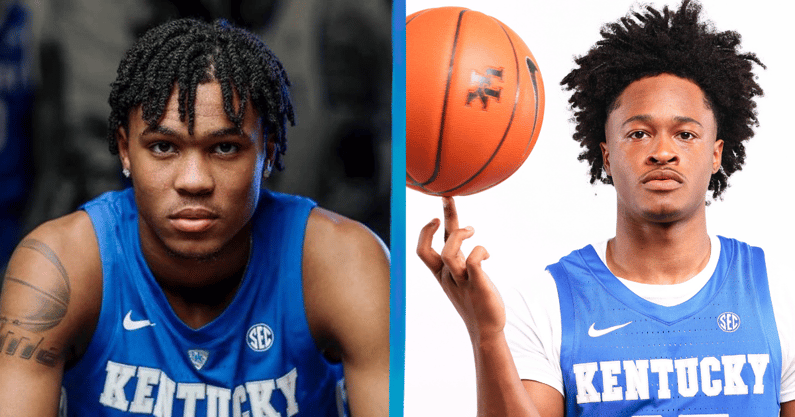 Much has been made about the connection between John Calipari and No. 1 recruit Dajuan Wagner Jr. For starters, the five-star recruit's father, Dajuan Wagner, was a star under Calipari at Memphis in 2001-02, averaging 21.2 points, 3.6 assists and 2.5 rebounds per contest.
After his debut season with the Tigers, Wagner wanted to return for his sophomore year, but Calipari famously ripped up his scholarship and urged him to declare for the 2002 NBA Draft. He was ultimately selected No. 6 overall and signed a $10.7 million rookie deal.
From there, though, Wagner's NBA career was cut short due to health and injury issues, specifically after being diagnosed with ulcerative colitis and needing surgery to remove his colon in 2005. Calipari's decision to push Wagner to the NBA and take the guaranteed money as a likely lottery pick was life-changing for the native of Camden, New Jersey.
Family ties
That's just the deepest connection. Calipari also hired Wagner's father, Milt Wagner — a former Louisville basketball standout — as his coordinator of basketball operations at Memphis before he moved on to become an assistant under Tony Barbee at UTEP (2006-10) and Auburn (2010-14). Wagner's godfather is also William Wesley — "World Wide Wes" — a longtime associate and close friend of Calipari.
Most recently, though, Calipari dug those roots even further by adding Kareem Watkins to the Kentucky basketball roster as a walk-on. That connection? Watkins is Dajuan Wagner's stepson and the brother of DJ Wagner, arguably UK's top recruiting target in the class of 2023.
"Kareem is a great kid with a terrific work ethic who is going to be a great addition to our team," Calipari said of Watkins' signing back in November 2020. "Kareem knows our expectations of him. We want him to come in here and be a great teammate and help us in practice. His stepfather, Dajuan, who played for me at Memphis, has really instilled a drive in Kareem and I look forward to seeing him continue to develop here with family."
Family ties.
"That's my brother."
Watkins himself was a solid player at Kingsway Regional High School in Camden, averaging 8.7 points in 26 games as a senior, scoring in double figures in 11. He's certainly been a tremendous help as Kentucky's scout team point guard in practice, and he's known as a fun-loving, bubbly personality in the locker room.
It doesn't hurt sharing a home with the nation's No. 1 overall recruit, either.
"That's my brother, that's my blood brother," DJ Wagner told KSR. "The connection is great. We're like this [crossed fingers], we're best friends. That's my blood brother, our connection is great."
Separated only by a few years and rooms down the hall, Wagner says he and Watkins share similar personalities, calling his brother a "goofball" like himself.
"At home, he's a goofball like me," Wagner told KSR. "We like to play around a lot, goof around. We play around, for real."
A brother and a former teammate
As if UK needed any other connections in this recruitment, sophomore forward Lance Ware was a former teammate of Wagner's at Camden. The players' high school head coach, Rick Brunson, recently told KSR that Ware was a "four-year player" at Kentucky, potentially aligning their careers once more, just as they did in 2020 when Wagner was a freshman and Ware was a senior.
"Lance is my guy, we talk twice, three times a week. He's doing great," Brunson told KSR. "He's doing good, just has to stay focused and work hard. I told you guys, he's a four-year player. Kentucky is used to having one-and-dones, that's not who he is. We're proud of him."
Doesn't hurt having Wagner's coach on your side, either.
Feeling at home
The five-star guard's recruitment is one the entire basketball world has its collective eye on. Kentucky is a school he "grew up watching" and "definitely" likes, with others also reaching out and hoping to make a push.
"I can't really name all of them off the top of my head, but a few I can name are Kentucky, Villanova, LSU, Memphis," Wagner said. "I've been on official visits to Memphis and Kentucky, and unofficials to Villanova and Temple."
He says he won't take visits until after his high school basketball season ends, with his focus right now on "trying to win games." After that, he'll turn his attention back to recruiting and inching closer toward a final decision.
While his recruitment is on the back burner now, he'll lean on his brother for advice when the time comes, just like any sibling would. Watkins' current words of wisdom? 'Do what's best for you.'
"Most definitely (I lean on him), that's my older brother," Wagner told KSR. "He tells me to just do what I want, do what I love to do. Right now, I don't really have a focus on where I'm going or any of that stuff. I'm just focused on high school.
"He tells me just like everyone else tells me, go where I want to go and where I think is best for me. He wants me to go to a place I love."
And while he's still a ways away from making a decision, he does know what he's looking for in his future college.
"Just a place I can feel at home at," Wagner said. "A place I know they care about me.
You can't get any closer to home than being with family.