Louisville continuing to trend for DJ Wagner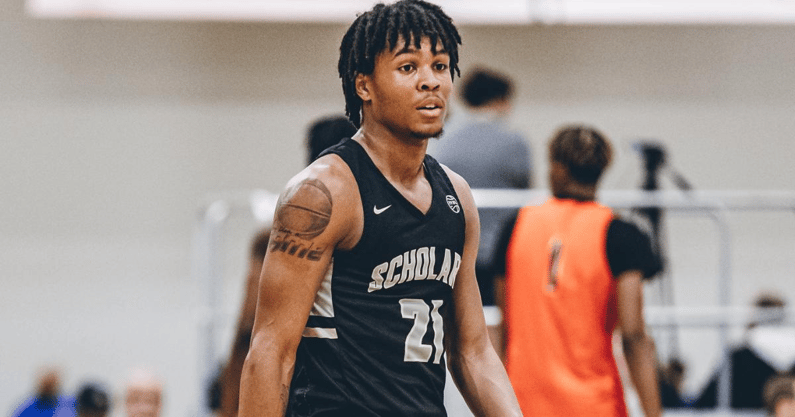 Tonight, Kentucky will likely land a commitment from five-star guard Robert Dillingham, the No. 3 prospect in the 2023 class per the On3 rankings. That's great news in itself, but also because the Cats seem to be fading when it comes to another top-three 2023 recruit. On3's Jamie Shaw shared today that he's hearing Wagner to Louisville has been a done deal for a few weeks, due in large part to the family's relationship with head coach Kenny Payne. Payne hired Milt Wagner, DJ's grandfather, as the program's director of player development and alumni relations last month.
Recruiting can go in any number of directions, but intel from around the situation says the Wagner recruitment has been done for a few weeks. All the reasons above led to the decision; however, the family's trust in head coach Kenny Payne is what got the job done. 

Jamie Shaw, On3+
On May 25, Shaw set his expert pick in On3's Recruiting Prediction Machine (RPM) for the Cards with 75% confidence. On June 5, On3's Gerry Hamilton also logged a pick for Louisville with 80% confidence. The RPM currently says the Cardinals have an 83.6% chance of landing Wagner.
Kentucky's ties to the Wagner family
John Calipari also has a relationship with the Wagner family, which is why Kentucky was long considered the favorite for the five-star guard. Milt joined Calipari's staff at Memphis in 2000 and in 2001, his son Dajuan, DJ's dad, joined the team. After his freshman season, Calipari famously tore up Dajuan's scholarship and pushed him to the NBA, which ended up being a blessing. Dajuan was drafted sixth and made $7.4 million on his rookie deal. A few years later, he was diagnosed with colitis and had surgery to remove half his colon, which eventually ended his NBA career.
Calipari has been putting the pieces in place to bring Wagner to Lexington for years. Kareem Watkins, Wagner's brother, and Lance Ware, Wagner's former teammate at Camden High, are currently on the roster. Kentucky also offered one of Wagner's current teammates, four-star center Aaron Bradshaw, in April and hosted him on an official visit earlier this month.
Kentucky pitching a Dillingham/Wagner backcourt
Dillingham will announce his decision tonight at 7 p.m. ET on ESPN's social media platforms. He's down to Auburn, Kentucky, Louisville, and USC. Kentucky is the overwhelming favorite, with On3's Recruiting Prediction Machine giving the Wildcats an 80.8% chance of landing him. Dillingham recently told KSR that Kentucky would love to feature both him and Wagner in the backcourt.
"Really just being an impact player as soon as I come in," he said at the Nike EYBL Session III back in May. "That's what I talk to them about. If DJ (Wagner) were to go there, we'd both be impact players. That's the role they see me having."
"For sure (I'd play with DJ)," Dillingham added. "I feel like I'm an unselfish player and can play with anyone, adapt to how they play. He's a bucket just like me. Playing with Aden (Hollaway on Team CP3), it's the same thing. I let him hoop, and I can play with anyone who is a smart guard, honestly. … He's a great player for sure. Me and him together, we're both playmakers, we could play off each other."
Louisville getting Wagner would be a blow, but for now, let's focus on the good news hopefully coming our way tonight.