DJ Wagner vs. Reed Sheppard showdown expected in Louisville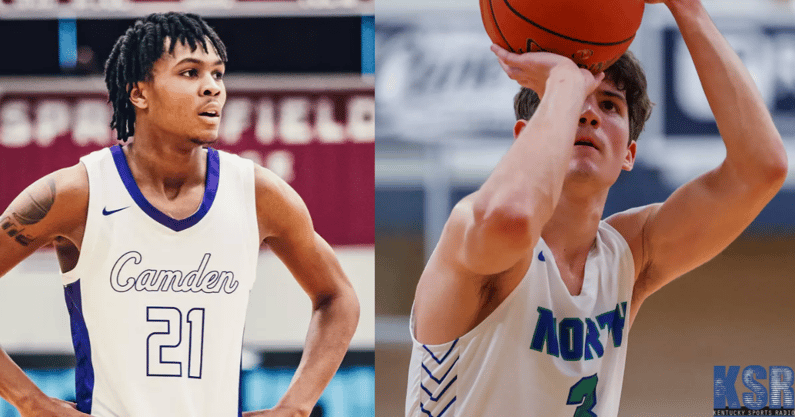 DJ Wagner vs. Reed Sheppard. It's not exactly "The Dream Game," but it's as good as it gets on the AAU basketball circuit for hoops fans in the state of Kentucky.
Although not yet finalized, WDRB's Rick Bozich reports Wagner and Sheppard are tentatively scheduled for a Friday night showdown at Valley High School in Louisville on May 27 at 7 pm. All plans for the game are expected to be completed on Monday. If you cannot attend in-person, there will also be a live streaming option.
The stakes are high. The connections to Kentucky and Louisville, both past and future, are unprecedented. There will not be an empty seat in the house for the landmark exhibition.
The On3 Consensus ranks Wagner as the No. 1 player in America. The Camden, New Jersey native's father, Dajuan, played for John Calipari at Memphis. His grandfather, Milt, teamed up with Kenny Payne on Louisville's 1986 National Championship team. If there's ever been a bigger recruiting battle between Kentucky and Louisville for a player, I'd love to hear about it.
Wagner will be in Louisville Memorial Day weekend competing on the Nike EYBL Circuit at the Fair & Expo Center. His New Jersey Scholars are coached by another former Card, Pervis Ellison, who is the catalyst behind this matchup.
Sheppard, the son of 1998 Final Four Most Outstanding Player Jeff Sheppard, committed to Kentucky in November. However, the North Laurel native plays for an Adidas-sponsored team, the Midwest Basketball Club. In order to create The AAU Dream Game, the two clubs are thinking outside of the box.
"Considering all the interest in D.J. with Louisville and Kentucky recruiting him, and Reed Sheppard's connections to Kentucky, the game is a natural," Ellison told WDRB.
But wait — There's MORE!
Other Stars in the Wagner vs. Sheppard Showdown
In addition to Wagner, there's a big man playing in this game with recruiting interest from both Kentucky and Louisville. Aaron Bradshaw, a 7-foot-1 center for Wagner's New Jersey Scholars, has received offers from both local schools. The No. 20 player in the On3 Consensus, Kentucky is the current leader according to the On3 Recruiting Prediction Machine (RPM). He's second in the EYBL in blocked shots with 3.3 per game.
Wagner is the EYBL's leading scorer. The second-leading scorer is his teammate, Mackenzie Mgbako. The No. 5 player in the country committed to Duke this spring.
This proposed game is not just for Kentucky and Louisville fans. Sheppard's teammate, Gabe Cupps, is the reigning Ohio Mr. Basketball who spurned his home state school to commit to Indiana. The future Hoosier point guard is ranked by the On3 Consensus as the No. 81 player in America.